In a Nutshell
Squarespace's all-in-one platform empowers people with creative ideas to build a website and optimize it with best-in-class marketing tools and analytics.
pros
Easy to use
Custom templates and fonts
Ecommerce functionality available
cons
Chat support only on Weekdays
Ecommerce site is rather pricey

Squarespace Visit Site
Whatever type of website you're looking to build—a simple blog, an online Ecommerce shop, a business website, or a striking online home for your portfolio—Squarespace will have everything you need. And it's easy to use.
Squarespace uses a simple point-and-click functionality that will have you piecing together an original website with completely customizable features from start to finish. Squarespace sites are mobile-optimized, incorporate top SEO practices, and seamlessly integrate with social media.
Ideal for
Squarespace is ideal for people who want an easy-to-use website builder that doesn't require any sort of mastery of web design and has a variety of customization features.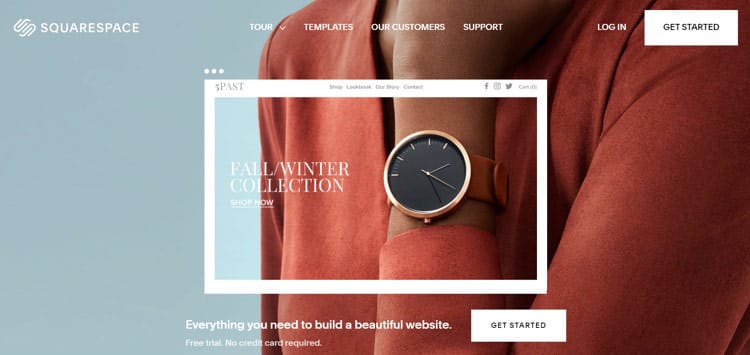 Why Go With Squarespace
Squarespace is not the cheapest website builder out there, but it is one of the best, if not the best. For anyone who needs a high-quality website, from the inside out—and is willing to invest slightly more in order to save time and headaches in the long run—Squarespace is a shoe in.
The drag-and-drop editor is very user-friendly and completely customizable. And once you get the hang of the editor (it won't take you long), you can also take advantage of the dozens of rich, engaging templates that Squarespace features, which are split into easy-to-navigate categories. These include business, health and fitness, photography, wedding, artists, travel and lifestyle, and music, to name a few. There's no reason to feel limited to a specific genre though, and it's up to you to decide how to craft your vision for your website. However you decide to make your website look, you can preview it before publishing.
Squarespace offers a wide range of features for Ecommerce, blogging, and social media integration. And you won't have to worry about bandwidth, storage, or how many pages you have—since those are unlimited. You can also implement dozens of website integrations, including with platforms like Google Maps, Unsplash, Getty Images, and PayPal, to name a few.
Features
Unlimited storage and bandwidth
Free custom domain name
Unlimited pages
SEO and analytics included
Social media integration
Easy-edit photo galleries
Mobile-optimized
Categorized templates
Marketing Tools
Squarespace provides users with an entire set of marketing tools that can be used to increase traffic and connect with readers. These include email campaigns, SEO tools, and comprehensive social media integration. This is a solid way to use social media networks like Instagram, Pinterest, Facebook, and Twitter (among others) to increase the exposure of your website. You can also take advantage of Squarespace analytics to get a detailed look at what's working and what's not, and react accordingly.
Customization
Squarespace's customizable website layouts allow you to easily drag & drop images onto your site, and move, add, or delete sections of a page. Further customize with specific settings including fonts, colors, and page configurations. The platform accommodates Adobe and Google Fonts, and many of these work in different languages. Also, whenever you want to change your font, the process is simple and painless.
Squarespace allows you to integrate third-party modifications into your site, typically by pasting code provided by the third-party service into a code block or code injection.
This is helpful when you'd like to add a specific feature that Squarespace doesn't provide.
If your Squarespace site has a custom domain linked to it you can also add a custom email address.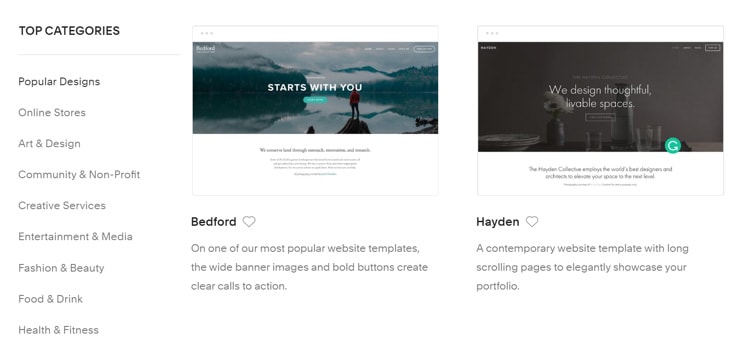 Payment Processing
Squarespace makes closing sales easier with it's single-page, mobile-optimized checkout, which features abandoned checkout recovery, and flexible payment options.
For Ecommerce sites, Squarespace lets merchants fully customize their checkout forms. If you want to accept payments on your Ecommerce site you first need to connect a payment processor, and with Squarespace you can use Stripe, PayPal, Apple Pay, and Venmo. If you have the website business plan, you'll pay a 3% transaction fee, but with the Commerce Basic and Commerce Advanced plans there is no fee.
Both Stripe and PayPal are compliant with PCI-DSS (Payment Card Industry Data Security Standard).
You can also make use of a wealth of features to help you increase the exposure of your brand, prevent shopping cart abandonment, and create customer rewards programs and other ways to boost the positive word of mouth for your company.
SEO Tools
No matter what type of site you run on Squarespace, you'll have great SEO baked right into the cake.
When you create a website, Squarespace automatically creates and builds a sitemap as you add more pages, which helps Google rankings. Also, all Squarespace sites have clean HTML code, SEO-optimized URL structures, and use automatic tagging and redirects.
Also, with Squarespace analytics tools, you can see what that you are doing is working and what could use improvement.
Customer Support Services
Squarespace puts a lot of emphasis on its 24/7 customer service, and it has the trophies to prove it. The company has won multiple "Stevie Awards" (also known as the American Business Awards) for their support branch, including the Gold Stevie in 2013 for Customer Service Department of the Year. The company has also won Silver and Bronze Stevie awards for its customer service department.
Squarespace customer service representatives are available 24/7 to answer inquiries submitted through the ticket system and usually representatives will respond to queries in less than an hour. There is also a knowledgebase available and workshops that show users how to make the most of their Squarespace website.
Squarespace also offers a comprehensive knowledgebase for searching for answers to common problems, including how to manuals, tutorials and video workshops on getting started, and FAQ. They also have a forum for community-based answers to your problems, where you can share experiences.

Squarespace Visit Site
Review in Short
Squarespace has helped countless users get their online visions off the ground, through a combination of a user-friendly interface, professional templates, extensive customizations, social media integrations, and responsive customer service. The website builder is also a great option if you're looking to launch an Ecommerce store. Put simply, if you're looking to build a website and are a bit nervous about how you'll pull it off, Squarespace makes things easier.
About
Squarespace was founded in 2003 in a dorm room at the University of Maryland. It has helped create millions of websites, has received a string of awards, and has offices in New York City, Portland, and Dublin.