HostPapa Visit Site
Overview
HostPapa has the industry expected 99.9% uptime guarantee. This level of reliability is a sign that the company is constantly working to keep servers up to date, monitoring speeds and connectivity and ensuring that clients are kept online. The servers are all first-rate quality and are acquired from recognizable and highly regarded brand names such as HP.
How HostPapa Works
HostPapa has many useful hosting features using the latest technology while remaining green as an entire company. This is an important feature for a lot of people who are looking for ethical hosting, because taking care of the planet is a priority for many, and HostPapa includes this as part of its business ideology.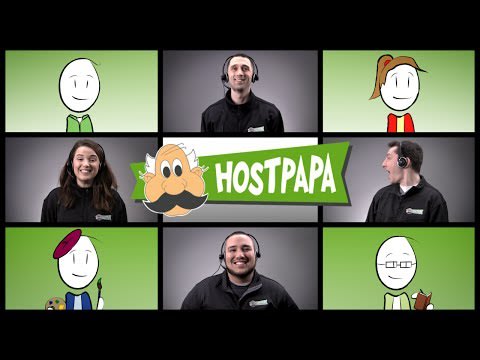 All the hosting plans have unlimited disk space, bandwidth, email accounts and pages. The only exception to this is the Starter Hosting plan, which is the cheapest and most basic shared hosting package. The plans can be Linux or Windows (with shared or VPS hosting) and you'll get a free domain or domain transfer, depending on what it is you need. HostPapa uses the very well-known cPanel control panel. This means the control panel is easy to use and shouldn't pose a problem for people transferring their hosting rather than starting from scratch with HostPapa. It is also especially compatible if you're using a Linux-based system.
One of the more prominent and professional website builders used by HostPapa is SohoLaunch. It's an industry gem and has a large number of templates available to use on your website. HostPapa gives you more than 200 apps and plugins that can be used to make your website better. Features such as the shopping cart and Paypal are SSL checked and compatible to make sure all your payments and customer payments are encrypted and secure.
Building a Site
HostPapa is confident that it only takes 5 minutes to build a website with them. The website builders they provide allow you to customize codes (HTML, CSS etc) and there are so many widgets, add-ons and apps to choose from, you won't know which to choose first. Examples of what you can add include payment buttons, such as for PayPal. Twitter or Facebook sharing icons are just 2 examples of the many social media sites you can link to your website. The HostPapa premium website builder also allows you to drag and drop content whether it's text or multimedia photos or videos. The idea is that the whole experience should be quick and easy.
HostPapa Customer Support
The customer support with HostPapa is genuinely some of the best you can find in the hosting industry. It is of an exceptionally high standard. Not only is email or live chat support available in multiple languages (more of which are being added to the repertoire), it is accessible 24/7. The international presence of the company means they have to accommodate time differences and this benefits the clients all around the world. You can use the video tutorials on offer or choose to have a 30 minute one-on-one session with a HostPapa specialist. The knowledge base is packed with articles, blog pieces, tech updates and up-to-the minute info for clients.

HostPapa Visit Site
HostPapa Pricing
Pricing & Special Offers
HostPapa discounts can be found on a fairly regular basis, so do keep an eye out for those. The price drops can save you over 1/2 off the normal price.
The shared hosting plan for small companies or individuals, known as the Starter Plan, costs only $3.95 / month (for a 3-year plan). This is the only plan that does not give you unlimited space and bandwidth and it's really meant for individuals who might just want to set up a blog.
The Business Hosting plan is $3.95 per month and it allows you to host an unlimited number of websites. The Business Pro shared hosting plan costs $12.95 per month and ensures you can have a virtually limitless online presence for your business. There is also VPS hosting available and the prices for this vary depending on your needs.
Bottom Line
HostPapa is a reputable, environmentally conscious company that is clearly dedicated to providing excellent hosting. This is the perfect hosting provider for eco-friendly individuals or small / medium sized businesses.