In a Nutshell
Postmates is a meal delivery service of an entirely different sort. Rather than delivering standard meals from a static menu, Postmates lets you choose from an almost unlimited number of restaurants in your area, select the food items you want, and then delivers it to your door. And it gets there faster than the restaurant delivery itself! With a huge variety of options and fast, courteous delivery personnel, Postmates makes eating-in a snap.
pros
Huge selection of restaurants and foods to choose from
Generally faster than the actual restaurant delivery
Unlimited Plan for free deliveries
cons
Not available in all states
Some restaurants go offline without any prior notice

Postmates Visit Site
Ideal For
Working late / busy people who don't have time to pick up meals
People who live outside of standard delivery range
Those nights when you just don't want to leave the house
What's Unique About Postmates?
Postmates is not the only type of restaurant meal delivery service out there. There are other competitors like GrubHub, DoorDash, and UberEats doing similar things. But there are some things that we thought made Postmates stand out from the competition. Here are some of them:
Wider delivery network
Getting dinner or lunch delivered to your door isn't always that easy, depending on where you live. Delivery services are limited by the distance the delivery person can travel (i.e., how far can a messenger go before the food gets inedible or the cost of delivery isn't worth it anymore). So, if you live in a high-traffic area, then this isn't a problem. But if you live in an area that is "out of bounds" for most restaurant deliveries, this can lead to some extremely frustrating (not to mention hungry) nights. Enter Postmates, a meal delivery service that lets you order food from almost anywhere and get it delivered into your hands no matter where you are. There are hundreds of cities within the Postmates delivery range, so there are hundreds of restaurants you can choose from. Dinner dilemma solved.
Speed
Waiting for your food to arrive when you're hungry is never fun, but when the delivery guy is late, it can be a slow and painful kind of torture. What we found interesting was that Postmates was able to deliver the food generally 10 to 30 minutes faster than the average restaurant or takeout delivery service. Of course, this makes sense when you think about it. Postmates has dozens of delivery people in each area, so any one of them can just pick up your order and go immediately. Actually, to be more accurate, the service employs more than 300,000 Postmates! That's a lot of delivery guys.
Plus, they don't have to wait for additional orders to come in before loading up and heading out (like restaurant messengers do). Speed is a big perk that Postmates earns points for.
Variety
Finally, Postmates has one of the largest networks of restaurants available. You can choose from hundreds of delectable items, from pizza to sushi, burgers, or a decadent dessert that's calling your name. The list of restaurants is exhaustive, and if you've eaten out before, chances are your favorite eatery is on the list. Variety is also a big perk for a service like this because who wants to eat at the same place time after time?
Postmates also has a convenient GPS tracking tool that you can use to see exactly where your food is and when it'll get to you.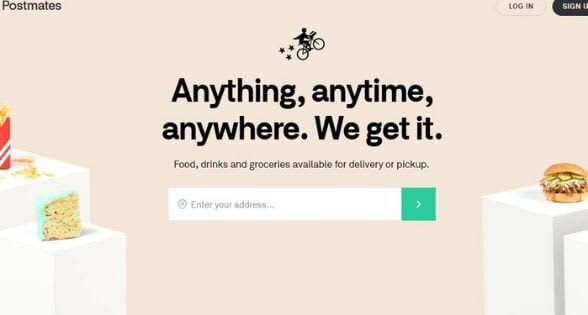 How It Works
Simply put, Postmates is a fast and easy way to get food. You order food from your favorite participating restaurant, and a Postmates driver will pick it up and deliver it to your doorstep. Short, sweet, and to the point.
First, you sign up for an account with Postmates. This includes inputting your zip code, so Postmates can tell you which restaurants are available near you.
Then, you'll browse through a huge list of eateries until you find the one that speaks your hunger language.
You can also search for a specific restaurant, menu type, or food item. Postmates also has a convenient Previous Orders section of meals and restaurants you've already ordered from. This is helpful if you want to place a repeat order for something you've recently enjoyed.
Add your meal to the shopping cart, finalize any extra items (drinks, side dishes, desserts, etc.), and proceed to checkout.
Postmates will calculate the cost of your meal, any delivery charges (if applicable), and give you your total amount.
Pay, and your meal will be delivered to your doorstep shortly.
Like we said, easy as pie—or whatever else you decided to order. The one downside to Postmates is that delivery is not available in all states. As the service evolves, it is becoming much more available in a wider service area, though. Currently, there are hundreds of cities that work with Postmates, so put in your zip code to see if it's available near you.
Interestingly enough, Postmates also offers the option for you to come pick up your food items at various pickup points. If the restaurant is in your neighborhood, then you can just go pick up the food yourself. What's the point of Postmates Pickups? Well, this program lets you skip the lines and any accompanying fees as well.
Meal Options
Here's the best part of Postmates. As mentioned in the section above, this meal delivery service spares no expense when it comes to meal options. You can get almost any food item or cooking style you're craving. Just ask your stomach what it's in the mood for, and Postmates is happy to oblige. Some of the food styles available are:
Sushi bars
Pizza shops
Bagels
Chinese food
Delis
Cafes
Vietnamese restaurants
Bakeries
Coffee shops
Sandwich bars
Corner grocers
Farmers markets
Alcohol stores
Juice bars
Falafel stands
Indian food
Vegan restaurants
Caribbean food
Burgers
Diners
Boba bars
Asian fusion
Latin American food
Japanese food
Middle Eastern cuisine
No matter what you're in the mood for, Postmates has the solution to satisfy your stomach.
Pricing
Postmates is a little complicated, so bear with us. To begin with, there are several fees involved. Nothing major, but you need to understand what you're paying for, so you can decide if it's worth your while. Here's a breakdown:
19.99% of total up to $20
$9.99/month or $83.99/year
Delivery fees vary based on several factors, including location and availability. There are also restaurants on the site that Postmates waives the delivery fee for. So, sometimes you won't be charged anything for delivery. On the Unlimited, you won't have to pay any delivery fees at all if your order is $15 or more. This plan really pays for itself if you order food twice a month.
Finally, the service fee is only charged for non-participating restaurants. If you order from one of the participating restaurants, you won't pay this fee at all. While at first glance it may look like you're paying tons of fees, when the bill actually comes, there's less there than you thought. All in all, for the convenience aspect, you're getting good value for your money.

Postmates Visit Site
Help & Support
Postmates customer service is available 24/7 to help out with delivery requests and issues. There is also an online contact form that you can use to send an email with your specific questions about Postmates.
Bottom Line
We've all been there: you're starving for dinner, but nobody will deliver, and you're too busy at work to step out for a pickup. Even if you live near many restaurants, delivery charges can sometimes add up to more than your meal itself. Postmates makes meal delivery an affordable option for everyone. The delivery fees are reasonable (and often waived), and what's more, the food arrives faster than it would from the restaurant itself. With a vast menu to choose from, you'll never get bored either. For all these reasons, Postmates gets a big thumbs up.