It's a time for introspection, a time for renewal, a time for taking time. Winter is the season for curling up with a good book, a cozy blanket, and a steaming drink that not only warms our hands and our stomachs but also our hearts and our souls.
To help you sink into the snug satisfaction that is a chilly winter's day, here are some of our favorite winter cocktails to keep you warm from the inside out.
Cozy-Up Cocktail #1: Sailor Jerry & Hot Chocolate Blend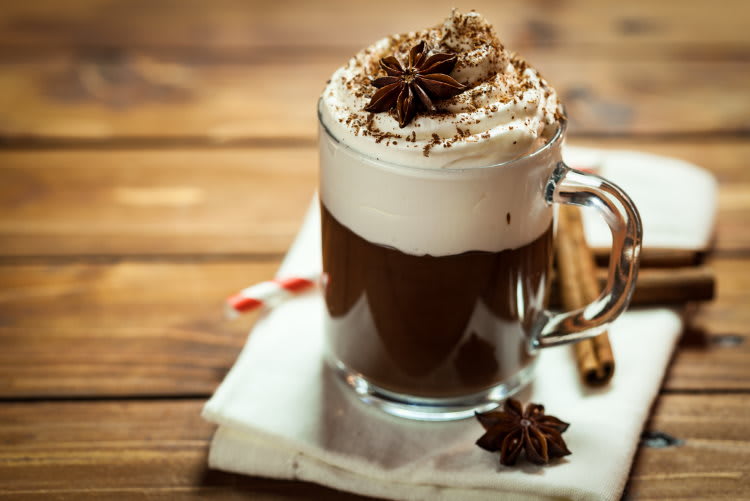 Guy or girl, business exec or stay at home dad, old or young, chocolate is everyone's best friend. Aside from the happiness-inducing hormones that this slice of heaven produces in our brains, chocolate is full of antioxidants and can get your gray matter pumping. So let's kick things off with the Sailor Jerry & Hot Chocolate delight. The splash of spiced rum and butterscotch schnapps will also give you a boost (or calm your nerves, depending on what you're looking for) on any winter's night.
Ingredients:
1.5 oz Sailor Jerry Spiced Rum
1.5 oz butterscotch schnapps
3 oz hot chocolate
Dash of orange bitters (optional)
Add equal parts of the hot cocoa mix and alcohol of your choice.
Fun serving suggestion: Any chocolate beverage is made better with a dollop of whipped cream, and the hot varieties are certainly no exception. Enhance your indulgence with a generous helping. Let it sit for a minute or two before drinking to allow the cream to melt slightly into the chocolate mix for a heavenly combination you can sip.
Cozy-Up Cocktail #2: Blackberry Mulled Wine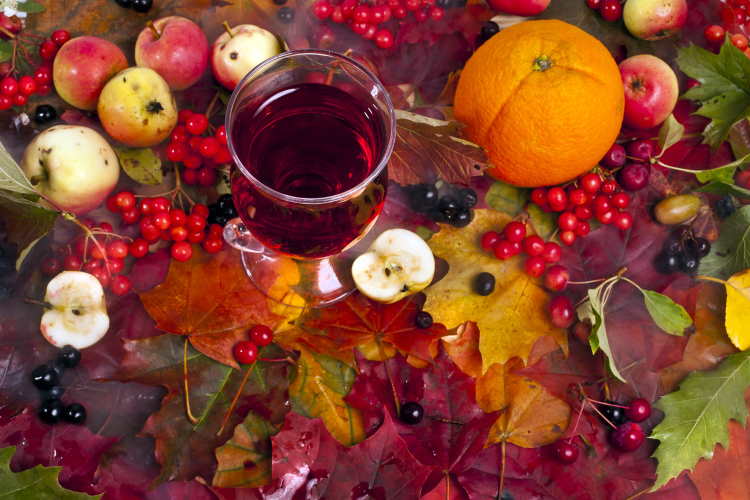 Mulled wine is a sophisticated alternative for blustering winter nights, and the best part is you can do it with a wide variety of flavors (apples, blueberries, peaches, pears). Red wine has a rich, deep taste, and the blackberries themselves are loaded with goodies like vitamin C, vitamin K, and fiber. Aside from that, the combo of ingredients in this drink is a guaranteed party in your glass every time! This one takes some prep time, so make sure to plan accordingly.
Ingredients:
1 bottle red wine
2 cinnamon sticks
4-5 cloves
2 star anise
1 orange (juiced)
1 cup apple cider
½ cup brandy
1 cup blackberries
¼ cup maple syrup
Combine all your ingredients into a pot and bring to a low simmer. Keep it simmering for about half an hour to an hour, making sure it doesn't boil. If you want, you can let the mixture sit to allow all the flavors the blend more, or you can serve right away. Pour into mugs, and garnish.
Fun serving pairing suggestion: With all the flavors in this cocktail, it's easy to add a fun garnish. Use another cinnamon stick, top with more blackberries, or gently place an anise star floating atop the mug for added effect.
Cozy-Up Cocktail #3: Prince Pum King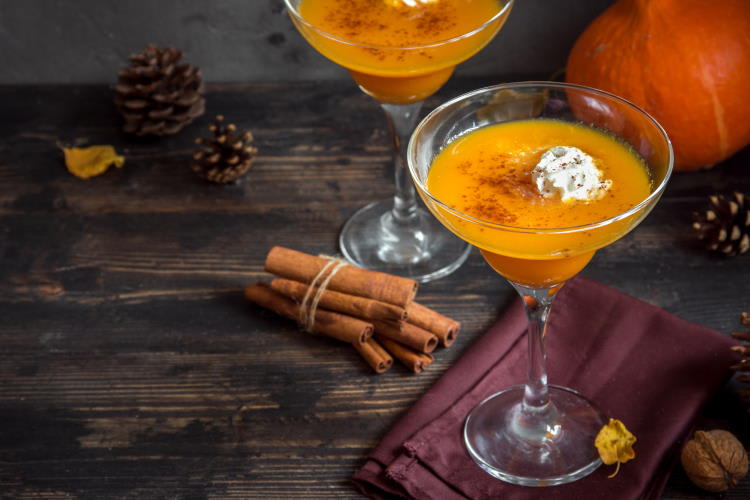 Pumpkin is synonymous with warm, cozy comfort foods (think pumpkin pie, pumpkin latte, baked pumpkin). So it's only natural that we'd include a pumpkin cocktail to fend off those chilly winter blues. Drambuie is a popular choice for its sweet side and spiced honey kick.
Ingredients:
1 oz Drambuie
1.5 oz pumpkin puree
⅛ tsp ground cinnamon
⅛ tsp ground nutmeg
4 oz steamed whole milk
You can use whatever type of milk substitute you want for this cocktail. After steaming your milk option together with the puree and spices, double strain the mixture into a glass. Add the Drambuie, stirring slowly, and then top with more foamed milk and nutmeg.
Fun pairing suggestion: Pumpkin flavor is enhanced by other foods that either complement or contrast the earthy sweet punch. While sipping your Prince Pum King cocktail, enjoy some roasted chestnuts, cinnamon spice, or dark chocolate. If you want more substance, put out a plate of crackers and gorgonzola or goat cheese and crispy bacon.
Cozy-Up Cocktail #4: Tanteo Chipotle Apple Cider Margarita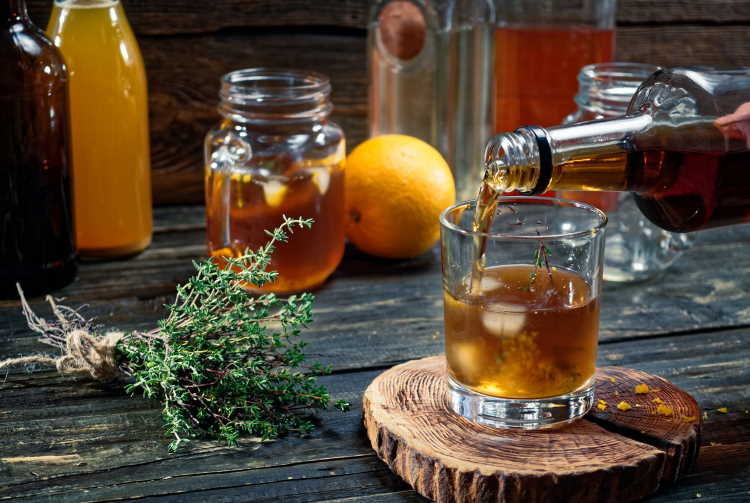 Apple cider is another one of those warming beverages that conjure images of cozy winter days and childhood dreams. As the adult version, this tequila margarita also combines a festive variety of fruity juices for a sweet treat that can't be beat.
Ingredients:
1.5 oz Tanteo Chipotle Tequila
4 oz hot apple cider
1 oz fresh orange juice
½ oz fresh lemon juice
¾ oz light agave nectar
The beauty of this is its simplicity. Just add all of your ingredients together in a pre-warmed toddy glass, stir to combine, and top with your favorite toppings. Easy peasy.
Fun serving suggestion: Appropriate toppings for this cocktail include cinnamon sticks and nutmeg. And if you like the flavor of this cocktail, you should also try the spiced apple hot toddy. It's more involved, but delivers a fabulous punchy flavor.
Cozy-Up Cocktail #5: Caramel Irish Coffee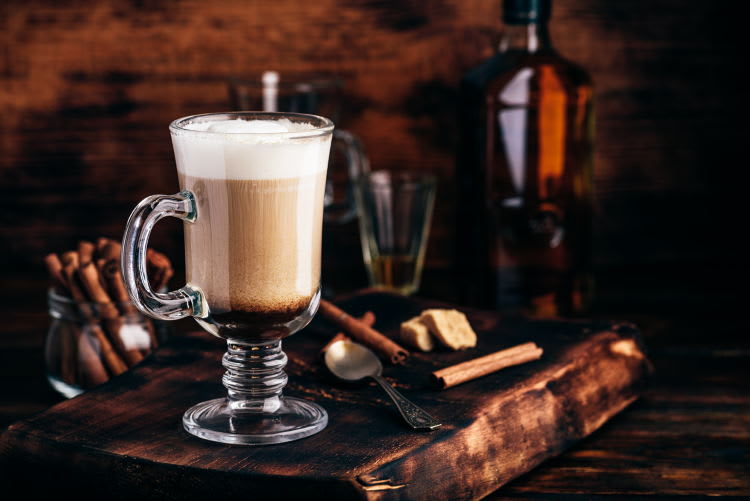 Irish coffee is a treat any time of year. And when you add the caramel on top, well, that's when you hear the angels start their song...
Ingredients:
1 oz Irish whiskey
1 oz Irish cream (Baileys)
1 oz butterscotch schnapps
2 ½ oz coffee
Whipped cream for garnish
Caramel syrup for garnish
Prepare your favorite type of coffee. You may need more than the recipe calls for if you like it heavier on the coffee flavor or you're using a larger mug. Once prepared, combine all the ingredients in a warmed mug. Top the cocktail with whipped cream and sprinkle caramel syrup to create a heavenly look and taste combo.
Fun serving pairing suggestion: The warmed mug effect is easier to create than you'd imagine. Put boiling water into the glass of choice and let it sit to warm the sides of the mug. Spill out the water, and use this toasty cup for a comforting beverage any night or day.
Cozy-Up Cocktail #6: Maple Pecan Latte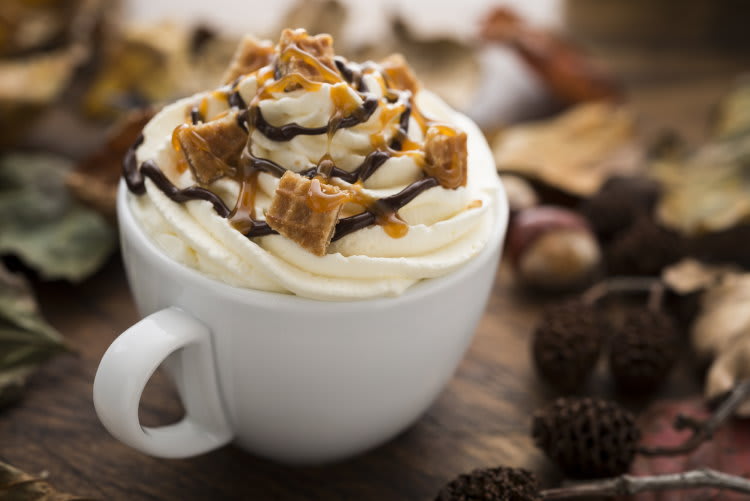 Just hearing the words maple pecan latte will send shivers up most people's spines. To infuse your winter days with something truly special, try pairing this drink with a truly decadent slice of maple pecan pie topped with a generous helping of whipped cream.
Ingredients:
¼ cup maple syrup
¼ cup pecan butter
2 tablespoons brown sugar
½ tablespoon butter
⅓ cup heavy cream (or dairy-free option of your choice)
1 teaspoon vanilla extract
1 shot espresso
2 tablespoons maple pecan syrup
½ cup steamed milk
1 shot of bourbon or scotch
Garnishes: whipped cream, chopped toasted pecans
Boil the maple syrup, pecan butter, brown sugar, and pecan butter over a medium heat until everything is dissolved into a smooth, brown syrup. Remove from heat and stir in the heavy cream and vanilla using a whisk. Then let everything cool for a while. This is the syrup part.
For the latte, add 2 tablespoons of maple pecan syrup to your espresso until it's totally blended. Add the milk slowly, pour in your whiskey of choice, and top it off with your garnish for a beverage that'll get you through anything. You can add a splash of chocolate syrup if you like a mocha flavor as well.
Fun serving suggestion: Can't find pecan butter online? Make your own easily by tossing toasted pecans into your food processor. Bam pecan buttery perfection! Feel free to play around with the amounts when it comes to coffee flavoring, adding more if you're a real caffeine addict or less if you prefer a sweeter drink.
Cozy-Up Cocktail #7: Cocoa Buie II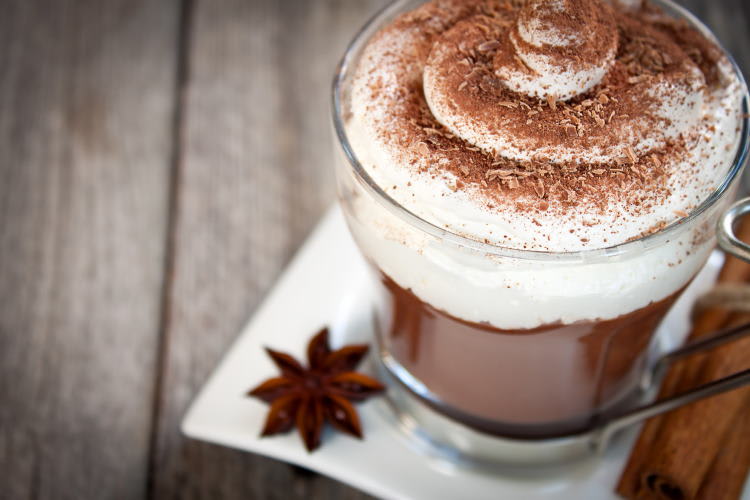 Revisiting the popular Drambuie, Cocoa Buie II is another option you're sure to love. The best part of this recipe is the medley of various taste sensations: the Cocoa Buie II combines sweet, spicy, and salty in one sensational masterpiece.
Ingredients:
2 oz Drambuie
9 oz hot milk
3 oz hot cocoa mix
⅛ tsp ground cinnamon
⅛ tsp kosher salt
Combine everything in a saucepan and heat on a medium flame. Stir occasionally to avoid burning the milk. Pour into a readied glass or mug. Now comes the really fun part. Top off this soothing solution with a pile of oven-charred miniature marshmallows.
Fun serving suggestion: Can't get enough of that hot cocoa goodness? Also try out a St. Germain Chocolat Epice or Dorda Cafe for more cocoa beverages that are out of this world!
Cozy-Up Cocktail #8: Sonoma Sage and Maple Toddy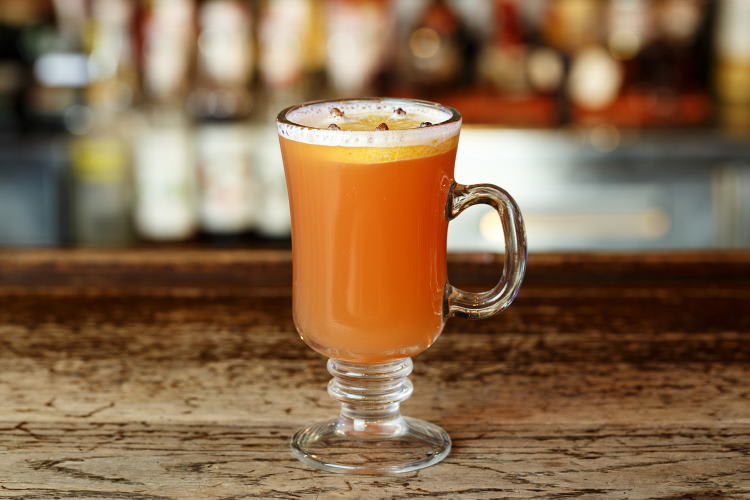 Hailing from Ireland, toddies were made famous for their rich, comforting warmness that combines sweet flavors (usually honey) and herbs. The Sonoma Sage and Maple Toddy has a slightly more sophisticated undertone, and steeping your tea leaves is a classy way to create a comfort food.
Ingredients:
1.5 oz Sonoma Bourbon
½ oz fresh lemon juice
½ oz maple syrup
4 oz sage leaf tea
Toddies are really easy to make. You just combine all of the ingredients together and you're done. To make the sage leaf tea, boil a cup of water and steep five sage leaves in the liquid for about ten minutes. Remove the tea leaves before drinking.
Fun pairing suggestion: You can really get creative with the appetizers you serve alongside a Toddy. Sweet and savory combos are always welcome. So pairing a section of sausages with some sweet treats would make a great meal. Olives, crunchy french bread, and cheese platters are also excellent choices.
Cozy-Up Cocktail #9: Last Stop Darjeeling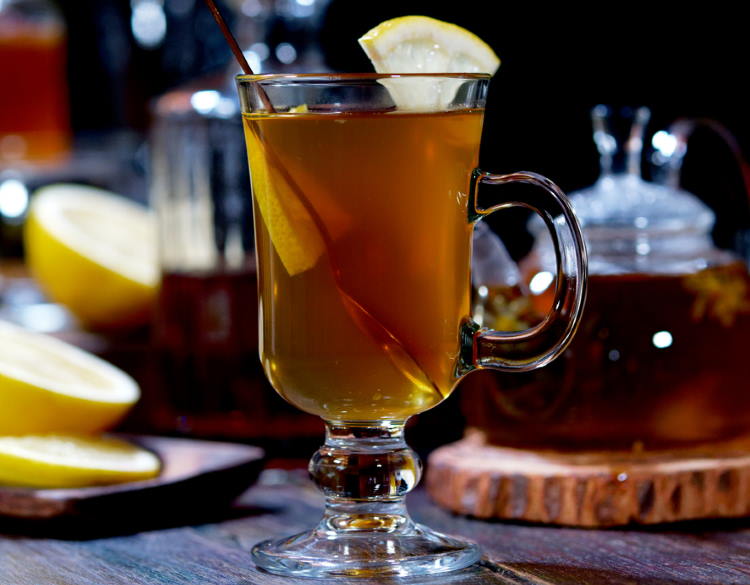 Here is another great cocktail when you feel like adulting (i.e., skip the sweet hot cocoa and opt for something earthier).
Ingredients:
1.5 oz Orleans Cider Bitters
1.5 oz Lustau Oloroso Dry sherry
¼ oz lemon juice
Half a pot of Darjeeling "2nd Flush"
Black tea
3 bar spoons agave nectar
Start this cocktail by making a pot of Darjeeling tea. Allow this to steep for a little while. When ready, fill your mug about ¾ of the way with the tea and add the rest of the ingredients. Top with a lemon twist for an attractive presentation.
Fun pairing suggestion: For a truly elegant evening, you can pair this cocktail with a mushroom saute, smoked Alaskan sockeye, and manchego cheese. The umami flavor and fresh herbs complement the Lustau sherry beautifully.
Cozy-Up Cocktail #10: Hot Honey Butter
To round off this list, here's one more delightful winter cocktail that will have your taste buds smiling from ear-to-ear. We thought to end off the countdown with the Hot Honey Butter because it really romances all the comforting winter flavors into a single spectacular beverage anyone can love. Enjoy!
Ingredients:
2 oz Drambuie
1 tablespoon natural apple butter
½ tablespoon unsalted butter
6 oz steamed whole milk
1 pinch kosher salt
⅛ teaspoon ground cinnamon
⅛ teaspoon ground nutmeg
Steam the milk, apple butter, and spices together. Double-strain the mixture once it's hot and stir in the Drambuie. Foam up some more milk for a fun, fluffy topping.
Fun serving suggestion: This is a great breakfast beverage and can be eaten with a lot of yummy carbs, including oatmeal, cornbread, and buttermilk biscuits. You can also toast up a bagel or English muffin and make a splendid start to your day.
Winter Cocktails That Will Make You Crave the Cold
Stock your pantries with all the ingredients you need. And then make like a bear and hibernate with a consoling cocktail that will relax your body, soothe your soul, and revive your spirits all winter long. Happy and healthy!
You may also like:
The Best Wine Club Subscriptions for Discovering New Wines