In a Nutshell
Byte is an invisible brace company that offers you the chance to get a Hollywood smile without having to visit the dentist. Although the invisible brace marketplace is crowded with other companies such as SmileDirectClub and Invisalign, Byte manages to stand out from the crowd by matching treatment to your facial features and straightening your teeth up to 2 times faster than other alignment services.
pros
High frequency vibration tool increases teeth movement
Less painful than other alignment treatments
1-month supply of free whitening gel
cons
Doesn't accept direct insurance payments
Lack of dental visits means no professional treatment oversight

Byte Visit Site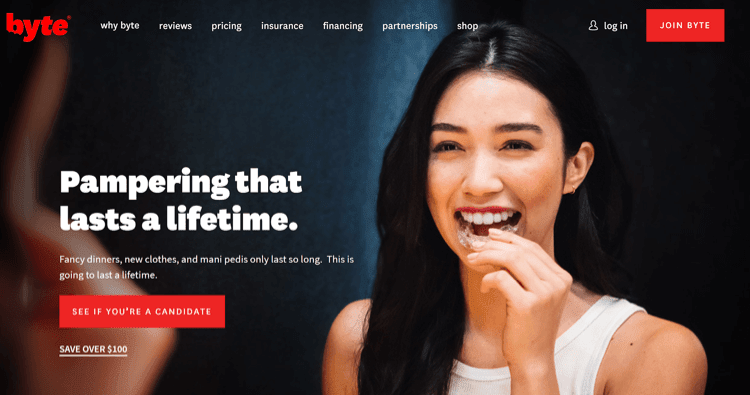 Byte at a Glance
Starting price: $1,895
Treatment duration: 3 months
At-home fitting: Yes
Accepts insurance: Yes
Money back guarantee: Only covers initial $95 impression kit
Best For
Byte's quick and convenient treatment system makes this service best for anyone with a busy lifestyle that doesn't want to waste time and energy on months of orthodontist and dental visits. Each customer is reviewed and assessed individually by board-certified orthodontists and dentists to ensure everyone gets the treatment that best fits their specific needs.
A major perk of Byte is the option to straighten your teeth conveniently while you're asleep - with an estimated treatment time of only 5-6 months. The At-Night Aligners are designed for people who don't have the time to pop aligners in and out during the day, using a slightly thicker material to accelerate treatment time while reducing discomfort.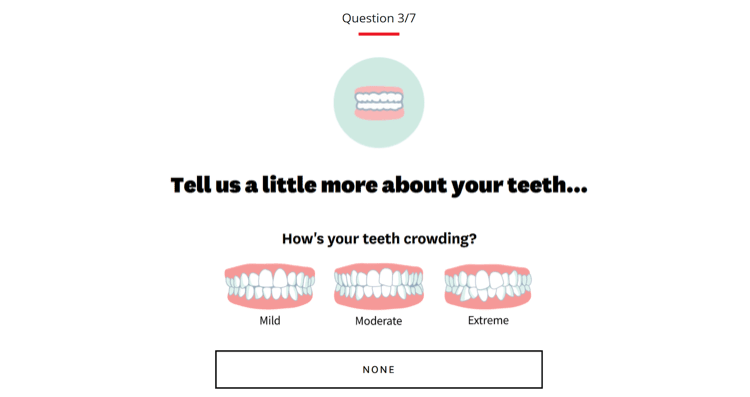 How Does it Work?
Getting beautiful straight teeth through Byte could hardly be easier. During Byte's treatment plan, there's no point at which you have to visit a dentist or orthodontist's office. That's because you take initial impressions of your teeth at home, which then will be reviewed by an board-certified orthodontist, and progress will be monitored remotely. Thanks to this process, you will be able to get the perfect smile safely and convenientely, all while avoiding the crowds.
The first step is to find out whether you're a candidate for Byte's treatment program. This doesn't take long at all. Simply head over to Byte's assessment page and answer a 30-second quiz about the current state of your teeth including how much teeth crowding you have and whether you have any baby teeth left. After you're finished, Byte will let you know if you're eligible for its treatment system via email.
The next step is for you to take impressions of your teeth at home. To do this, you'll need to order an impression kit. Once it arrives, all you need to do is put it in your mouth for 15 minutes and bite down. This will create a 3D impression of your teeth that you then send back to Byte for free using a pre-paid package.
After that, you have to wait for your impressions to be reviewed by a fully-qualified orthodontist. If they think you're a good fit for Byte's treatment, they will use Byte's Smile Science tech to create a preview of your new smile post-treatment. If you have any questions, they can create a digital video that shows how your teeth positions will change over the course of treatment.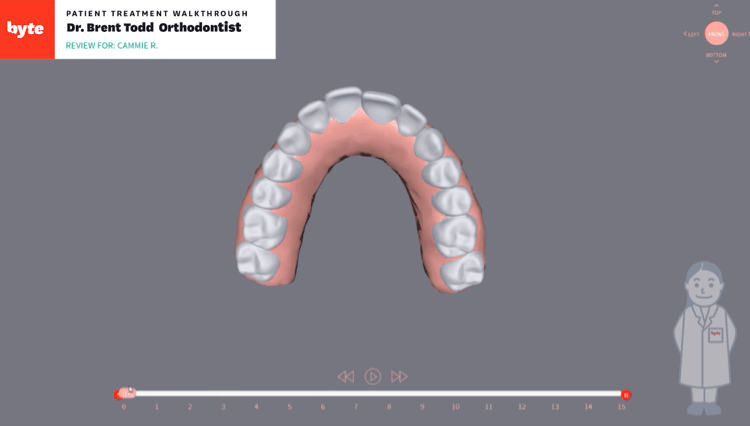 If you're happy with the results, you commit to the program by purchasing Byte's aligner package which will be mailed to you after payment is made. To see results, you'll need to wear Byte's clear aligners for as many hours per day as possible for 3 months, only taking them out to eat and drink. A less-intensive nighttime treatment schedule is also available. If you choose it, it'll take around 6 months to achieve that brilliant new smile.
In addition, during treatment, you must use Byte's HyperByte tool, which is included in every treatment kit, for 5 minutes per day. This uses high frequency vibrations to speed up your treatment by encouraging tooth movement. During the treatment phase, you can also whiten your teeth with BrightByte whitening solution. All you have to do to brighten your smile is to add gel in to your clear aligners before popping them in.
Over the course of your treatment, your progress will be tracked by a licensed orthodontist remotely. These professionals will check teeth position to catch and address any issues, should they occur.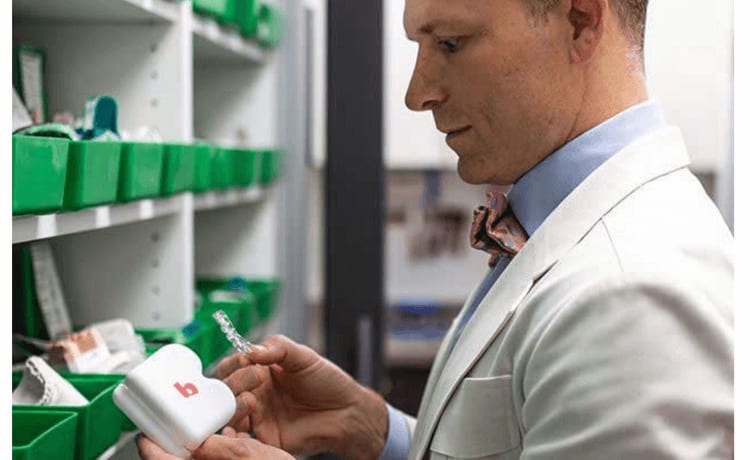 After you've achieved that fabulous new smile, you'll need to prevent your teeth from returning to their original positions with a retainer. Byte includes one 6-month retainer in your initial treatment package, and all you have to do is put it in at night to hold your teeth in their awesome new position.
$1895 with $95 impression kit fee
$83 per month for 29 months plus $349 down payment
You can pay for Byte in a simple 1-time payment or spread the cost out over 29 months through bytepay. The best thing about bytepay is that it has a 100% approval rate and doesn't leave any impact on your credit score. Of course, bytepay is a more expensive option overall as you'll end up paying around $2,763 total. Alternatively, you can pay for Byte using cost spreading tools like Splitit or insurance accounts including CareCredit, HSA, or FSA.
Are you in full or part-time education? Then you'll be glad to know that Byte has a student discount program for both college and graduate students. Exact pricing information about how much this discount is worth isn't available online, so you'll have to email the Byte team if you'd like to find out more. Veterans, active members of the military, and first responders can also get a discount on Bytes invisible braces.
What You Get
You get a lot of cool things in the Byte treatment package, but most important are the clear aligners which are custom-made to fit your teeth according to the 3D impressions you sent to Byte prior to starting the program. In fact, you get a whole range of clear plastic aligners with one to match each week of your program. The idea is that once your teeth have been moved slightly by one aligner, you move on to the next.
Plenty of technology goes into Byte's aligners. They are formed from a transparent medical-grade BPA-free polymer film and designed to be significantly more stain and tear-resistant than aligners from comparable services.
But, of course, Byte's HyperByte tool is the star of the Byte treatment package. This is formed from a flat C-shaped mouthpiece and a vibration therapy transmitter that sends micro-pulses through the roots of your teeth and surrounding bone. These pulses encourage cellular activity, speeding up tooth movement and setting your aligners more accurately. According to Byte, this technology helps to straighten your teeth twice as fast.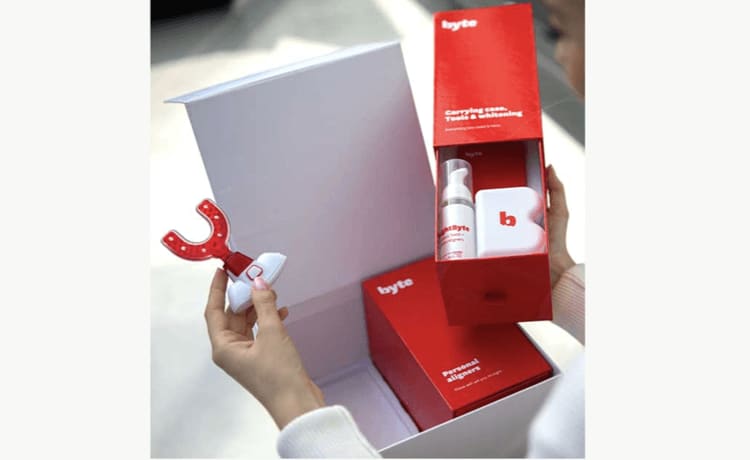 The FDA has given the HyperByte clearance to be used on your first day of treatment. Its mouthpiece is made of super soft material for your comfort and it communicates through easy to understand LED notifications. These tell you about the HyperByte's charge status and when to stop treatment.
Also included in the box is BrightByte whitening gel, a post-treatment retainer, and a handy carrying case to store your aligner in. Only one month's supply of whitening gel is included for free, but that should be enough to achieve a noticeable color improvement.
Guarantee
Byte has 2 distinct guarantee policies for its clear brace services. Its "No Risk Guarantee" applies to the initial $95 impression kit fee. You'll only get your money back if Byte's doctors believe you aren't a good candidate for its service.
The second guarantee is Byte's "Byte for life" scheme. Essentially, Byte promises to fix your smile post-treatment forever, and for free, if your teeth move out of alignment. To qualify, you must stick to Byte's recommended treatment scheme.
Insurance
If you have a dental insurance plan that includes orthodontic coverage, or you have a health savings account you can use to pay, you may be able to save even more on the already affordable plans. To find out, you don't even have to talk to your insurance yourself. Just provide Byte with your insurance card details, and they will do a free coverage.
Customer Service
When it comes to customer support, Byte really stands out from other clear brace providers. After sign up, a personal care advisor will walk you through every step of the process and be available to help you personally throughout the entire Byte journey. Remote monitoring of smile progression from a practicing specialist is also available so any issues are caught and addressed fast.
For more general customer service, you can get in touch over the phone during standard Pacific Time working hours. Byte customer agents are also available by social media and email.
Testimonials
"I saw dramatic results within 3 weeks. I would definitely recommend it."
"My experience has been great! I wish I hadn't waited as long as I did to get started. As an adult who had never had braces before I wasn't sure what to expect. The process was easy and customer service was very helpful. Six weeks in and my smile is improving noticeably! Thank you Byte for my brighter and whiter smile!"
"So excited! I Received my Byte kit yesterday. I am so impressed! The packaging Is beautiful and the instructions were so easy to understand. I wore them last night and this morning already felt a difference. Can't wait to see the results."
"After my treatment with Byte, I get noticed and people go out of their way to comment on my smile."
Bottom Line
Thanks to its unique HyperByte tech, Byte is one of the best clear brace companies for anyone who wants a rapid treatment that leaves them with the smile of their dreams. The convenience of Byte's package is unmatched as everything can be done from your own home—you don't even have to set foot in a doctor's office once, and avoiding the crowds is a serious plus in times of the COVID pandemic.

Byte Visit Site