In a Nutshell
Wave is free, easy-to-use accounting software, built for small businesses and entrepreneurs. The accounting features themselves are quite powerful, and easy to set up. The mobile experience could be better, and more integrations would always be welcome, but the bones are all there. Plus, it's free to use, which will no doubt convince many customers to overlook the 1 or 2 missing features.
pros
Software 100% free to use
Designed for entrepreneurs & small businesses
Unlimited income and expense tracking
cons
Missing some features
Limited integrations
Inventory tracking could be greatly improved
Wave Accounting Visit Site
Wave at a Glance
Best for: Entrepreneurs
Price range: $0 - $35/mo (payroll)
Key features: Accounting, invoicing, receipt scanning, online payments, payroll
Apps: App, iOS, Android
Integrations: Google Sheets, PayPal, BlueCamroo, Zapier
Wave Ease of Setup and Use
Getting started with Wave is quite easy, especially since the software is free to use. Just click "Get started for free," and you're off. You'll create a profile from scratch or sign in using Google, and be asked to answer a few questions regarding your business and accounting.
First-timers will love the simplicity, although if you're moving from another accounting service, you may find the import options a bit limited. The basics are there, though. You can import from Google Sheets easily enough, so it's a simple matter of exporting from your current software in the right format.
The platform is visually appealing, clean, and intuitive. Everything is where you expect, which is a real boon when it comes to accounting—a traditionally complicated undertaking where user friendliness often comes second to functionality. Wave may have privileged the former at the expense of the latter in some places, but overall the app feels smooth, familiar, and generally quite powerful.
Wave Pricing and Plans
Wave has the best price possible: it's 100% free to use. For entrepreneurs and small businesses, this gives the platform a serious advantage over competitors. So how does Wave make money? If you live in Canada or the United States, Wave also offers a Payroll service for $20/mo in self-service states and $35/mo in tax-service states, plus $6 per employee or independent contractor.
Wave also charges per transaction if you accept credit card, bank or PayPal payments through the platform, although the rates are decently competitive. They're not the lowest we've seen (and the AmEx percentage, at 3.4%, is pushing the upper limit) but they're hardly exorbitant.
If you needn't process online transactions, though, and do your own payroll, you won't pay a dime.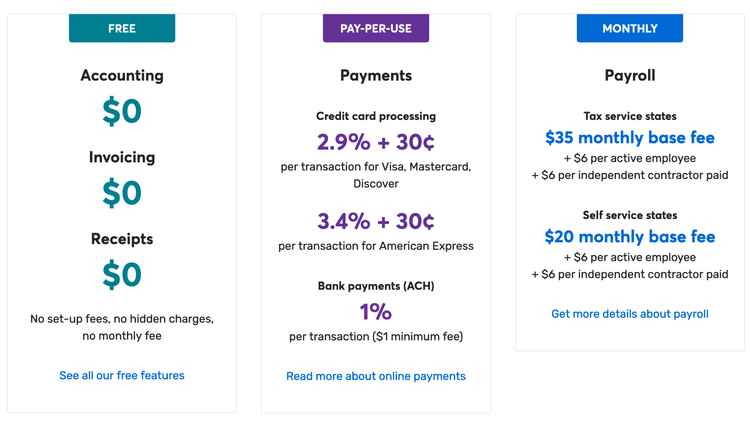 Wave Features
Your Wave app is divided into 4 main sections: Sales, Purchases, Accounting, and Reports.
General Ledger and Expense Tracking
Accounting
Accounting includes 3 sections: Transactions, Reconciliation, and Chart of Accounts. In the Transactions section, you can connect a bank account (US and Canada only), import a bank or credit card statement, or, as we've mentioned previously, a CSV or Google Sheet of transactions.
The Reconciliation tab is a useful tool for tracking down errors between your Wave account and real-world expenses and cash flow.
The real meat of the Accounting tab is the Chart of Accounts, which includes an overview of your assets, liabilities (debts) and credit cards, income, expenses, and equity. You can create as many accounts as needed under each category.
Overall, the Chart of Accounts tab, once set-up, gives you an excellent overview of what's going on in your business. It does a good job of simplifying a complicated task, which entrepreneurs and small business managers can only appreciate.
Reports
The reports tab gives you an overview of all parts of your business on Wave, split up into useful sections.
You can see Profit & Loss, a Balance Sheet and your Cash Flow, plus Sales Tax, Income by customer and aged (unpaid and overdue) receivables, purchases by vendor and aged payables, and a Dig deeper section with account balances, trial balances (to balance your accounts on a specific date), and account transactions (a list of all transactions and totals by account).
Inventory Management
It is also through this accounts functionality that Wave proposes to manage inventory, although it's more of an ad-hoc work-around than a real inventory system. If your personal or small business manages complex or large amounts of stock, Wave may not be the right system for you. That being said, the community forum also has a number of discussions on how this can be accomplished, if you're willing to put in the time and don't mind an imperfect solution.
Billing and Invoicing
Sales
The sales app covers all the basics, including estimates, invoices, and recurring invoices. Creating invoices is straightforward and personalizable: you can add a logo, pick an accent color, and choose from a handful of simple templates.
Add an existing or new client, add columns, choose the currency, and you're set. You can even add notes and a footer. Of course, you can also convert estimates to invoices, which is a big time-saver. With recurring invoices, you can add card details to get paid based on a chosen schedule.
Purchases
In this tab, you'll find Bills, Receipts, Vendors and Products & Services. You can create bills easily enough, to keep on top of ongoing and upcoming expenses. Receipts can be added by scanning or sending an email to your account. There are many advantages to going paperless, from the administrative to the environmental, so these are a nice touch.
As with Sales, you can add and edit vendors, products and services. All of the fields in Estimates, Invoices, Bills and Receipts have an easy-to-use search feature that will find the right customer or vendor.
Wave Integrations
This is one area where Wave could see some definite improvement. Native integrations are quite limited: an (admittedly quite useful) Google Sheets add-on for importing and exporting data, PayPal, and BlueCamroo, a free CRM.
Additional integrations are provided through Zapier, with links to payment platforms like Shopify, Square and Stripe, appointment schedule through Calendly and Acuity, and a variety of CRM, email marketing, and business management apps, including Slack.
Wave Mobile Apps
Wave has both an iOS and Android mobile app. They are considerably more limited to the web app, although this can also of course be accessed with any mobile browser. That being said, the web app isn't particularly well optimized for mobile views, so unless you're on a tablet, it's not entirely practical.
The app (which can be secured with biometric data) includes a tab for viewing and creating invoices, a Customers tab, and Items (to be added to invoices). Under the More tab, you can customize your invoices and payments. That's about it, so it's OK for sending an invoice on the fly, but the actual accounting features are restricted to the web app.
Wave Accounting Visit Site
Wave Customer Support
Support is available through email only which, in our experience, is always slower than online chat or phone support. Many accounting issues, of course, aren't time-sensitive down to the minute, but during tax season for example, that extra wait time can feel like an eternity. There is, as has become common, a support bot that you can access within the app for basic information.
On the plus side, there is a good-sized knowledge base with helpful articles. The tone is friendly and reassuring—they've definitely nailed the voice for their target audience of accounting newbies. In that regard, they've done a good job of putting together plenty of easy-to-read, step-by-step guides for getting basic and advanced accounting tasks done quickly.
Bottom Line
Wave offers a user-friendly accounting experience, something nobody who's tackled accounting before can lightly dismiss. The experience is less robust on mobile screens, and we'd love to see more integrations, but the basics are all there. For entrepreneurs and small businesses with simple, straight-forward accounting needs, Wave does the trick—and at a price that's, by definition, unbeatable. It's free—give it a try, you may be pleasantly surprised.