You don't have to be a millionaire collector that flies around the world to auctions and exclusive showrooms to get access to original paintings, limited prints, or reproductions of famous pieces. There are now a host of affordable online art sites that will give you tasteful design and gift ideas at prices that are well within your budget.
Which websites are best for finding the kind of art you're looking for at the right price? We've scoured the internet for "best of" lists from the world's top online newspapers, and magazines, from Architectural Digest to Good Housekeeping, to bring you the ultimate top 10 affordable online art sites superlist. Our top site, 20X200, was mentioned in 21 of the 32 publications we checked. See the graph below for the rest of the numbers.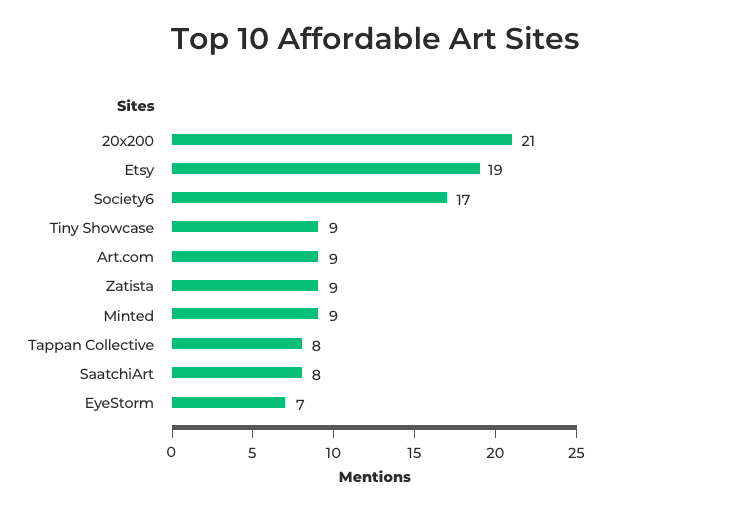 Checking such a wide swath of publications gives us the best unbiased consensus of the top affordable online art sites possible. Read on for more information on what each of these sites has to offer.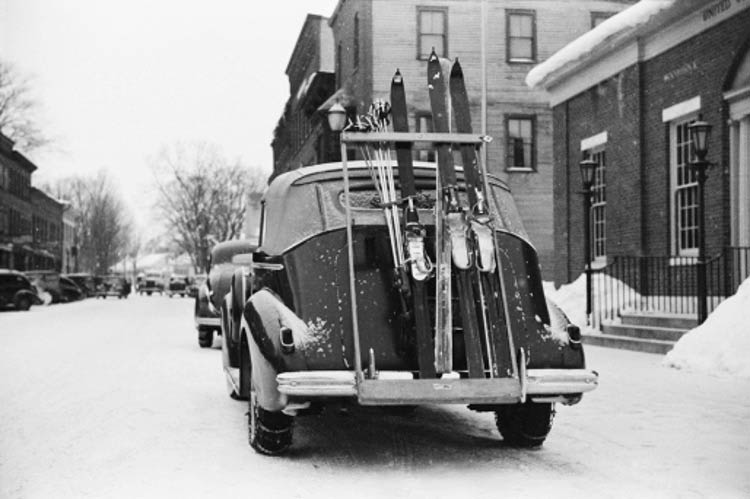 7. Minted
Best for: Lovers of inventive and unique stationery and art
Prices range from $21-$860+
Art ships in 5-9 days
Features unique prints from international artists
If you're looking for a unique range of artwork for your stationery, or your kid's room, look no further than Minted.
Born as a site that aims to spread the work of independent artists worldwide, Minted sells limited edition prints, photography, drawings and wall murals sourced from independent artists.
Prices can begin from as low as $21 for an unframed piece of art. It's a great place to discover and support new emerging artists, with bios and links to their profiles.
What the experts say: "The MintedArt section of the site offers a wide selection of modestly priced art prints." -Elle Decor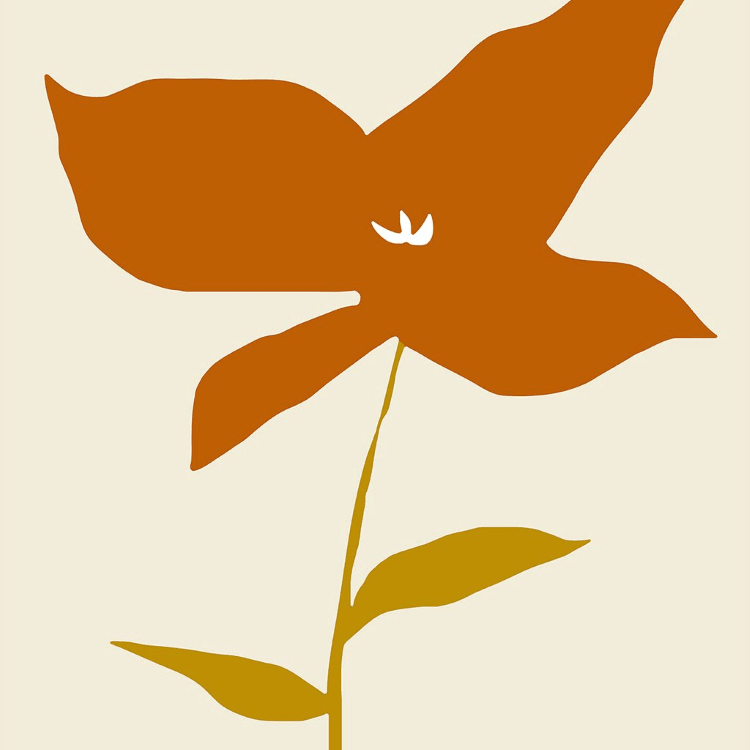 8. Tappan Collective
Best for: Price-conscious lovers of art from emerging artists
Prices range from $50-$3,000
Art ships in 5-10 Days
Features original art, and commissioned works
This site prides itself on bringing art from emerging artists across the world to the masses. This is original artwork, so you won't find prices as low as sites that offer reproductions, but you can find something stunning under $500.
Tappan also offers personalized guidance for those who are looking for art for an institution, or individuals who want to get involved in art investment and collection.
The site also has a range of framing option to ensure that your art is ready to hang when it lands on your doorstep.
What the experts say: "Thanks to Chelsea Neman Nassib and Tappan, collecting and selling art doesn't have to be a daunting experience." -Girlboss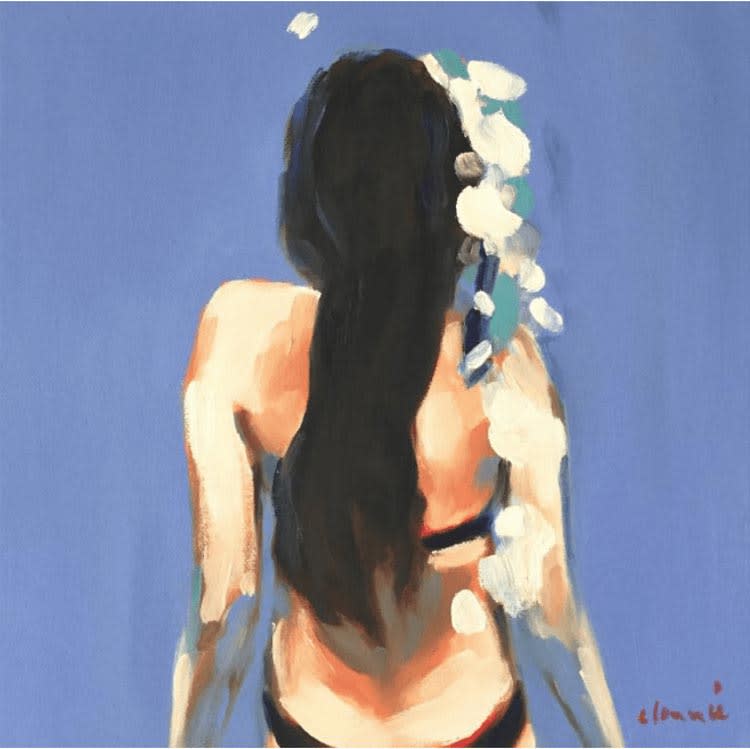 9. SaatchiArt
Best for: Museum-quality original works of art
Prices range from $130-$10,000
Art ships in 3-14 days
Features original art on the upper tier of the affordable art scale
If you're a real collector and are looking for some seriously unique online artwork, check out Saatchiart.
Saving you a trip to the museum, Saatchiart offers artists the chance to sell their gallery work to a huge audience online. The site is nicely divided into different sections so you can easily browse for your perfect piece.
The prices range from an affordable $200 and can easily run into the thousands of dollars.
What the experts say: "Whether your budget is three figures or six, there's art for you." -Huffington Post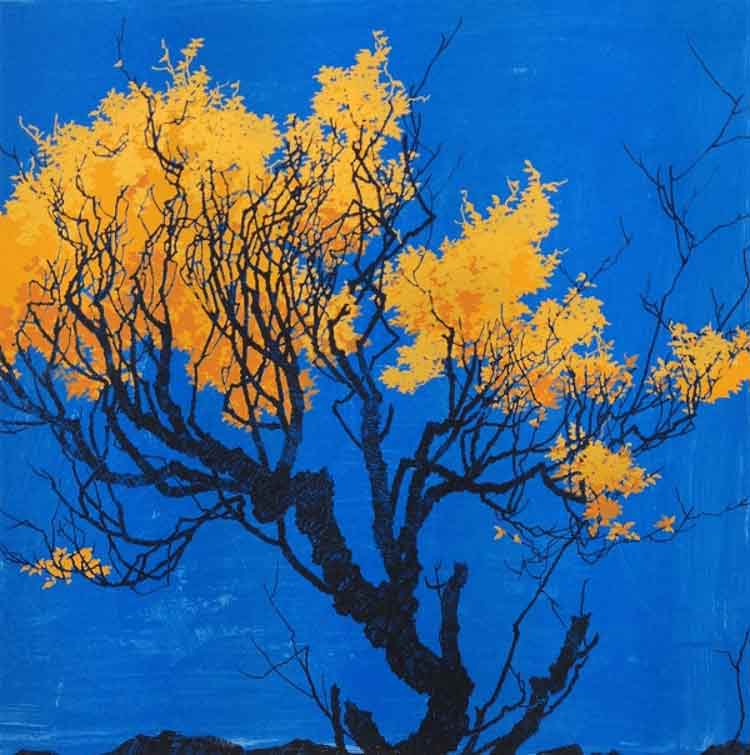 10. EyeStorm
Best for: Those seeking an access point to the cutting edge of contemporary art
Prices range from $400-$14,000
Art ships in 2-5 days
Features limited edition contemporary art
Eyestorm is an online gallery for collectors, featuring signed artwork from well-known artists in a wide variety of genres.
They also sell limited edition works by emerging contemporary artists and serve as an access point for those seeking entry into the world of trendy art.
The pieces on the site are beautiful and well worth the price if you have at least several hundred dollars to spend.
What the experts say: "Head to Eye Storm for high quality work across a number of genres, including abstract, erotic, urban, and still life." -Elle Decor
EyeStorm Visit Site
Start Your Art Collection Today
No matter where your artwork comes from, you should really love it and it should speak to you personally. Don't worry about matching, choose a piece that stands out as a conversation starter. If you're living in a open space don't be afraid of choosing a really large piece that takes up the room. So what are you waiting for? Start browsing affordable art online!