Maybe you dream of going there. Maybe you dream of going back. Either way, California wine country has enchanted wine lovers with its famous yield, making it a destination for people all around the world.
But even if you can't make it to Napa, you can still enjoy the wine. That is, if you can decide on one. There are so many great wines coming out of California that it can be difficult to know which to choose. That's where wine clubs come in. If you're looking for a guided tour of Napa or Sonoma but can't make the trip yourself, a wine club is a great way to taste, learn, and explore the region one sip at a time. Here's a look at some of the top California wine clubs and services that will bring Napa to your door.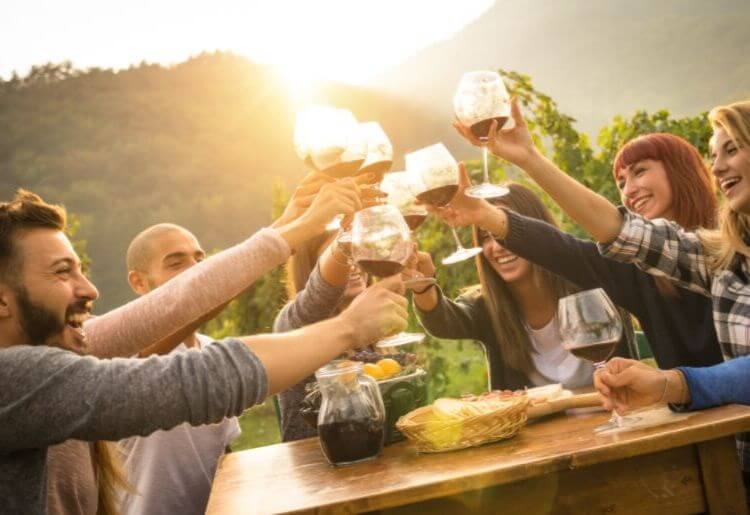 1. California Wine Club
Best for: Napa wines
If the name isn't a dead giveaway, the selection will be. California Wine Club was created 20 years ago by a couple who was dedicated to spotlighting the area's most choice artisan wineries. Today, the wine club invites people from all over the country to visit Napa via wine glass with a number of memberships that will bring a little bit of Napa's finest yield to their doorstep.
California Wine Club's signature series is a great entryway into the state's celebrated wineries. Each month you'll receive 2, 3, or 4 bottles of artisanal California wines. The signature series focuses mainly on reds, though the differences in style and profile will provide plenty of variety.
For those looking for a more exclusive tour of Napa, the aged cabernet series might be a good bet. The price tag is high but it'd be a worthy gift for a wine lover or a way to treat yourself to a Napa tour minus the airfare. The cabernet series offers 2 bottles a month of prestigious Napa cabernets aged 8-12 years in a temperature-controlled environment. Ready to drink, these bottles come every month along with guides to the wineries, tasting notes, and a VIP invitation to tour the wineries featured.
The California Wine Club View Plan
2. Firstleaf
Best for: Award-winning reds
What does red wine and computational biochemistry have in common? Plenty, it turns out—at least if you're a member of Firstleaf, a boutique wine club that delivers hand-selected wines to your door curated by an expert sommelier and, you guessed it—a computational biochemist.
The idea behind Firstleaf is to learn your wine preferences and send you bottles that are precisely chosen to please your palate. Members of Firstleaf are given a short quiz upon signing up to give the sommeliers an idea of what kind of wines you like. But it doesn't end there. As you continue to receive, taste, and rate your wines, an advanced algorithm created by Dr. Matthew Martz, the in-house computational biochemist, will hone and refine the selections to provide you with the perfect bottles.
Though your deliveries won't feature California wines exclusively, it's safe to say that the California wines you will get will be up to par. Firstleaf's selection includes myriad award-winning wines from the Golden State, such as the gold-medal winning Corsage chardonnay, a 97-point Best in Class called Disorderly Conduct, and dozens of others than span both the state and the spectrum of flavor profiles.
Firstleaf View Plan
3. Wine of the Month Club
Best for: Red wine lovers
Wine of the Month Club started in 1972 and is still going strong, introducing thousands of subscribers to new wines each month as well as putting together wine-based gifts, wine-correspondences courses, and in general serving as a wizened elder for everything under the cork.
That is to say, Wine of the Month Club's California Wine Series is a solid bet if you're looking for an insider's taste of the region. Every month you'll get 2 new bottles of reds spanning the Napa, Sonoma, Lodi, and Santa Barbara regions.
Wine of the Month Club places equal emphasis on education and taste, so expect a newsletter with your every shipment explaining tasting notes, distinctions and commonalities, details about the featured regions, and other resources for refining your palate and broadening your knowledge.
Wine of the Month Club View Plan
4. Winc
Best for: California indies
Based out of California, Winc is a winery, a wine club, and a sort of start-up, all at once. This mash-up becomes less perplexing than it sounds when you see the eclectic small-batch wines they offer, all of which feature instagrammable labels, only-in-California back stories, and, most importantly, sophisticated flavor profiles.
Winc specializes in small-batch, fringe, and up-and-coming vineries, making it a perfect fit for millenials and fans of small craft wineries. Like other wine clubs, it offers a quick flavor quiz to understand your wine preferences, and then offers a continuously evolving selection based on your preferences and feedbacks.
Winc's packages include 4 bottles per delivery. You can mix-and-match reds and whites and sample a wide range of local wines made by Winc as well as other wineries. Check out California's Restless Earth Grenache, an aromatic vegan wine harvested at night in the highest altitudes of Santa Barbara, as well as the Lost Poet Red Blend, a signature wine created in partnership with NYT-award-winning poet Atticus that blends Cabernet, Merlot, and Syrah into a single bottle that may as well personify the character of California itself.
Winc View Plan
5. Wine Insiders
Best for: California starter pack
With Wine Insiders, you can sign up for a subscription or order bottles on their own. The selection includes choice wines from some of the grandest regions in the world, and California is heavily featured.
If you're not ready to sign up for a membership, check out the Taste of California half-case, an accessible, affordable entryway into wines from the left coast. The 6-bottle package is a thoughtfully chosen mix of red and white wines from California wineries such as Burke Family Cellars, Bayshore Vintners, Saddlehorn, and others.
Wine Insiders View Plan