In a Nutshell
wpBuilder helps business owners and freelancers who want a business website without having to negotiate the difficulties of self-service website builders. It bundles together building and hosting a new WordPress website with SEO and page speed optimization, along with ongoing site maintenance and updates.
pros
Ongoing website maintenance and support are included in the price
Get a customized website without paying for a web designer
cons
When you cancel your subscription, your website will be erased
Contact only by email or web forms, no live chat or phone support
wpBuilder Visit Site
Standout Features
wpBuilder stands out for offering so much more than just a WordPress website. Along with a basic site, you'll also get:
Managed Google cloud WordPress hosting.
A cloud email account in Rackspace that gives you a professional email address linked to your website name along with 25GB storage.
Cloudflare DDOS protection to keep your website safe from DDOS attacks.
Monthly WordPress updates for all of the latest security patches and fixes against malware and viruses.
A theme license and setup that is guaranteed to be configured so that it looks exactly like the preview demo.
Installation and configuration for all of the plugins that are needed for the theme you chose.
Monthly reports on your website's page speed and keyword ranking.
Page speed optimization.
Search engine optimization for up to 5 keywords.
Regular website backups so that you can restore your website fully if something goes wrong.
Ease of Use
wpBuilder's biggest strength is that it's simple to use. Everything necessary to get a working WordPress site is done for you. All you need to do is submit your domain name, choose a theme, and share up to 5 keywords for SEO purposes. All the work of configuring plugins, tweaking your themes, and dealing with bugs is done for you.
When the website is completed, you'll be able to add, edit, and delete content using the regular WordPress interface. wpBuilder sends you all of the details you need for full administrative access so that you can deal with any problems that pop up yourself if you don't want to ask for wpBuilder's help. You can get FTP access, too.
wpBuilder deals with all ongoing plugin and theme updates. It also offers ongoing website support, which you can buy according to the number of hours you need. When you buy a website through wpBuilder, you won't need to do any of the heavy lifting involved in building a new site.
Features
Like most website builders, wpBuilder offers a wide range of themes that include responsive, mobile-responsive, and retina ready sites. It also offers ongoing website support that you can buy on a per-hour basis. It does not feature many extra or unique features.
Pricing
wpBuilder offers one fixed price for every customer. For €49, you can choose whatever theme you'd like. All of the support, features, and expertise mentioned above are included in the price. You can also purchase extra support hours from wpBuilder if you want the reassurance of being able to call on help troubleshooting or adjusting your website. These begin at €50 for one hour, with discounts when you buy 3, 5, or 10 hours at a time.
Templates
wpBuilder has hundreds of themes available across dozens of categories. You can choose from categories that include WooCommerce, environmental, medical, charity, corporate, and more. The themes available are very detailed in what they cover. For example, photographers can choose a theme specifically for baby photographers or a black-and-white art-house-style theme, as well as dozens more. Website themes for medical-related businesses included different options for doctors, dentists, psychologists, gynecologists, pharmacists, etc.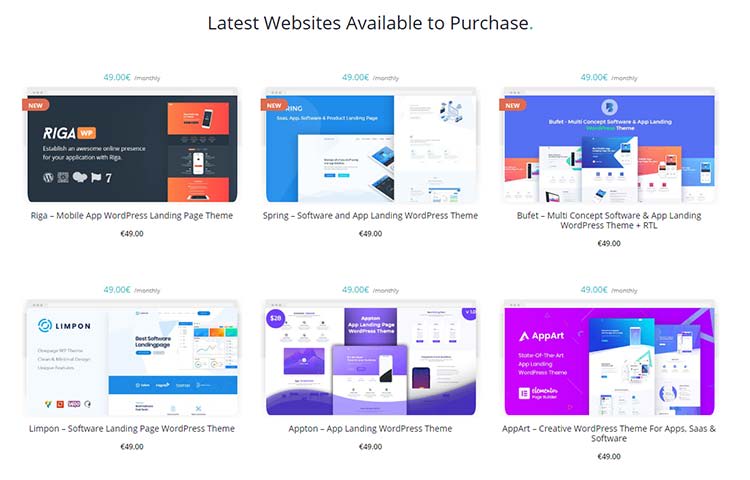 Ecommerce/Online Store
Setting up a website with an online store or Ecommerce capabilities is no different to building any other type of website with wpBuilder. You'll just need to make sure to choose a theme that includes Ecommerce capabilities, such as one from the Retail, Ecommerce, or WooCommerce categories. wpBuilder will set up your online store, including promotions, shopping cart, and marketing features, for the same price as for any other theme. All of the Ecommerce-enabled themes are fully responsive, and most of them support all of the features of WooCommerce.
wpBuilder Visit Site
Customer Service
wpBuilder offers a great deal of customer support time since it does all the work of building your website for you and keeps it maintained. It promises to have your website up and running 7 days after receiving your request.
It's a shame that there are no telephone, in-person, or live chat channels for customer support. The only way to request help is to open up an online ticket or to send an email. Once you open a support ticket with information about the help you need, wpBuilder's developers will estimate how long it will take. You can then buy the relevant number of support hours and request from wpBuilder to carry out the work.
Conclusion
wpBuilder offers a wraparound premium service at the lowest possible price, including building, optimizing, and maintaining your site. Once your site is live, you can buy extra support hours to deal with troubleshooting or to outsource ongoing tasks of changing or tweaking your site.
It's great that everything is included, but you'll have to have your own domain name already. It's also a drawback that if you cancel your subscription, the entire website will become inaccessible and be deleted. However, you can transfer the site elsewhere as long as you've been a customer for at least one year.