Both are used as a more simplistic website builder option than building from scratch. Both offer an excellent array of features, Ecommerce solutions, colorful templates, and enough customization options to satisfy most business owners. But when put head to head, which of these massive brands will come out on top? Let's find out!
Templates
Templates are the first stop in website builder shopping. Both our featured services offer responsive designs (a must-have) along with industry-specific designs. HostGator has more than 200 modern template designs, and we have to say they're really beautiful. Some even come with a full background image. HostGator does a good job of categorizing its templates, dividing them into headings like Ecommerce, blogs, business, portfolio, and technology. And best of all is the level of customization these templates afford you. More on that later though.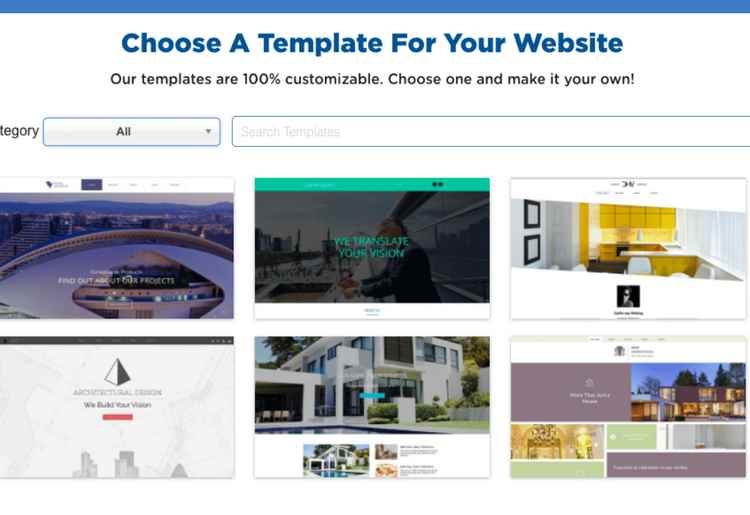 HostGator Templates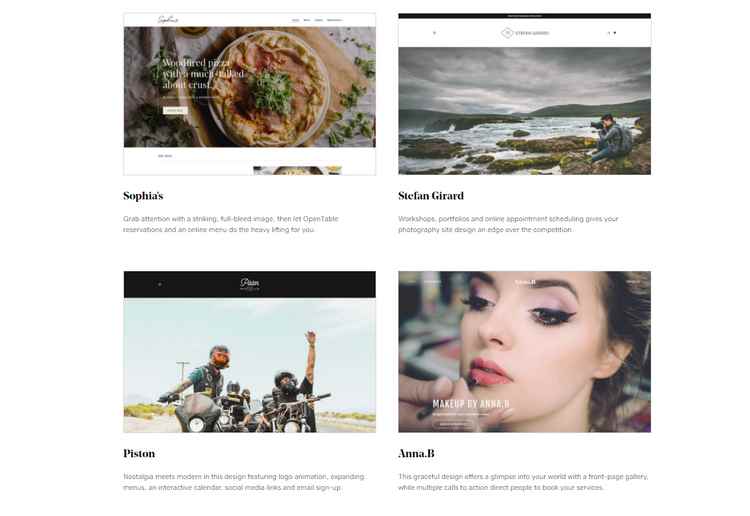 GoDaddy Templates
GoDaddy is a lot stingier with its templates. There are lots of designs, don't get us wrong. But since you are tied to a specific page layout, it just feels a lot more limited. But when you start to play around with GoDaddy's templates, you begin to realize how much you can actually do. Start with a basic layout and then change your theme, colors, images, fonts, and various site sections. We really love that you can add things like services, comments, and pop-ups to the design. You can also insert social posts, list services, sync social media accounts, add a blog site, and include insights. With so much going for them, GoDaddy templates sneak ahead of HostGator by a hair's breadth.
Winner: GoDaddy
Ease of Use
Both HostGator and GoDaddy are extremely easy to use. They're both designed with an excellent, clean user interface. GoDaddy and HostGator both utilize easy drag-and-drop editors too. So you can literally pick up an element and place it accordingly.
GoDaddy lets you attach various file types, including calendars, videos, social media sharing buttons, and image galleries. But where GoDaddy falls short is in its customization of the layouts offered. You can only work with preformatted sections, rather than putting the various elements right where you want them, not to mention that its photo editing is rather lacking.
HostGator on the other hand, is loaded with customization. It's also got a great user interface that is uncluttered, nice to look at, and even nicer to work with. Don't let the basic design fool you. HostGator is incredibly powerful, offering level upon level of customization as you go along. Free-form editing allows you to add elements anywhere, and guide rules make it easy to line things up neatly and in an organized fashion.
Winner: HostGator
Ecommerce & Mobile Site Building
In terms of online stores, GoDaddy makes you pay for a specific Ecommerce plan. That'll run you $19.99/month. And when it comes to mobile sites, well, you'll get a good looking, responsive design from GoDaddy. But what you won't get is control. Like it's regular page builder, building Ecommerce or mobile sites is limited to GoDaddy's design plans.
Ironically, GoDaddy lets you edit your site easily from a mobile device.
GoDaddy does offer dozens of CMS, integrates with WP, Joomla, Drupal, is a fan of the 1-click installations, and offers a 99.9% uptime guarantee. If you are happy with the way your main page came out and don't care to tweak your mobile site, then GoDaddy is great. Otherwise, HostGator gives you the flexibility, room, and options you need to personalize to the hilt.
HostGator is incredibly versatile when it comes to mobile customization. On the desktop version, you can easily edit and design your main page for smartphones and tablets. All designs are responsive, and the editor is equally easy to use, allowing tweaks like realignment, spacing changes, and padding alterations. HostGator's Ecommerce plan lets you easily add products, manage inventory, create coupons, and calculate shipping and taxes. You'll also get site analytics and industry-specific templates to improve your site.
Winner: HostGator
Features
While it looked like HostGator was the obvious winner until now, features is where GoDaddy really shines. To say the service doesn't skimp on features would be a serious understatement. GoDaddy's list goes on and on. From building features like promo banners, contact forms, CTAs, members-only pages, images library, and even videos to an automatic backup and store, GoDaddy stands out for its tremendous array of functionality.
Blogging tools include basic image editing, blog commenting, email updates, categories, and BYOB to import your previously-created blog. Other perks include managing online appointments, syncing social media accounts, email marketing, and all-important SEO.
Oh, and did we mention the analytics tool? GoDaddy offers AI-based insights that help you track rankings, monitor comments, track email campaigns, and glean important insights on sales and social media presence. GoDaddy even offers concrete action plans based on data it's accumulated. Then there's all the marketing juice. Facebook sync, Instagram connect, Google my Business, connections, social media posting, review widgets, you name it, GoDaddy's got it.
Don't get us wrong. HostGator has some great features as well. We love its mobile-friendly templates, Ecommerce options and analytics tools,
HostGator lets you add live feeds from Instagram, Twitter, and Facebook. Not to mention, you can add Google Workspace tools (formerly known as G Suite), like Gmail, Docs, Slides, and more. HostGator also has some great productivity add-ons, unlimited pages, unmetered storage and bandwidth, and tosses in a free SSL certificate, ad vouchers, and analytics for all plans. Impressive, but not enough to beat the competition.
Winner: GoDaddy
Price
This was a hard one to decide because one has a free plan and the other has cheaper, paid-for level pricing. We chose GoDaddy ultimately as the winner because you just can't argue with free. GoDaddy lets anyone start building a website online for free, and you can always upgrade later. One thing we don't love is that you can't get a unique domain name for your site with the free plan. Bummer! All plans come with unlimited pages and content, social media and email marketing, one-time appointments, free SSL certificate, 24/7 support, hosting, and rapid page load. More advanced plans come with the upgraded features like SEO and group events. GoDaddy plans start from $9.99 and go up to $19.99/month.
But when it comes to paid-for plans, HostGator definitely has the upper hand. After all, it's highest-level pricing plan is still cheaper than GoDaddy's lowest tier. Some might argue this is a matter of getting what you pay for. And looking at the features comparison might solidify this claim.
HostGator offers 3 plans starting at $3.84 a month. All plans include free hosting, domain name, and SSL certificate. If you're planning on running an online store, you'll need to opt for the eCommerce plan ($9.22/month).
Winner: GoDaddy
The Final Verdict
GoDaddy is extremely easy to use, gives you the option to create a website totally free, and offers a wellspring of widgets and add-ons to tailor and vamp up your site. Not to mention that it's loaded up with all the features you could ask for. HostGator, on the other hand, has more flexibility when it comes to customization and much cheaper plans if you're looking to do anything more than a basic business website. Its templates are beautiful, responsive, and incredibly easy to work with. Plus, HostGator has a proprietary analytics tool to keep you in the know, an intuitive click-thru process, and comes with a free domain and SSL certificate.
Bottom line, while GoDaddy won our battle of the website builders today, it was only by a small margin. So regardless of the service you choose to go with, you'll have a great experience designing and launching your own website.
Overall Winner: GoDaddy