In a Nutshell
Splash Financial is a rookie player making home runs with student loan refinancing. It offers low rates, an easy to navigate website, flexible repayment schedules and special rates for medical residents.
pros
Autopay discount
Fixed interest rates
No prepayment penalty
cons
Credit Score requirement of 650+ for solo loans
Can disqualify you from receiving PSLF (conditions apply)

Splash Financial Visit Site
Medical student loans refinancing, regular student loans refinancing
Postgraduate students, residents, medical professionals
Direct lender or marketplace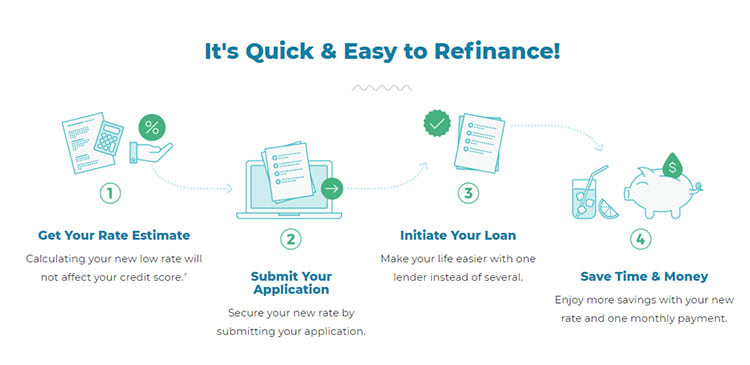 Splash Financial at a Glance
Splash Financial is the newest student loan refinancing agency on the market today. It recently announced a $350 million annual loan financing deal and have excellent rates. Refinancing student loans with Splash Financial to as low as 2.63% fixed APR can save borrowers $350 per month or $29,340 over the life of the loan. While Splash offers consolidation for any graduate with at least a Bachelor's Degree, it has a strong emphasis on advanced degrees, more specifically medical student loan refinancing—and with the average doctor carrying a $183,000 student loan debt into their medical careers, it's not surprising that Splash Financial has decided to hone in on this particular niche.
With flexible repayment terms, low APRs, and an easy to navigate website, Splash Financial looks promising for most graduates looking to cut down on student loan headaches. Let's take a look at the details to see what it's all about.
Suitable For?
Advanced degree holders

Medical professionals during their residency or fellowships

Any working graduate with sizable student loans to repay

Married couples with student loans
Loan Features
Splash Financial is a player in the student refinancing world because it offers good terms, low APRs, and features such as a loan calculator so you can see how much you'll save in the long run. What's more, this company has branded itself as the lender for the people, and Splash Financial has done everything possible to keep up that appearance. With a stated goal of investing in the future of the world by making loan repayment easier, clearly worded terms and conditions, and an easy-to-use website, Splash Financial has appeal for most students looking to ease the pressure of overbearing loans. Additionally, students can choose from either fixed or variable interest rates. Here are some of the main features of this loan consolidation program at a glance:
Fixed and variable interest rates

5-, 7-, 8- 10-, 12-, 15 and 20-year terms (up to 17 for medical residents and fellows)

Some of the lowest APRs around

Simple terms, single offering (only one refinance option, so you don't have to worry about headaches, comparisons, and fine print, what you see is what you get)

No application or origination fees and no prepayment penalty

Funded by multiple credit unions and banks as lending partners
The Application Process
Before you even apply for the loan, you can see if you are eligible. This is a fast, three-step process that takes minutes and includes:
Setting up an account

Giving Splash Financial some of your personal information like address, education information, income, and student loan amount to refinance.

Finding out if you are eligible; This step will run your details really quickly through the system using a soft credit pull to see the lowest rates you are able to qualify for.
If you are eligible, you'll be able to apply for the loan itself. In this section:
You'll be asked to select your loan.

Next, you'll have the option to import or enter all information about your current loans that you want to be consolidated including the lender, account number, current balance, current interest rate, and remaining repayment terms in months. Remember, you can consolidate any type of federal, private, or Parent Plus loans with this company.

You'll be shown an example of how your refinancing would work based on the terms you were given and the debt you are consolidating. This is a nice step that gives you a real-life understanding of the numbers you'll be dealing with.
Finally, you'll submit your application. The whole process doesn't need to take more than a few minutes if you have your information on hand. The site itself processes everything quickly so the whole application aspect of a Splash Financial loan is smooth.
Loan Terms
Splash Financial offers 4 types of loan consolidations: one for graduates with advanced degrees, one for graduates with bachelor's degrees, one for medical residents and fellows, and a refinancing option for individuals with an associate degree.
The average student loan terms are some of the lowest you will find even among competitors like Laurel Road and SoFi. You can get fixed rates as low as 2.63% APR or variable rates as low as 1.89% APR. One thing that is particularly attractive about Splash Financial loans is that you can opt for a cosigner in your application. Including a cosigner can lower your interest rate significantly, and it's nice that Splash offers this to borrowers. At the same time, cosigners are not mandatory.
The medical student loan terms are even more flexible. Coupled with easy repayment terms, a 90-day grace period before repayments start after residency, and low APRs for fixed rates, these terms make Splash Financial an obvious choice for most graduates of this profession.
Splash Financial eligibility requirements:
US citizen or permanent resident

With a responsible financial history
For resident and fellow refinancing:
Must be a medical professional currently in or completed residency/fellowship

Includes graduates of 4 major Caribbean medical schools
Repayment Terms
Splash Financial has flexible repayment terms which can help you alleviate a lot of the pressure involved in student loan repayment. You can opt for a fixed APR, which means the amount you pay each month never changes. However, your rate depends on your credit score, financial history, and current credit situation. The repayment terms you select will also affect the overall amount that you pay per month. Repayment plans are available for 5, 7, 8, 10, 12, 15 and 20 years.
How Safe Is It?
Splash Financial uses the industry standards in security to keep customers safe. Security measures include secure servers so that data is kept safe (even with third party partners), SSL verification confirming Splash is exactly who it says it is, SSL encryption, so there is always a secure connection between the customer's browser and the Splash Financial website, and account safeguards like ID verification and data authentication.
Help & Support
Splash Financial is dedicated to becoming a trusted member of the refinancing industry. As such, it offers as many options for customer support as possible. Splash is quick to respond to questions and offers informed answers when asked. Here's how you can reach a customer service representative:
Phone: 1-800-349-3938 Mondays through Fridays 9am-6pm ET
Email: customers@splashfinancial.com
Live chat: online portal
Social Media: Facebook, Twitter, LinkedIn
Summary
In short, Splash Financial is a good option for graduates looking to pay down debt in an easy and organized way. Medical school graduates have even more to gain with considerably low APRs, but anyone can take advantage of the flexible repayment terms and low rates. Federal student loan borrowers need to be aware that consolidation may disqualify them from PSLF, but the savings in lower interest payments may outweigh the loan forgiveness. Working with Splash Financial ensures a friendly, real-world option for graduates looking for good rates and great service.
Physical Address
812 Huron Rd. E. Suite 350
Cleveland, OH 44115