In a Nutshell
Earnest provides student refinancing at low interest rates for borrowers with credit scores over 650 who have relatively high income. It's a great way for recent graduates to pay significantly less on their student debt by letting them choose from a number of loan term options that will best suit their specific financial situation.
pros
Offers a number of flexible repayment options
Precision Pricing model gives borrowers greater flexibility
cons
No option for borrowers to apply with co-signer
Lack of informative educational resources
Earnest Visit Site
Earnest at a Glance
Consolidation for federal and private student loans
5-, 10-, 15-, 20- year loans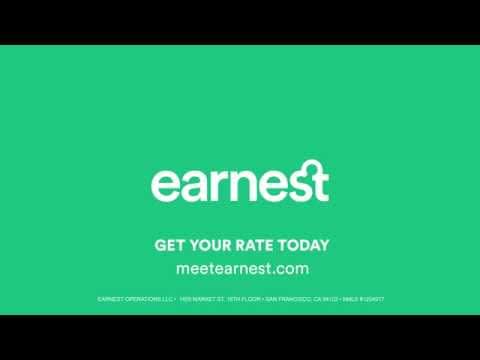 Earnest at a Glance
Earnest was founded in 2013 by Louis Beryl and Benjamin Hutchinson as a way to help people achieve their financial goals. Earnest provides a way for customers to alleviate burdensome student debt faster than traditional lenders. Earnest is funded by reputable venture capital firms such as Andreessen Horowitz, First Round Capital, Maveron, and Atlas Venture.
Earnest is a student debt refinancing loan provider that believes there are many financially responsible people who are not receiving the loans they deserve. Earnest's technology reviews thousands of data points to create a complete financial picture for potential borrowers. An Earnest loan provides borrowers with the opportunity to save $30,963 on average in student loan interest payments.
Best for people who have a credit score above 650 and want a loan provider that services their loan throughout the entire life of the loan.
Earnest Highlights
Customers save an average of $30,936 on their student debt payments
Earnest provides customers with a consolidated student debt loan and a lower interest rate, offering significant savings on interest payments.
Many consumer education resources
Customers receive access to several guides and information sections on the student debt refinancing process in addition to a blog with countless personal finance articles written by industry experts.
Will not transfer customer's loan to a third party servicer
Earnest borrowers get the peace of mind of knowing that their loan will be managed by Earnest's professionals throughout the entire life of the loan.
Information and Support
Earnest customers receive access to their helpful information library. Borrowers are able to review materials discussing the entire refinancing process, including how to close out existing student loans. Additionally, Earnest hosts a blog that features articles focused on a wide variety of personal finance topics that are bound to help anyone's financial situation. Customer support is available Monday - Friday, 8am - 5pm PT.
Types of Debt Addressed
Earnest enables customers to address both their secured and unsecured debt, allowing borrowers to receive funding to consolidate private and federal student loans. Earnest now offers refinancing for Sallie Mae loans.
Earnest offers loans in the District of Columbia and all states except for DE, KY, and NV.
Flexibility of Repayment Plan
Earnest offers customers a choice of a fixed rate repayment plan or a variable rate repayment plan. Fixed rates start as low as 3.45% APR and variable rates start as low as 1.81% APR.
Repayment Terms
Earnest offers 4 different options for customers to settle their student loans. Borrowers can receive 5, 10, 15, or 20 year loans. However, customers can have their debt settled in as little time as their finances allow with Earnest's no early repayment fee policy.
Earnest Visit Site
Ease of Quote Application Process
Receiving a rate quote from Earnest can take as little as two minutes. Customers must enter their personal details, educational background, income information, and some pertinent spending data.
Conclusion
Earnest provides borrowers with low interest rate student refinancing even if they do not have stellar credit, but have strong education and income. Earnest cares about their customers and enables borrowers to choose from a number of loan term options that will best suit their specific financial situation. Earnest is a great way for recent graduates to pay significantly less on their student debt.