In a Nutshell
Citizens Bank offers impressive student loan and refinancing services, giving customers the opportunity to receive the best possible interest rates with its variety of incentives and deals. It is an ideal solution for customers looking for a flexible multi-year student loan or refinancing solution.
pros
Multi-year approval to cover full period of studies
Incredibly versatile amount of options for repayment
cons
Limited forgiveness programs and options
Loyalty discount dependant on availability of bank branches
Citizens Bank ID Card
Private Student Loans and student loan refinancing

$1,000 to $90,000 (undergraduate degrees), $,1000 to $350,000 (graduate degrees), $300,000 (refinancing)

Receive multi-year approval to cover the full period of studies

Limited forgiveness programs and options

Students with good credit looking for a multi-year financial solution

Citizens Bank at a Glance
Ranked as one of the largest retail banks in the United States, Citizens Bank is one of the oldest and most established financial institutions in the country. The company offers a variety of banking and lending services, including its burgeoning student loans division. Today, Citizens Bank delivers lending services to a variety of students at different stages of their education alongside convenient refinancing programs designed to help graduates repay their outstanding loans more easily. The bank has won an impressive number of awards and recognitions over the years thanks to its innovative products and outstanding customer service. Also, the company's student lending arm offers customers a quick online solution to go along with its brick-and-mortar services.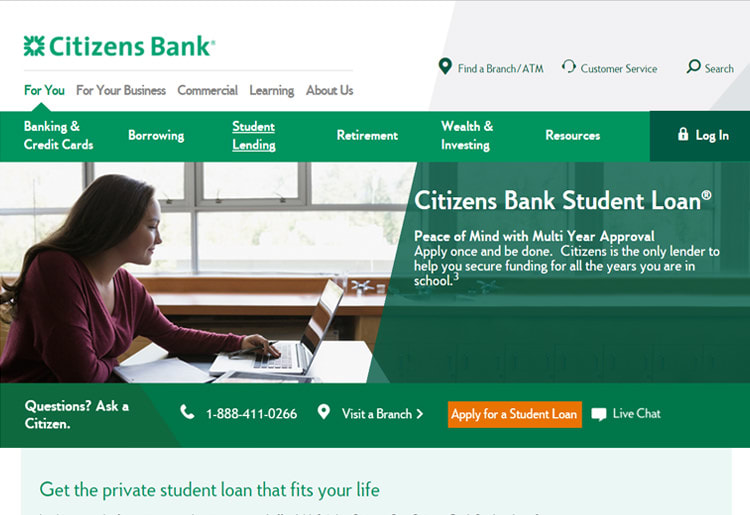 Best for Whom?
With a wide variety of loan terms, rates, and amounts available, Citizens Bank presents an applicable financing solution for a wide range of borrowers. The company's outstanding financing amounts make them ideal for graduate students and those specializing in certain fields, such as medicine and healthcare. With loan amounts that can reach up to $350,000, medical students and other health-related fields can take advantage of a multi-year loan that will cover all their expenses. In addition, customers can take advantage of the company's incentives to cut down their starting interest rates and save more over the long run. Borrowers looking to refinance their existing loans can also benefit from a high ceiling available for refinancing amounts, as well as competitive interest rates that can result in significant savings down the line.
Loan Features
There are several features and characteristics that help Citizens Bank stand out from the competition. The bank underwrites an excellent variety of loans for different educational tracks, including graduate and undergraduate studies as well as medical school and business or law schools. Borrowers benefit from the company's no-fee policy, which eliminates application, origination, and disbursement fees along with penalties for loan prepayment. Moreover, Citizens Bank offers an excellent range of interest rates that can be lowered significantly through a variety of programs and incentives. For individuals with outstanding loans, the company allows refinancing for students that have not completed their degree if they are no longer enrolled. Additionally, customers that sign up with a cosigner can have them released after 36 consecutive payments made on time. Citizens Bank also provides customers with a longer grace period following graduation than many of its competitors. Customers who require a more personal touch can contact the company at any of their physical locations across 11 states. Finally, one of the biggest standouts for Citizens Bank is their inclusion of multi-year loans, which many competitors do not issue under any circumstances.
Some Citizens Bank highlights:
Receive a loan amount that covers several terms with multi-year financing
Lower interest rates by as much as 0.50% with incentives and benefits
No application, disbursement, or origination fees
Flexible range of loan terms and amounts
Interest rates can be lowered by starting payments earlier
Refinance loans even if academic program was not completed
Visit any of the company's physical branches for in-person assistance
Different loans available for specialized degree programs