In a Nutshell
DiscountMugs offers fast, reliable branded and promotional product delivery across the USA and Canada. It's known for its flexible (if expensive) shipping options, advanced design studio, and huge product range. The order process is straightforward and intuitive, and there is a low minimum order quantity. All in all, this company offers excellent promotional product solutions, and it's definitely worth considering.
pros
Huge range of products
Flexible shipping options
Excellent design studio
cons
No free samples
Rapid shipping is expensive

DiscountMugs Visit Site
DiscountMugs Promotional Products
DiscountMugs offers a wide range of promotional products in a variety of categories. It claims to be one of the largest promotional product stores in the USA, and it has been working in the area since 1995. It offers in-house printing, rapid delivery, and various other features that make it stand out above the competition.
One of the company's leading product lines is its drinkware, which includes everything from glass beer mugs to aluminum water bottles. Its apparel and bags are also popular, and there's even a selection of office products that you can use to improve your company's branding.
DiscountMugs Pricing
The prices you pay will naturally vary depending on the products you order. Significant discounts are available with larger orders, and this can stretch to over 80% off the marked price in some cases. There is a minimum order quantity of 12 with most products, but this does change occasionally. In most cases, there's a $49 setup fee. Shipping costs naturally vary, but these can stretch to hundreds of dollars per order for some states and products.
For example, DiscountMugs' best-selling ceramic mugs start at $2.54 each for a minimum order of 12 pieces. Prices decrease with larger orders in a tiered fashion, with the cheapest $0.61 unit price available with orders of 25,000 or more. Various color and printing options are available, including laser engraving, and these tend to cost a little more than standard logo printing.
How to customize products with DiscountMugs?
Customizing products is a simple, straightforward process across DiscountMugs' range. Simply select the product you want and hit the Start Designing Now button to access the Design Lab. Here, you will be able to upload image files in a number of formats, including PNG, JPG, PDF, SVG, and more.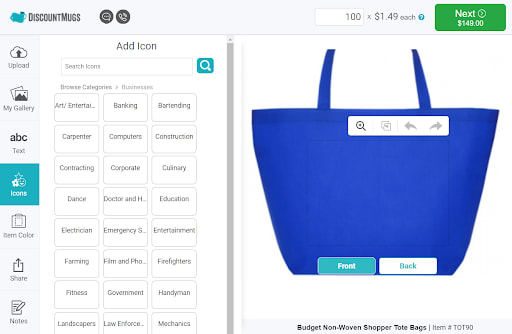 In addition, you will be able to customize the size and position of your images, add text or clipart, and change your color selection. Printing methods vary according to the product you purchase, but they may include engraving, embossing, and simple printing. Blank samples are available at a discounted price to help you decide what products to purchase.
How do I order from DiscountMugs?
To start your order, select the products you want, customize them, and add them to your cart. Within your shopping cart, you can select from a number of shipping methods, with the option of paying more to get your items faster. Standard shipping is free in some cases, but it can cost hundreds or even thousands of dollars with larger orders.
Delivery takes approximately a week in most cases, but this can be decreased to as little as 24 hours if you're willing to pay the premium. Delivery is only available to Canada and the USA (including Puerto Rico).
The rest of the checkout process is simple and intuitive. PayPal and credit/debit card payment options are available, and you really shouldn't have any issues here.
DiscountMugs Features and Tools
DiscountMugs offers standard promotional products, and there's not a whole lot to make it stand out above the competition. Its product offering is huge, which is great to see. It has low minimum order quantities, and the customization tools are excellent.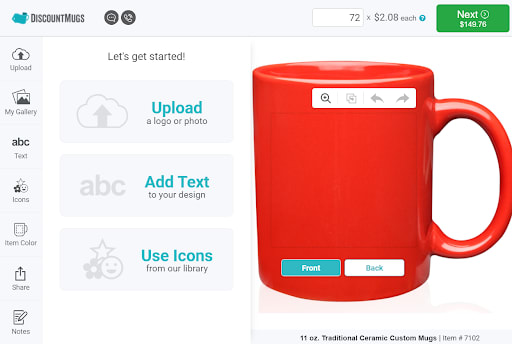 One thing that stands out is the company's rush option, which basically enables you to get your items delivered within 24 hours. However, this only applies in special cases and comes with high fees.
What about the DiscountMugs app?
DiscountMugs doesn't have either an iOS or an Android mobile app.
Service and Support
DiscountMugs offers phone, online ticketing, and live chat support. The live chat agents appear to be responsive and friendly, while the company states that support tickets will be addressed within 24 hours. The support hours of operation are Monday to Friday, 9:00 am to 10:00 pm (EST), and Saturday to Sunday, 10:00 am to 7:00 pm (EST). A limited FAQ page and a small number of other resources are also available.
How to get a refund from DiscountMugs
Customized items aren't eligible for a refund. In the case of manufacturing or product defects, you can make a claim within 7 days of receiving your order, and DiscountMugs will correct the problems. Blank goods can be returned for a full or partial refund.

DiscountMugs Visit Site
The Bottom Line
If you're looking for high-quality branded products, DiscountMugs has you covered. It offers a wide range of products, including everything from branded coffee mugs to wedding items.
In addition, the company's flexible shipping options are excellent. The design studio enables a lot of customization, and the minimum order quantities are low. Overall, we'd highly recommend browsing DiscountMugs' store to see if it has the items you want.
FAQs
Is DiscountMugs legit?
DiscountMugs has been working in the promotional products space for more than 25 years, and it has a great reputation across the board.
Where is DiscountMugs located?
DiscountMugs is located on the outskirts of Miami, Florida, where it has its production and management facilities.
Where does DiscountMugs ship from?
All orders are shipped from company facilities in Miami, Florida. Most orders are shipped via FedEx or LTL Freight.
What is DiscountMugs' minimum order quantity?
For most products, the minimum order quantity is 12 items. A single, unprinted sample is available in many cases, and the minimum order can vary occasionally.
How long will it take DiscountMugs to produce my items?
DiscountMugs will work to produce your items as fast as possible. However, the production time for large orders can stretch to as long as 6 to 10 days.