According to the US Department of Transportation's 2018 air travel consumer report, 24 pets died the previous year while traveling aboard planes, while an additional 15 suffered injuries and 1 pet was lost in transit. In 2018, a number of high-profile dog deaths on United Airlines forced the airline to tighten its policies and forced a reckoning amongst pet owners and advocate groups who started to reassess the benefits and hazards of traveling with a pet.
Of course, that doesn't mean you should avoid traveling with your pet. But you should prepare to ensure that they're safe and comfortable for every stretch of the trip.
Here are 10 tips that will benefit you and your best little friend on your journey:
Ask Your Vet If Your Pet Is Okay to Travel
Research Your Destination
Aim for Cabin Travel on Flights
Buy a Regulation Carrier
Give Your Pet Time to Acclimate to Their Carrier
Bring Medical Records
Buy Travel-Friendly Pet Gear
Plan Pet-Friendly Activities
Make a List of Nearby Resources
Keep Your Pet Healthy and on Schedule
You may also like:
Best Pet Insurance Companies: Keep Your Pet Healthy
How Much Does a Dog Cost to Own? A Breakdown of the Top 10 Breeds
1. Ask Your Vet If Your Pet Is Okay to Travel
While travel may seem easy to us humans, it can be a long and difficult process for pets, one that includes sitting in carriers for extended periods of time, traversing time-zones and altitude changes, and in general being exposed to a new routine. So before you finalize your travel plans, it's a good idea to step back and ask yourself if your pet can handle the trip.
Consider your pet's age, state of health, temperament, behavior, and needs
Ask your vet for their input
2. Research Your Destination
It's important to research the accessibility and limitations of your destination prior to planning your trip. Potential restrictions can range from accommodations and environmental factors to legal matters. Some factors to consider:
Wildlife: National parks often put stricter limitations on dogs if the area is populated with bears and other wildlife that could pose a threat to domestic animals.
Breed-specific legislation: Some states have breed-specific legislation that bans or heavily regulates specific breeds of dogs.
Accomodations: Make sure your hotel and accommodations are not only pet-friendly, but fully equipped to meet your pet's needs.
Allergies: If staying with friends, family, or even in a rented private residence like an AirBnB, make sure nobody is allergic to your pet or has problems with dander and other animal sensitivities.
3. Aim for Cabin Travel on Flights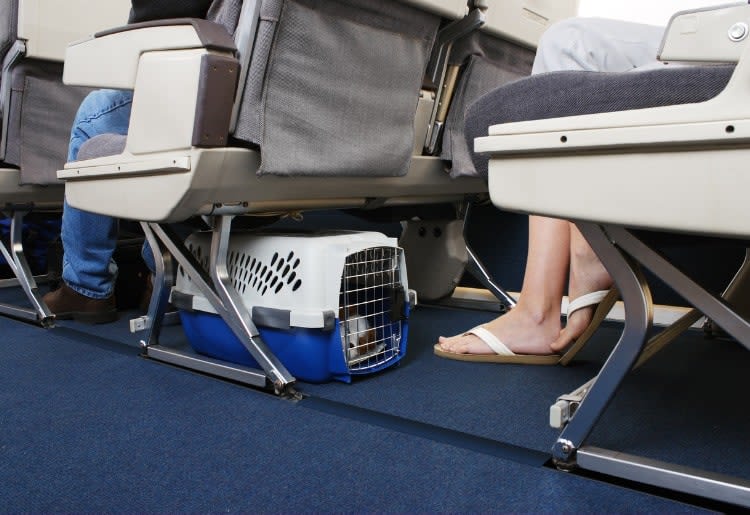 If you're flying, try to bring your pet on the airplane's cabin rather than flying them in the cargo. This is much safer and more comfortable for animals, and is the best way to prevent lost pets.
However, airlines typically only allow small animals in the cabin. If you do check your pet in cargo, the Humane Society has some great tips to make it safer for them:
Book direct flights
Clip your pet's nails in advance so they don't get caught on the carrier's doors
Label the carrier with your name, address, and contact information
Carry a photograph of your pet in the event that they're misplaced
4. Buy the Right Carrier
Airlines and railways have strict carrier requirements, so it's important to know ahead of time what size and type will be allowed on board. And just as important, you want your pet to be comfortable. This isn't the time to bargain-hunt for a dog-carrier. Find the correct size, make sure the materials are sanctioned by the airline, and pay special attention to ventilation.
The American Veterinary Medical Association offers these suggestions on choosing the right carrier:
Make sure it's an airline-approved pet carrier
Should be large enough for your pet to stand, turn around, and lie down
Should have strong, well-constructed handles and grips
Should have a leak-proof bottom lined with absorbent material
Should be ventilated on opposite sides. Make sure the exterior knobs and rims don't obstruct airflow
Should be labeled with a sticker saying "Live Animals" and arrows pointing right side up
5. Give Your Pet Time to Acclimate to Their Carrier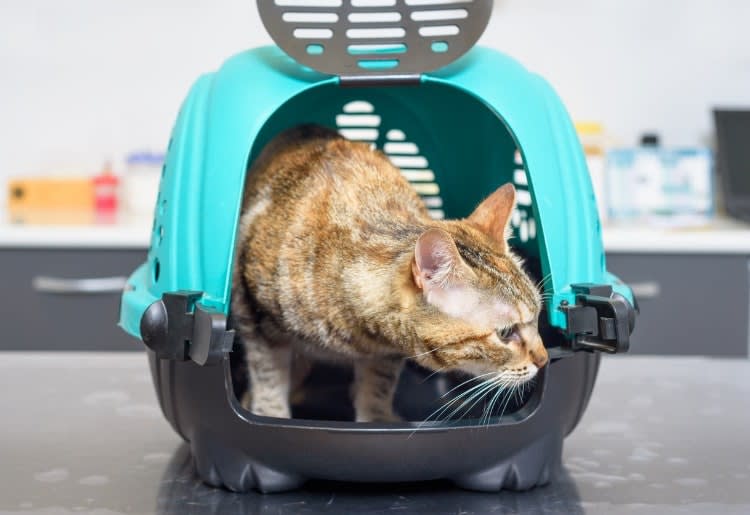 You shouldn't expect your pet to instantly acclimate to their new carrier. Experts recommend
preparing your pet ahead of time by letting them use their carrier starting about a month before the trip.
The anti-cruelty society offers some suggestions for cat owners that could apply to dogs as well:
Leave your carrier out and open so your cat can enter on its own terms
Place a t-shirt with your scent on it inside to make it more inviting
Set it in a place that your cat passes regularly
Wait until your cat is comfortable inside and then start setting a bowl of food towards the back so that it has to enter all the way
Don't close the doors too soon. Only after your cat shows comfort in there should you experiment with shutting the carrier
6. Don't Forget Medical Records
No matter where you go, it's crucial to have your pet's paperwork on hand. Airlines have certain guidelines that must be met, and you'll need to provide documentation of their age and vaccines during check in. If you're crossing borders by car or train you might need to provide documentation as well. Here are some examples from the American Veterinary Medical Association:
Certificate of Veterinary Inspection signed by an accredited veterinarian (required for airline travel)
Proof of vaccinations
Proof of rabies shots
Prescription information (if necessary)
Your veterinarian's contact information
Make an electronic backup if possible
7. Buy Proper Pet Gear
Travel can throw off a pet's routine, so it's important to recreate the feeling of home as much as possible. Of course, traveling with a doggy bed or large litter box isn't always practical. Luckily, there are plenty of travel-friendly pet accessories on the market that are both well-made and portable. Some things to consider:
Collapsible food and water bowls
Leash and collar
ID tags
Quilted seat covers
Pet first aid kit
Sealable food containers
TBrushes and bathing supplies
Portable waste receptacles
Toys
8. Find Pet-Friendly Activities
It wouldn't be fair to leave your pooch in the hotel all day while you go out and explore. If you're traveling with dogs, research some places and activities in advance that are accommodating to your little pal.
Map out nearby off-leash dog parks, beaches
Find nice walking routes near your hotel
Look up pet-friendly cafes and restaurants in the area
Try to book tours that allow you to bring your dog
Research pet-centric gatherings or special events
9. Make a List of Nearby Resources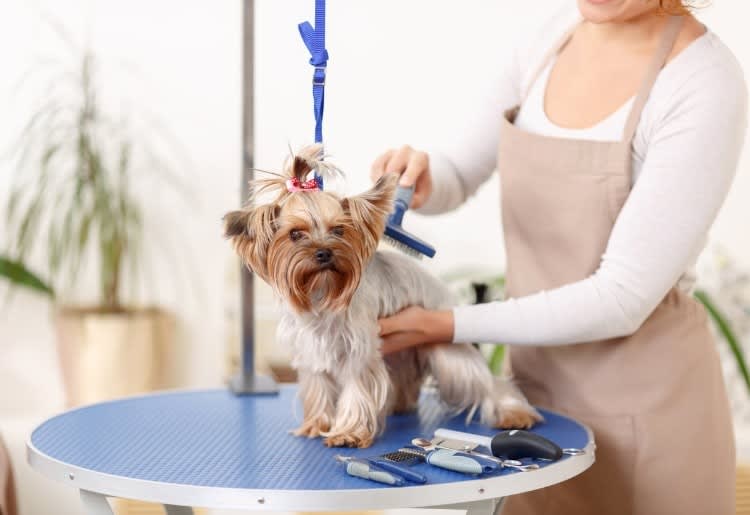 It's always good to plan for unexpected situations. Before you leave, make a list of resources in the area you're visiting so that you can respond to whatever needs may come up.
Pet food and supply stores
Veterinarians
Groomers
Dog-walkers
10. Keep Your Pet Healthy and on Schedule
Traveling can take a toll on animals, and experts recommend keeping their schedules in tact as much as possible to help them adjust to their new surroundings.
Feed them at the same times you would at home
Give them plenty of exercise and outdoor time
Keep them properly hydrated
Leave extra time in your itinerary for play time
Give them more time to release energy after long rides or flights
Keep Those Tails Wagging
The most important part of pet travel is keeping your pet safe and comfortable from take-off to check-in and beyond. Luckily, these days every major city has plenty of pet resources and a growing number of pet-friendly restaurants, events, and meetups that will keep you and your four-legged friend entertained while seeing the sights. It isn't easy traveling with a pet, but with some planning and thoughtfulness you can ensure a safe, enjoyable trip with plenty of excitement and opportunities for bonding between you and your pet.