In a Nutshell
Pumpkin offers comprehensive pet insurance for dogs and cats. This provider offers a single plan option that comes with an annual deductible and a maximum coverage of $10,000 for dogs or $7,000 for cats. The insurance policy covers exams, prescriptions, and more, as well as an extra cost for preventive care coverage. Plan options are somewhat expensive, but you get a discount for insuring more than one pet.
pros
Annual deductible
Offers preventive care coverage
No upper age limit for coverage
cons
Expensive plan options
Limits to annual coverage
Pumpkin Visit Site
The Company at a Glance
Pets covered: Dogs and cats
Waiting period: 14 days (accident and illness)
Deductible: $100, $250, or $500
Reimbursement model: 90% reimbursement after annual deductible
Suitable For: Pets with steady medical needs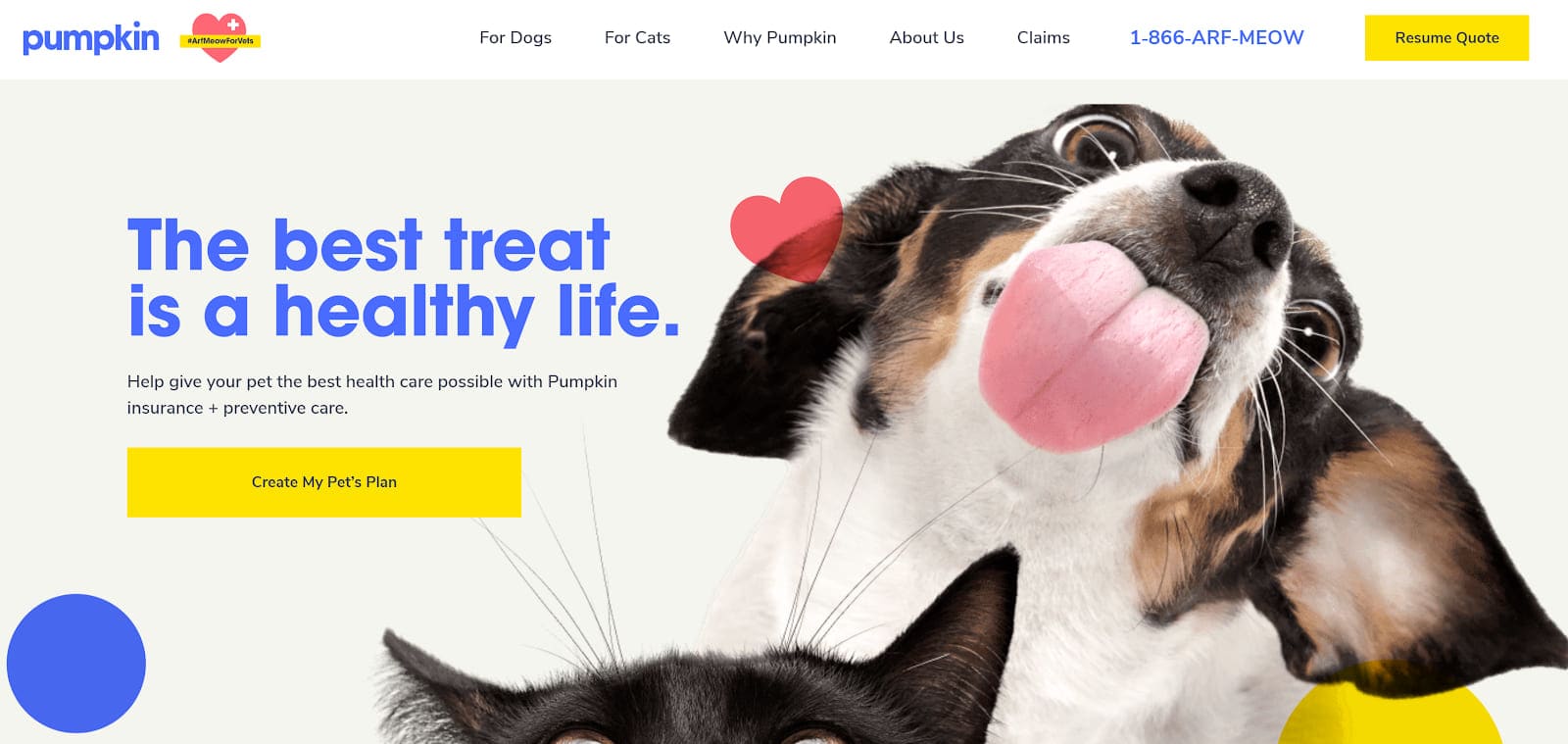 Overview
What Does it Cover
Pumpkin covers an impressively wide range of conditions and treatments. All accidents are covered as well as all illnesses, regardless of whether the illness was preventable with a vaccine or medication. The same is true for dental coverage—dental issues are covered even if your cat or dog does not get an annual dental exam.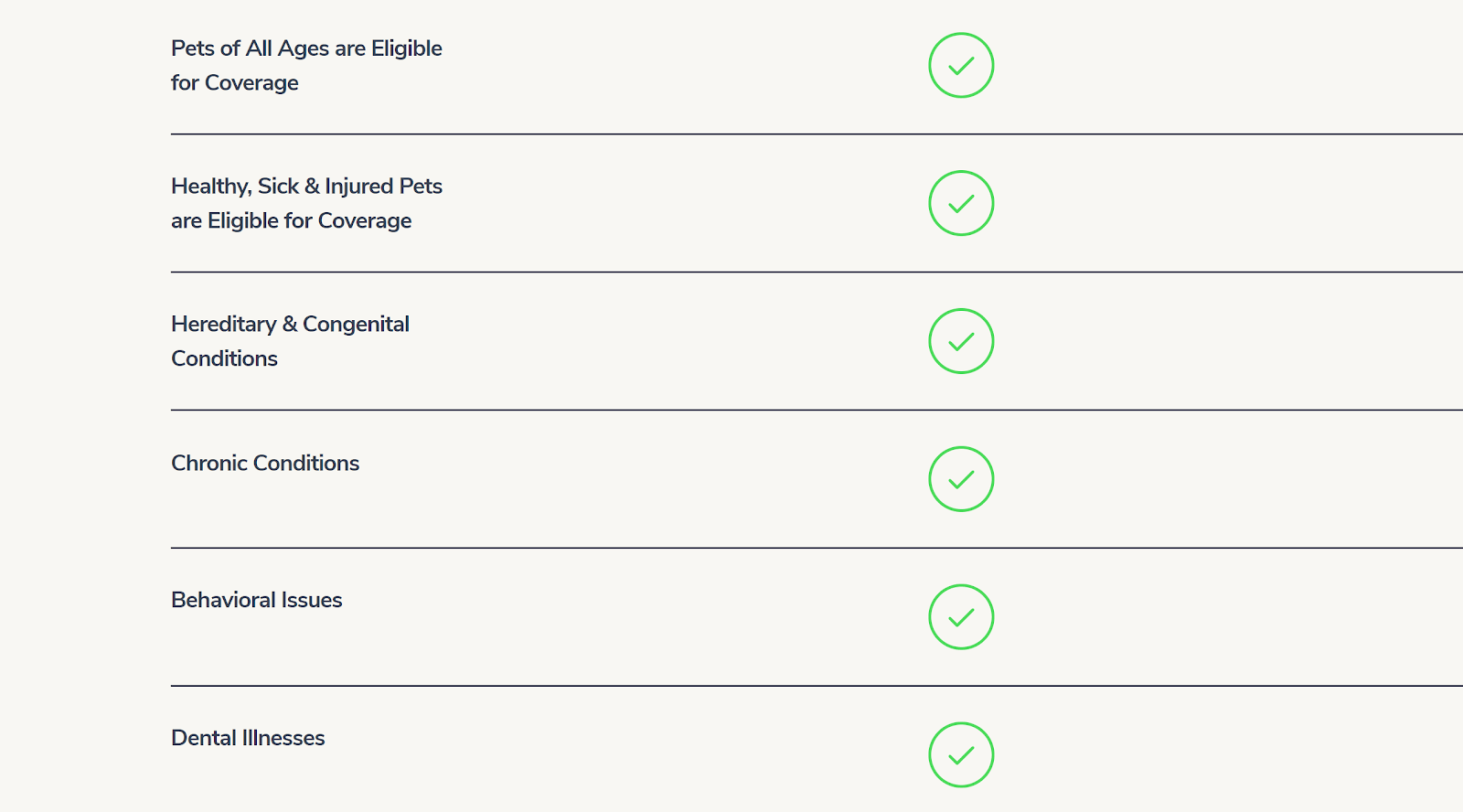 Pumpkin also covers exam fees, diagnostic and imaging fees, surgery and hospitalization fees, and prescription medication and supplements. You can use your policy to pay for behavioral issues and alternative treatments like acupuncture if desired.
If you opt for the optional preventive care plan add-on, you also get 12 months of parasite protection each year and annual vaccines (two for dogs, one for cats). Preventive care also includes one annual wellness exam fee.
Pets of all ages are eligible for coverage, regardless of whether they have pre-existing conditions. However, pre-existing conditions are not covered by Pumpkin.
Insurance Plans & Pricing
Pumpkin offers a single insurance plan that applies for both dogs and cats. Dogs get up to $10,000 in total coverage per year (after your deductible) while cats get up to $7,000 per year.
Pricing varies depending on whether you want a $100, $250, or $500 deductible. Coverage for a four-year old medium-sized dog (26-50 pounds) was quoted at $77.67 per month for a $250 deductible, with an optional preventive plan for an additional $15.95 per month.
Coverage for a three-year old medium-haired cat was quoted at $26.49 per month. The optional preventive plan could be added on for $10.95 per month.
Note that Pumpkin offers an automatic 10% discount for each additional pet for which you buy an insurance policy.
What is Not Covered
One of the only things Pumpkin does not cover is pre-existing conditions. In addition, after paying your annual deductible, your insurance policy only entitles you to a 90% reimbursement for covered costs. You are responsible for a 10% co-pay.
Waiting Periods
Pumpkin requires a 14-day waiting period for your coverage to take effect for both accidents and illness. The company also offers a 30-day money-back guarantee as long as you have not yet made a claim.
Coverage Limits
Pumpkin's plan comes with a maximum annual coverage of $10,000 for dogs and $7,000 for cats.
Reimbursement and deductibles
Pumpkin's plan includes a 90% reimbursement rate. You can choose between a $100, $250, or $500 deductible for your plan. Costs for a medium-sized dog are:
Claims and Service
Submitting a claim to Pumpkin is refreshingly simple. Just upload a copy of your vet bill using the online interface or mobile app, and the company will reimburse you or follow up with any questions. If you didn't pay your vet in full at the time of service, you can also request that Pumpkin reimburse your vet's office directly.

If you have problems, you can get in touch with Pumpkin's customer service by phone from 8 am to 9 pm Monday to Friday or 9 am to 5 pm Saturday (Eastern time). You can also send an email and expect a reply in 24 hours or less.
What You Might Like
Covers alternative therapies and behavioral issues

Optional preventive health plan includes vaccinations

Dental issues covered without annual exam

10% discount for each additional pet you cover
What Pumpkin Could do Better
No coverage for pre-existing conditions

Expensive monthly premiums even with high deductible
Pumpkin Visit Site
Contact Details and Address
help@pumpkin.care
251 W 30th St # 9W, New York, NY 10001
How The Company Compares:
Approximate cost (3-5-year old medium dog)
$10,000 for dogs
$7,000 for cats
Accidents: 14 days
Illness: 14 days
Accidents: 5 days
Illness: 30 days
Accidents: 3 days
Illness: 14 days
Bottom Line
Pumpkin's pet care is extremely comprehensive as long as you remain within the coverage limits. There are few ongoing requirements to maintain coverage, which is good news if you're not always great about staying on top of annual dental visits or vaccinations. That said, Pumpkin's plan comes with a high monthly premium, so this insurance is suitable for pet owners who expect to use a significant amount of the coverage.