In a Nutshell
Farmers is one of the biggest insurers in the US, but you might not know that this company can also insure your pet. Pet Insurance through Farmers® is provided by Pets Best. Farmers teamed up with Pets Best in 2014 to offer their pet insurance, so that Farmers could offer the same kind of quality insurance for pets that its customers have grown to trust.
pros
Plans for all budgets
Additional wellness package available
cons
Doesn't cover pre-existing conditions

Farmers Visit Site
Pet insurance is a great way to avoid large expenses as your pet ages and can be a very beneficial decision.
The Company at a Glance
14 days for illness, 3 days for accidents
$100-$1000 depending on the plan
70%-90% depending on plan
Totally customizable pet insurance plans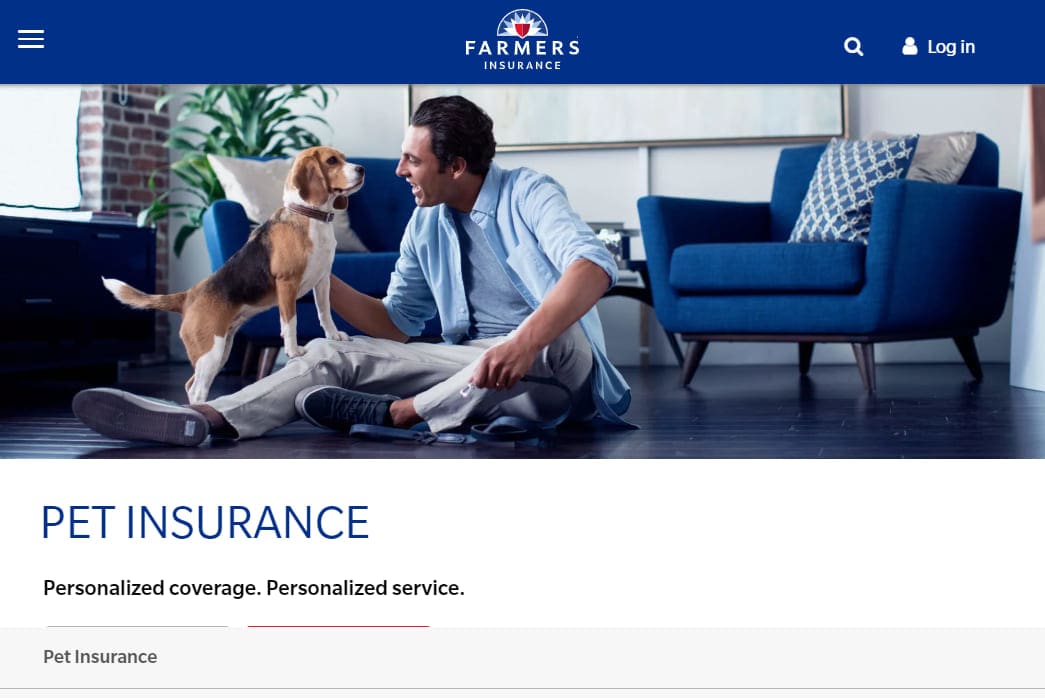 Overview
What Does it Cover
Depending on your individualized plan, your pet could be covered for accidents as well as things like birth defects, cancer, allergies, ear infections, diabetes, skin problems, and tissue diseases. Coverage will cover the cost of medication, surgeries, and even rehabilitation if deemed necessary.
Insurance Plans & Pricing
There are two tiers of service offered by Farmer's Pet Insurance: Accident-Only and BestBenefit Accident and Illness. Both are customizable to your specific needs and budget.
BestBenefit Accident and Illness
This plan offers the broadest coverage including accidents, illnesses, and a broad range of treatments. Your premiums and deductibles under this plan will vary quite a bit with cats generally a little cheaper to insure. You can adjust your deductible to fit your budget, so your monthly bill will come out somewhere between $7-$25 for cats and $12-$40 for dogs.
Accident-Only
This plan is a great budget option if you know you need coverage but maybe can't afford the pricier plan. While we advise insuring your pet comprehensively and early, that isn't always an option. Accident coverage is $9 per month for dogs and $6 for cats. In Washington, plans costs an extra $1 per month.
Wellness Routine Care
An added bonus is the Wellness Routine Care package which helps you pay for things like flea and tick prevention, check-ups, and routine shots.
What is Not Covered
There are no limitations except treatment for pre-existing conditions. Also, claims can't be filed during the waiting period. Because of this we recommend insuring your pet as soon as you get her/him.
Waiting Periods
The waiting period for illnesses is 14 days from your coverage start-date and 3 days for accidents. This is to prevent insurance fraud.
Reimbursement and deductibles
Unlike most pet insurance companies, Farmers lets you set your own reimbursement level and deductibles. This means, if you don't mind risking a higher deductible (up to $1000), you can pay a much lower amount month to month. The same thing goes for reimbursement. You can lower your reimbursement percentage to get a lower rate or raise it to 90% to increase your coverage.
Claims and Service
Submitting a claim is super simple. Just add the receipt from your vet visit to your account on the Pets Best app or website. It usually takes about 5 days to hear back about your claim and you can receive your reimbursement via mail or direct deposit. You can also check on the status of your claim with the Farmers app.
Customer Service (for Pet Insurance through Farmers and PetsBest) can be reached by phone at 877-464-6542 in the US or through live chat on the website. Another great way to take care of all your insurance needs is through a Farmers insurance agent. These professionals can help you figure out the right insurance options to save you money and handle all the administrative stuff.
What You Might Like
The great thing about choosing Pet Insurance through Farmers and PetsBest is you can take care of all of your insurance in one place. Also, a high level of customizability is offered so you can create a package that fits your budget and needs.
What Farmers Could do Better
Pet Insurance through Farmers is provided by Pets Best, a highly reputable insurer with an excellent track record with claims and customer service. However, we would like to see some coverage options for pets with pre-existing conditions like feline aids and cancers.
Contact Details and Address
Phone: 877-464-6542
2323 S.Vista Ave.Ste. 100 Boise, ID 83705

Farmers Visit Site
How The Company Compares
Compared to smaller insurers like Petplan, Pet Insurance through Farmers and Pets Best has a much better reputation with claims. They are also not known to suddenly raise premiums exponentially on their customers like other pet insurers have been known to do after a claim is made.
Bottom Line
The Pet Insurance through Farmers and Pets Best service is a great option when it comes to getting tailored insurance for your pet. Its prices are affordable and the company has a great reputation, exactly what you want when safeguarding your pet's future.