While a global effort to slow the spread of COVID-19 has no doubt saved thousands of lives, the economic upshot is such that millions of Americans are struggling to make ends meet. As a partial remedy to the situation, the federal government has approved a stimulus plan entitling many Americans to a payment of up to $1,200.
In this guide, we'll review how the CARES Act works, who's eligible and for how much, and the best way to spend—or not—your stimulus check.
What is the CARES Act and how does it affect me?
The Coronavirus Aid, Relief and Economic Security (CARES) Act is a financial stimulus plan intended to deliver direct economic support to millions of Americans. Passed by Congress in the early moments of the COVID-19 pandemic and signed into law by the President on April 27, the Act guarantees qualifying adults up to $1,200 ($2,400 for joint incomes), plus an additional $500 per dependent.
Who's eligible and for how much?
Your eligibility and the amount you'll receive depend on your financial situation, according to your 2019 tax return, or your 2018 tax return if you haven't yet filed. If you haven't filed either, you'll need to do so before receiving any money.
If you're a single filer (unmarried with no dependents) earning up to $75,000, or a head of household (unmarried with dependents) earning up to $112,500, you're eligible for the full $1,200, while married couples filing jointly and earning up to $150,000 are eligible for the full $2,400. Couples and heads of household receive an additional $500 per dependent. However, the more you earn, the less you'll receive: the amount decreases at a rate of $50 per additional $1000 earned.
For example, a single filer (unmarried with no dependents) earning $85,000 would receive $700. A married couple filing jointly with two children and a joint income of $180,000 would receive $1,900. Finally, a head of household with one child earning $135,000 is eligible to receive $825.
This means that single filers earning more than $99,000, heads of household earning more than $136,000, and joint filers earning more than $198,000 are not eligible for the stimulus payment.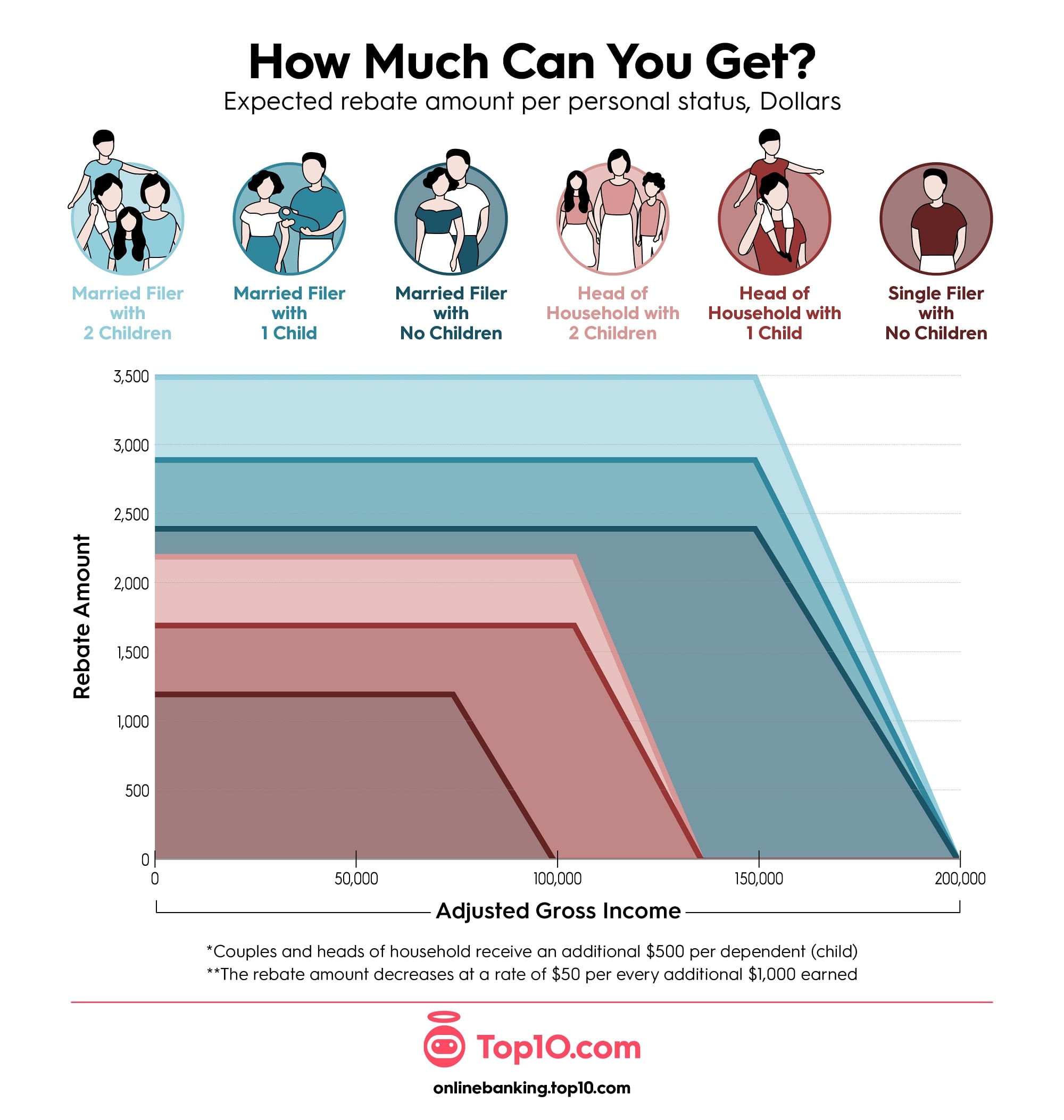 When and how will I get my money?
You'll either receive your payment by check or by direct deposit, depending on what information the IRS has on file for you. If the IRS doesn't have your direct deposit information, you may want to update it: payments via direct deposit will typically be made more quickly — plus, you don't have to worry about your check getting lost in the mail. At the time of writing, the first round of checks have gone out, but many people still haven't received theirs yet.
Because the COVID-19 relief money is only available via check and bank transfer, you'll need to have a bank account to access it. If you don't already have one, now's the perfect time to open a new account. The easiest, fastest and cheapest way—and the one that requires the least contact with others—is to open an online bank account.
Online banks are secure and easy to use. Plus, you can open a new account in just minutes, which means faster access to your relief money.
No monthly maintenance fees
No monthly, transaction, or foreign fees
No fees on any transactions
Save or spend?
Wondering what to do with your stimulus check? You have a few options, but your best bet is to put it into savings.
First, you'll want to make sure that you can pay for basic necessities. Before you think of doing anything else with that money, make sure your fridge and pantry are stocked up, and that rent and utilities are covered for the month.
If basic necessities are taken care of, your next best move is to put the money into savings. In fact, there are a number of good reasons why a savings account is a better option than investing in stocks or buying cryptocurrency, especially now.
First of all, there's a lot less risk involved—your money is guaranteed to earn interest and is federally insured up to $250,000. With the right online savings account, your money can earn plenty of interest. CIT Bank Online, for example, earns you up to 1.7% API while Capital One's online-accessible savings account includes 1.5% API in interest. At nearly 20x the national average, these are good options for making sure your CARES money continues to grow.
An online savings account can also help you save on fees. Many new online banking platforms like Chime and Discover, for example, offer no-fee savings accounts. If you're opening an account for the sole purpose of putting away your stimulus check, this is a great option. For $1,000, what you lose in reduced interest rates you'll more than make up for by not having any account fees.
Online banks can also offer a lot more flexibility. SoFi, for example, is another zero-fees online bank with a combined chequing-savings account. You get all the great functions and easy access of a checking account, plus a 1.10% API interest rate worthy of an online high-interest savings account.
If you're not ready to go fully digital, no problem. Hybrid banks like BBVA, for example, give you all the convenience of a traditional brick-and-mortar bank—access to physical branches, plus loans, mortgages and investment accounts—and all the perks of an online bank: an easy-to-use mobile app, alerts on suspicious activity, and Apple Pay and Google Pay.
If you don't already have an online savings account, you may be missing out on interest and some great savings. If that's the case, this is probably where your stimulus check should end up.
Finally, if you already have a healthy savings portfolio that includes an online savings account, you can invest your COVID-19 relief money. One way to get an immediate return on your money is to pay off any outstanding debts, to help you save on interest payments.
Otherwise, there are a few different ways to take advantage of the current financial climate in the stock market. An ETF, or Exchange Traded Fund, lets you invest in an entire sector or market, rather than individual companies, which can be a safer option. Alternatively, if you have some experience in the market, you can invest in companies that are likely to benefit from the world now and post COVID-19, like online learning platforms, video games, and grocery stores.
However, bear in mind that while the return may be greater than a high-interest online savings account, there are no guarantees here, and you may lose everything. Invest if you're financially comfortable, but do so carefully.
Bottom Line
The most important thing for most people will be making sure that their COVID-19 relief money is both safe and accessible when they have need of it, which generally means going for a savings account. Whether you opt for an account at a traditional bank or choose to leverage the financial advantages of going digital, this is the best option for those who have their basic necessities covered but aren't in a position to risk the money by investing it.