In a Nutshell
JP Morgan Chase, or Chase for short, offers entirely online checking accounts through its Chase Online Banking brand. Chase Online Banking lets its customers do virtually everything online. Users can view bank statements, monitor activity, pay bills, see checks, or transfer funds with just a few clicks of the mouse (or a few swipes on their smartphone). Chase customers can also apply to open a savings account or certificate of deposit online.
pros
Send money to someone's mobile number or email address
Access to 16,000 Chase ATMs in US (and compatible ATMs abroad)
Support for Spanish speakers
cons
Monthly fees
Savings accounts have very low interest rates
Fees: $0-$25 / month
Personal loans available: No
Credit card available: Yes
SMS/Mail alerts: Yes
24-hour customer service: Yes
Money transfers: Yes
Check scanning: Yes
Average APY:
Minimum for APY: 0.01%
Chase at a Glance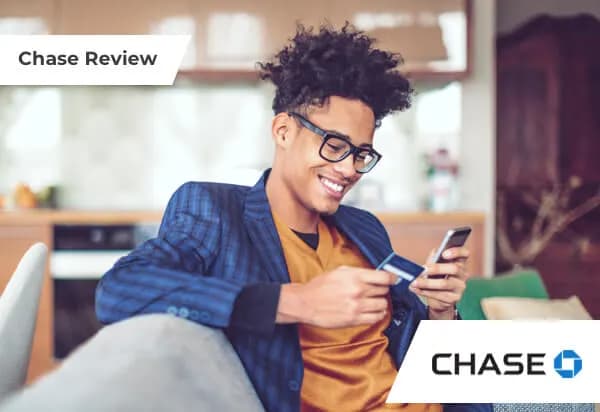 Advantages Over Regular Bank
Chase Online Banking is more convenient in many respects than a regular bank account. It offers all the benefits of internet banking but still gives access to brick-and-mortar services like ATM withdrawals. With a Chase online bank account, you can do many things from your mobile, including but not limited to: depositing checks, transferring funds, and managing multiple accounts.
Cutting-Edge Banking Services
With Chase, banking customers can do virtually anything without having to go into a branch. Chase Online Banking offers 24/7 access to your funds, as well as useful functions to keep you in the loop and help you manage your accounts.
Here are some of the top features of a Chase online checking account:
Chase QuickDeposit: Securely deposit checks from your mobile.
Direct deposit: Automatically deposit paychecks with direct deposit.
Online Bill Pay: For paying rent, mortgage payments, utility bills, credit cards, auto payments, and other bills.
Chase QuickPay with Zelle: Send and receive money with the other person's mobile number or email address.
Paperless statements for up to 7 years of bank statements.
Account alerts for payments, overdrafts, and more.
View balances and transaction history with a text message.
Traditional Banking Services
As part of one of the largest banks in the United States, Chase Online Banking also gives you access to all of Chase's regular banking services.
Highlights include:
Access to 16,000 ATMs and nearly 4,900 branches in the United States, as well as compatible branches abroad.
Access to other Chase banking products, including credit cards, mortgages, home equity products, and auto loans.
Access to telephone banking, including a dedicated 24/7 line for premium customers.
Interest Rates and Fees
Chase Online Banking offers a choice of 3 types of checking accounts: Chase Total, Chase Premier Plus, and Chase Sapphire. Each checking account carries monthly fees that Chase agrees to waive if you keep your average balance above a certain amount. College students may qualify for $0 monthly fees for up to 5 years on all account types. Chase customers earn a $50 bonus any time a friend opens a qualifying checking or savings account using their referral code. Customers may claim up to 10 bonuses, or $500, per calendar year.
Each of the Chase checking accounts includes access to the full suite of online banking and mobile banking features. Premier Plus and Sapphire also earn interest and waive fees for checks and non-Chase ATMs. Sapphire includes a dedicated 24/7 service line, plus free access to additional features, such as online stock and ETF trading.
Direct deposits totalling $500 or more; OR Minimum daily balance of $1,500; OR average beginning daily balance of $5,000
Average beginning day balance of $15,000; OR Linked Chase first mortgage with automatic payments from account
Average beginning day balance of $75,000 across all Chase accounts
Chase offers all its customers the option of opening savings and CD accounts online. Chase doesn't offer record breaking APYs, although there are other benefits to maintaining a combination of Chase checking and savings accounts—including zero monthly fees when maintaining a minimum balance. Selected rates appear below:
Customer Service
Chase offers good customer service for a large bank. It offers telephone support in English and Spanish. As mentioned, premium online checking account holders get access to 24/7 customer support.
Mobile Apps
A standout feature for Chase is the Chase Mobile app, which lets you do many of the same things you can do with online banking. The app is user friendly, and lets you view account activity, deposit checks, and pay bills with just a few swipes. To use the app, simply download it from the Apple or Android app store, use your Chase Online Banking username and password to log in, and request an identification code to register.

Chase Visit Site
Security
All of Chase's online banking and mobile banking services use strong encryption technology to protect your data. Its website also contains some useful articles on how to keep your accounts safe. To get notifications of any suspicious behavior related to your accounts, keep your alerts setting switched to "on."
Conclusion
Chase Online Banking is part of the largest bank in the United States but offers online banking services more typical of a tech-savvy banking startup. With Chase Online Banking, users get access to a full suite of online banking and mobile banking features without having to forego any of the benefits of traditional banking. Chase is suited for those who want to open an online checking account or combined checking and savings accounts.