In a Nutshell
Azlo was founded on the premise that business founders, freelancers and small business owners spend too much time & money managing their finances. Traditional banks may not offer the banking services needed and when they do it is often expensive. Azlo offers accessible online banking plus integration with services like Kabbage, Stripe, Square and PayPal. They offer a fully online solution with no minimum deposit required to open an account.
pros
Integrated invoicing features take the hassle out of getting paid
Offers a learning center and a networking community
No ongoing balance requirements or monthly fees
cons
Online only, there is no way to deposit cash into your account
Limitations on ATM withdrawals, mobile check deposits and more
Long time to process check deposits and bank transfers
Azlo Visit Site
Azlo at a Glance
Azlo is focused on small businesses and is open to various types of business structures. Only U.S based businesses are eligible. The platform does not support businesses in several industries including cannabis, online gambling, certain money services businesses and cryptocurrency exchanges.
Advantages Over Regular Bank
Azlo is geared towards the needs of small businesses who feel underserved by traditional banks, and aim to make their banking processes more streamlined. They are solely focused on the needs of businesses, with special offerings for online entrepreneurs and freelancers.
Azlo is an app that can be accessed from anywhere. You can open an account from anywhere you are at any time you wish. Businesses can manage their finances when and where it's convenient for them via Azlo on the web and their mobile app.
There are no fees associated with an Azlo account. This includes no overdraft fees, no account maintenance fees, no debit card replacement fees or fees for any transactions. Add-on services such as instant transfers do carry a fee to cover the cost.
There are no required minimum balances to open an Azlo business checking account and to maintain it.
Cutting-Edge Banking Services
Azlo was a pioneer in online business banking and although there are now a number of players in this space, their service capabilities are still cutting edge. They offer apps for both Android and Apple devices.
They do not offer the ability to make transfers internationally. In some cases, customers have reported that both incoming and outgoing transfers can be a bit slow. Likewise with the time to receive credit in their accounts for mobile check deposits.
Key features
Free payments and standard transfers
The ability to send digital invoices directly from your account
No limits on the number of monthly transactions
No incoming wire fees
Integration with key business tools like Stripe, Square and PayPal
Fully digital online account signup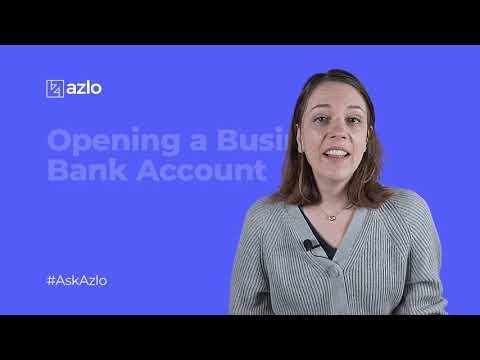 Traditional Banking Services
As a business only banking app, Azlo doesn't offer consumer-oriented services like mortgages, IRAs or reward credit cards.
Azlo partners with the Allpoint network of over 55,000. All of these ATMs are available free of any fees to Azlo account holders. The app has an ATM locator built into it, and Allpoint's site has one as well.
Mobile check deposits are generally available within 1-6 business days. They indicate that as account holders build a history with Azlo, this can help increase the speed at which deposits are available. Incoming transfers take 4-5 business days for the funds to become available. International transfers cannot be done to or from an Azlo account.
Interest Rates and Fees
There are no interest rates or fees associated with an account at Azlo. They do not offer any interest bearing accounts and do not offer loans either.
Instant transfers into the account will incur a fee. Additionally, incoming payments processed by Stripe, Square and PayPal will incur fees from these service providers.
Customer Service
Customer service is available by phone or email. They do not offer 24/7 customer service, however. They generally reply to email inquiries within one business day. Toll free phone support is available Monday through Friday from 6:30 am to 5:30 pm Pacific.
Mobile Apps
According to the company site, Azlo recently redesigned the mobile app and web interface to ensure that accessing their bank account is uncomplicated. These changes included a cleaner, simpler design, and the elimination of steps when navigating through their digital platforms.
Security
Azlo is a member of the FDIC and accounts are protected within the FDIC's limits. They use bank-level encryption on both the app and the website to provide a level of security to users.
Conclusion
Azlo aims to make banking easier and more accessible for small businesses, freelancers and entrepreneurs. Their tools are designed to help these small business owners focus on what they like to do and to take the hassle out of managing their finances.
The ability to access their bank from anywhere, the integration with outside payment services, the lack of fees and the ability to send invoices from their accounts all help small businesses accomplish this goal.
The app was built based on countless hours of research and conversations with entrepreneurs. The Azlo team continually strives to enhance the service to help the smallest of businesses thrive.
Azlo Visit Site