Recently, top10.com surveyed over 1,000 people to gauge how they were feeling (from a financial perspective) about the COVID-19 crisis. Some of the most intriguing results were the ones discussing the attitudes towards online banking.
Americans Had to Shift Their Banking Online
It is safe to say that the vast majority of Americans moved their banking activities to the digital sphere. In many cases, brick and mortar banks either weren't open, or were operating with a very limited scope.
On top of that, the fear of getting infected also had a chilling effect on going to your local bank. According to a Lightico survey from March, 82% of the respondents were concerned about going to their bank.
So while people couldn't (or wouldn't) go into branches, they seemed to be enjoying the ease and safety of top online banks.
...But They Seemed to Love It
While some of them didn't choose it, most Americans seem to be pleased with their experience of banking online. We asked how digital banking affected managing people's finances during the Coronavirus outbreak and 58% of our respondents said that it made things either somewhat easier, or a lot easier.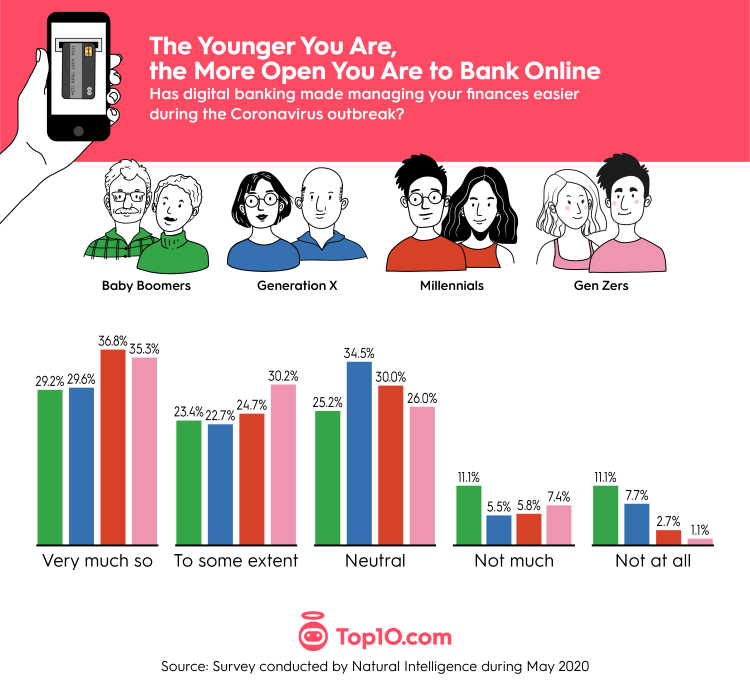 Even more interesting were the splits on income. Unlike our first major finding, we found that 69% of respondents who made at least $175,000 but less than $200,000 per year said digital banking helped them manage their finances "at least somewhat" or "very much so". Meanwhile, 84% of respondents who made at least $200,000 said the same.
So the data clearly shows the impact on digital banking for those with higher incomes. That's not to say that lower incomes didn't find it as valuable, but one explanation might be because they're already used to the benefits of digital banking. Also, assuming a positive correlation between age and income, one would assume younger generations were already using digital banking. A study done by Accenture in 2018 showed just that. Almost 75% of Millennials in the U.S. used digital banking.
Even banks like Chase are beginning to become more digital, though their one of the largest and well-known banks in the country. For example, their online banking service allows you to use QuickDeposit (where you can deposit checks from your phone), send money with Zelle, pay bills, and all other types of essential banking services.
So, the adoption of online banking was indeed accelerated, but there's still a long way to go in convincing people (particularly older generations).
And They Stuck With Their Banks
Despite what you may have thought, we found that only a very small percentage of respondents decided to change their bank during the COVID-19 breakout. Less than 4% of respondents overall said they did so.
Moreover, it seems that younger people and people making less money were more apt to change their bank. Of the people who changed banks, 47% made less than $50,000 per year, and 44% were Gen Zers.
Is Now a Time to Reconsider Your Bank?
So, do you need to reconsider your bank? And if so, why should you do that? According to the Global Consumer Survey 2020, 27% said they'd change their bank because of the terms and conditions for keeping an account, 23% said because of the security of their assets, and 17% said free-of-charge cash.
It would also seem like young people are switching to digital-first banks that have low fees - and it might be a good idea. Chime is a great example - it's a fee-free checking account that is transparent with costs and allows for free ATM usage in the United States at over 38,000 ATMs (two of the major pain points from the Global Consumer Survey).
In addition to better offers, a new (and possibly online-only) bank will put you at the forefront of the digital banking revolution. Since costs are lower for banks, they can either give more back to you (via interest) or wipe away fees -- or both.
These banks are especially popular among millennials. Take Chime, for instance. Its CEO Chris Britt said the majority of Chime's customers are in the 25 to 35 age range.
Necessities, Rather Than Savings
It is interesting to see how people decided to use the stimulus checks they'd received (or plan to receive) from the government. Apparently, more people intend to funnel that money to day-to-day needs, than those who plan on investing or saving it.
41% of respondents said they were planning to use that money to buy groceries and other necessities, while just 28% said they were planning to put the money into savings. Another 27% said they would use the money to pay off debts.
Furthermore, higher-income earners are more likely to put the money into savings - perhaps because they already had enough money to cover necessities like food.
Going back to the data I referenced above, a very small percentage of Americans have money set aside for things like emergencies. So it's not completely shocking that the majority of people getting a windfall like this would use it to cover necessities.
We were also surprised at the relatively low percentage of people planning to use the money to pay off their existing debts. Especially since a 2018 study from Northwestern Mutual showed that 33% of the respondents estimated they owed between $5,001 and $25,000 in debt.
While it's easier said than done, two of the things we recommend you do with windfalls like this is save it or invest it (and one could argue that paying down debt is in itself an investment). Leveraging a bank like BBVA might help, too. They have a free financial tool that helps you track your overall spending and achieve financial goals, a dedicated personal banker, easy access to lines of credit for those who qualify, and more.
Bottom Line
The silver lining to the complex situation we're facing right now is that it prompted us to look for better solutions. Online banking has been with us for over a decade, but many people were reluctant to opt in. Social distancing may have forced us to go online, but most chances are that we decide to stay there (after all, it saves us time and money).
So, what do we do now that we saw the potential in banking online? Do we stick to our old bank, despite the myriad of alternatives and the super smooth mobility, or do we explore our options?
Whatever you decide - changing banks or opening a savings account, or both - use this data as a reference point but make the best decision for YOU.