Mortgage rates are set to increase by half to three-quarters of a percent in 2019
House prices are on the rise, in a double blow for buyers
Home buyers can take a number of steps to get a better rate
The Background on Rising Rates
The Federal Reserve doesn't set mortgage rates, but it heavily influences the rates offered by lenders. Members of the Federal Open Market Committee meet 8 times a year to vote on the benchmark federal funds rate. This more or less determines the rate at which banks and credit unions lend money to each other overnight to meet the Fed's reserve requirements.
When the federal funds rate goes up, banks pass the costs on to you, the consumer, through higher interest rates for mortgages, loans, and other forms of credit. American home buyers enjoyed a period of historically low interest rates between October 2008—when the federal funds rate dropped below 1% for the first time in 50 years following the subprime mortgage crisis—and 2016.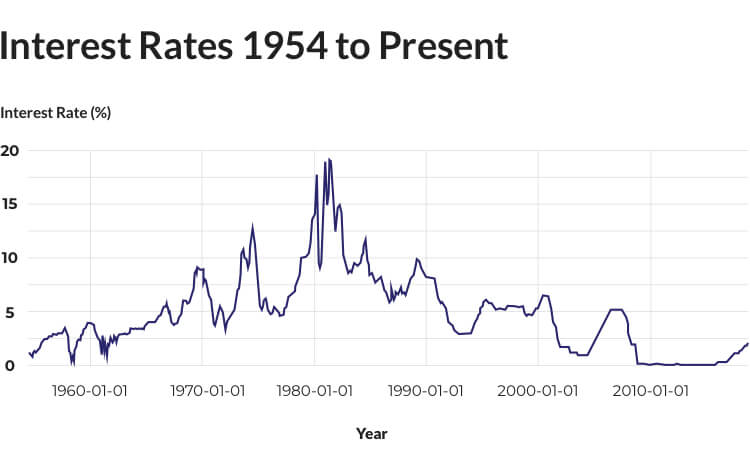 Lenders gradually passed these savings on to consumers, with the average 30-year fixed mortgage interest rate falling from 6.20% in October 2008 to a low of 3.35% by the end of 2012. But as the Fed began tightening its policy amid signs of an improving economy—with one rate hike in 2015, one in 2016, and three in 2017—lenders raised mortgage rates accordingly.
What's Been Happening in 2018
The Fed raised interest rates 4 times in 2018, from a target rate of 1.50% at the start of the year to a target of 2.50% by the end. The average 30-year mortgage, which was 3.95% at the end of 2017, had reached 4.87% by November 2018.
This has been happening against a backdrop of rising house prices, with Zillow reporting in October 2018 that US home values have gone up 7.7% year-over-year to a median of $221,500. Zillow predicts home prices will rise a further 6.4% within the next year, which, when combined with rising interest rates, could be costly for prospective home buyers.
What's Forecast to Happen in 2019
If the Fed goes through with its 2 projected rate hikes in 2019, the average 30-year mortgage rate will climb to at least 5.50%.
If it goes through with a third hike in 2019—a move supported by several members of the FOMC—and an additional hike in 2020 as it is forecasting, then the mortgage rates could hit at least 6%.
The silver lining is that higher mortgage rates could slow house prices, softening the impact for home buyers just a little.
Strategies for Buying when Rates are Rising
Move quickly.
If you're ready to purchase but haven't gotten around to applying, time is of the essence. While the Fed only votes on the target rate 8 times a year, lenders can increase rates at any time. The average 30-year mortgage rate has gone up in 13 of the past 14 months and, thanks to the Fed's latest decision and outlook, it's going to keep going up each month for the foreseeable future. If you need a bit more time, some lenders let their customers lock in a pre-approved rate for up to 90 to 120 days. Just to understand how important it is to lock in a lower rate, we used a mortgage calculator to compare 5% and 5.5% mortgage rates for a $221,500 purchase with 20% down payment. For a 30-year mortgage, the lower rate would save you almost $20,000 across the life of the loan.
Pay more in cash.
If you have the means, paying down more than the minimum 20% will reduce the total interest you pay over the life of the loan. Using the median house price of $221,500 and a 5% interest rate, a 20% down payment would leave you owing $177,200 in principal and $165,249 in interest over the life of the loan. A 30% down payment would shave $22,150 off your principal and $20,656 off your interest. A 50% down payment would shave $66,450 off your principal and, more importantly, $61,968 off the interest you pay the lender. Another way to use cash to your benefit is to pay some of your fees directly at closing in return for a lower interest rate. Many lenders let their customers use this strategy, which is known as "buying down the rate."
Consider a government-backed mortgage.
If you have a poor credit score or don't have enough cash for a 20% down payment, you may be able to get a government-backed mortgage with a reduced down payment. FHA loans are designed for borrowers with credit scores of 500-620. Buyers are required to make a 3.5% or 10% down payment and pay monthly private mortgage insurance. VA loans are for eligible active and ex-military service people and come with 0% down payment. USDA loans are for eligible rural and suburban homebuyers and don't require a down payment.
Negotiate for seller contributions.
Your seller can't contribute to your down payment, but they are permitted to contribute up to 3% of the value of the sale to your closing costs (or 6% if it's an FHA loan). Given average closing costs for mortgages typically reach 2%-5% of the value of the loan, a seller contribution could wipe out some or all of those costs—saving you thousands of dollars in the process.
Improve your credit score.
Your credit score is the main factor lenders take into account when calculating your rate. There are many ways you can improve your credit score:
First, check your credit report for free at Annualcreditreport.com and inform credit agencies Experian, Equifax, or TransUnion if you notice any errors.
Then, set up payment reminders for loan or credit card payments or, even better, pay off any debts.
Lastly, you might consider taking out a credit-builder loan, which basically involves taking out a small personal loan and paying it off to prove that you're credit-worthy.
Consider an ARM.
Adjustable-rate mortgages carry risks and rewards. The main benefit is they come with lower interest rates than fixed-rate mortgages for an introductory period of usually 3 to 10 years. The risk is that if mortgage rates keep rising, you'll be exposed to a higher rate once your intro period expires. A 5/1 ARM refers to a mortgage where the rate is locked in for 5 years and then adjusted every subsequent year for the duration of the loan. A 10/1 ARM is the same, except the rate is locked for 10 years, and the intro rate is higher than for a 5/1 ARM. If you're planning on paying off your loan early or willing to bet on interest rates being lower in a decade than they are now—then you may want to consider a 10-year ARM.
Summary
There are no certainties in life except death and taxes, but it's almost certain that interest rates will be higher 1, 2, and 3 years from now than they are today. If you're in the market for a home, now is the time to start thinking about how to protect yourself from the prospect of higher mortgage rates and rising housing prices.
Table Credits
Table 1: http://www.federalreserve.gov/