In a Nutshell
Payoneer provides digital solutions to enable global transactions across all borders. With a mission to empower businesses to break through borders, Payoneer offers tax solutions, risk management, international payments, and more to everyone from SMBs to major corporations.
pros
Dedicated recurring payments for business feature
Global - You can pay into 200+ countries and territories
Transparent - Track payments every step of the way
cons
Initiating payments currently only available for US customers
No virtual terminal for payment processing

Payoneer Visit site
What You Need to Know
Transfer fee: 0%-3% (Can be paid by either payer or payee)
Transfer time: 1-5 business days
Transfer types: Credit card, E-Check, Local bank transfer
Daily transfer limit: Varies: $15K-$100K
Transfer purpose: Business
24/7 support: No
Payoneer Fees and Rates
One of the nicest parts of working with Payoneer is that it is so transparent. You won't get hit with any hidden charges and won't end up paying exorbitant monthly fees you knew nothing about. With this company, what you see is exactly what you get. Added to that, signing up for Payoneer is completely free. If you are an international employee, you can even set up your own receiver account.
Make payments
Payoneer is the preferred payment method for millions of businesses worldwide, they make sending payments, even internationally, a breeze. You can use Payoneer to pay your Value Added Tax (VAT) across Europe, and you can also pay your suppliers and contractors with this simple method. Payoneer is a perfect solution for hiring remote employees and outsourcing contractors overseas, as they allow you to pay in over 200+ countries and territories, including: Ukraine, India, Pakistan, Bangladesh, China, Russia, United Kingdom, Argentina, Philippines, Serbia and many more (*not including those listed on the OFAC sanctions list). Payoneer allows you to send payments even to countries where services such as PayPal do not.
Paying suppliers is just as simple:
From your Payoneer account, choose the Make a Payment option
Fill out the necessary details about your recipient and your payment
Payoneer will automatically transfer the payment amount to your supplier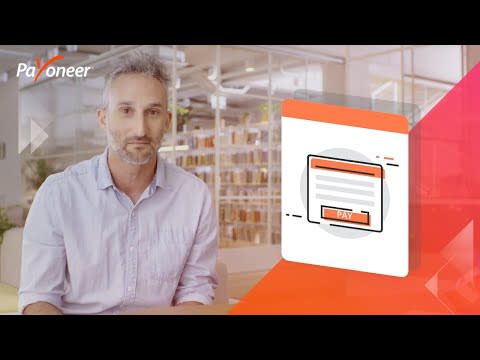 How Long Does It Take?
Once you request a transfer, the funds leave your account within 1-5 business days. It might take a few days for the debit to be fully recorded in your bank account. Making payments can be instant, but It usually takes a few business days for a sum of transferred funds to reach your bank account. This is assuming you've received your withdrawal confirmation. Payoneer is generally very good about getting you your money even faster, but this is the time frame that is stated in the terms and conditions. So, you can expect it to take anywhere within that range.
Payoneer Top Highlights
Lets you send payments to virtually any country
Works with your fluctuating business schedule
Send a one-time payment using echeck, credit card (American Express, Visa, MasterCard), or by doing a local bank transfer through the payer's bank to the recipient Payoneer account
Make batch payments of up to 15 at a time (this is great for projects when you're working with more than one contractor, and you want to pay them at the same time)
Make recurring payments up to 12 months in advance, monthly payments
Utilize payment tracking to track your transactions from your account, download payment history report, get email notifications, and integrate QuickBooks or Xero
Customer Support
Payoneer offers top-of-the-line customer support. You can speak to someone by calling any of the international phone numbers available to accommodate each country. Alternatively, you can send in an email via the online contact form, or you can reach out to support using the live chat feature.
Payoneer also has loads of helpful information on the website. There is a whole community of users with popular questions, troubleshooting tips, and more to help guide you through any issues you may have. And if you prefer watching instructions, there are how-to videos covering every aspect of your account.

Payoneer Visit site
Privacy and Security
As a financial service, Payoneer takes security seriously. Every single transaction is protected using the latest and most advanced security technology. That includes strong firewalls, anti-hacking techniques, and heavy encryption. What's more, Payoneer has a team that is constantly monitoring each and every transaction that goes through its service. This is to ensure that fraud doesn't occur and prevents common pitfalls like identity theft, phishing scams, and other malicious attacks.
Bottom Line
Founded in 2005, Payoneer is one of the top names in business money transfers, and there's a reason why. Working with businesses large and small (some brands include Airbnb, Amazon, Google, and Upwork), Payoneer helps create smooth, fast, and easy payments both nationally and internationally. This service caters specifically to international freelancers, service providers, online sellers, digital marketers, vacation rental hosts, and other businesses that need to make or receive overseas payments frequently.
Payoneer has extensive customer support options, including live chat, email, and phone lines, with direct numbers for global clients as well. An elaborate community forum, FAQ section, and how-to video library also help make this service easy to work with. Payoneer offers many of its services for free like transferring money from one Payoneer customer to another. For the services that are not free, Payoneer has competitive rates, lower than the market rates almost every time