In order to understand how the nation is dealing with the fallout from the crisis, Top10.com asked 1,000 people what they are concerned about and what they predict for their financial future.
Worrying about employment and finances has been at the forefront of the nation's minds. While everyone does their best to assimilate into this new way of living, it is hard not to be concerned with the potential outcomes of one's job. Here's a look at how Americans feel about their finances since the crisis began.
Higher Income = More Job Security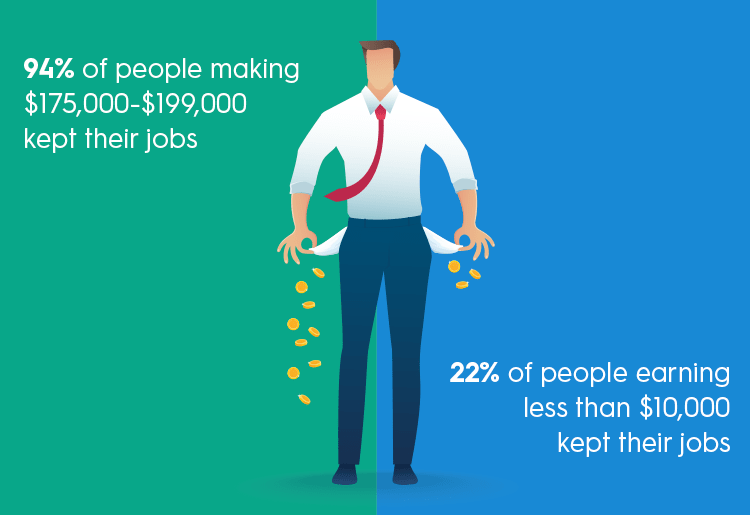 When it comes to job security, the numbers can be somewhat uneasy for most. According to the Top10.com survey, just 54% of respondents kept their jobs, while 46% either lost their job (12%), were put on leave (15%), or are not sure about their job status (19%). More men kept their jobs (58%) as opposed to women (50%).
Income was also taken into consideration during the poll. People making $175,000-$199,000 per year were most likely (94%) to keep their jobs, while those in the lowest income brackets, earning less than $10,000 per year (22%), or $10,000-$25,000 (37%) were least likely to keep their jobs. People in these lower brackets either lost their jobs, were put on leave, or were uncertain about the future of their jobs.
Money for Retirement Biggest Concern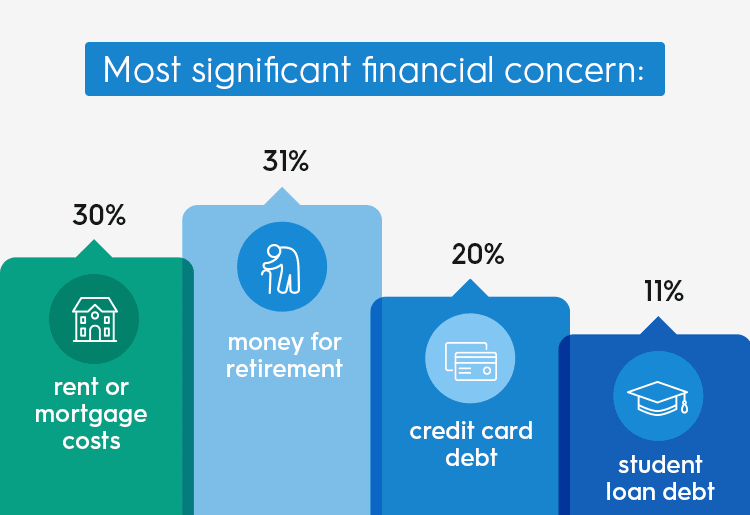 Many factors cross our minds when it comes to possible unemployment. Almost a third of people (31%) listed money for retirement as their most significant financial concern at the moment, closely followed by rent or mortgage costs (30%). Another 30% of people were concerned by debt, both credit card debt (20%), and student loan debt (11%). The younger generation is more concerned with housing and student loan debt. The older generations tended to have more concern for retirement funds being affected.
How Men and Women Are Adjusting to the COVID Economy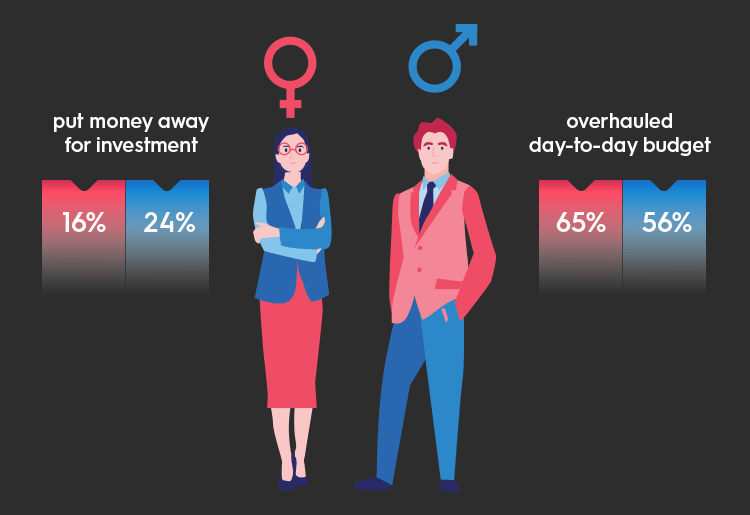 While handling this problematic life transition, many individuals said they had to rework their finances when asked what strategic financial decisions they made since the COVID-19 breakout. They had to consider new options. Nearly two-thirds of respondents said that overhauling their day-to-day budgeting was the most prominent strategic financial decision they made in light of the COVID-19 crisis. In contrast, about 20% of people said their most significant move was putting more money into investment. More men (24%) have decided to put more money in investment than women (16%), while women (65%) were more likely to have overhauled their day-to-day budget than men (56%). Surprisingly, 18-29-year old's were the most likely age group to put more money in investment as a result of COVID (23%).
Stimulus Money for Groceries Rather Than Savings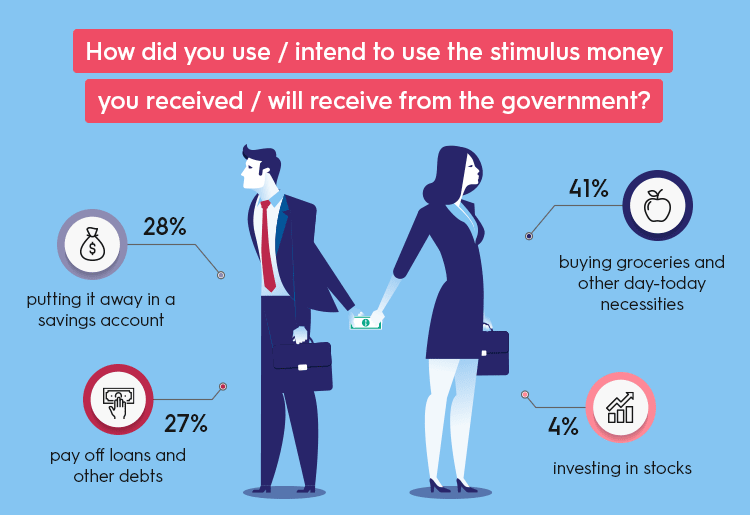 The country did receive a stimulus check to alleviate the financial burden of being displaced from their place of employment. The stimulus money was brought about as many individuals were fearful of how to pay for everyday expenses. When asked how they intend to use the stimulus money, more than 40% of people said they are using it for buying groceries and other day-to-day necessities. Another 28% of people are putting it away in a savings account, while 27% of people are using their checks to pay off loans and other debts. Every age group was most likely to use their stimulus check on groceries and other necessities.
Huge Spending Cuts Due to Lower Earnings; Women Earning Less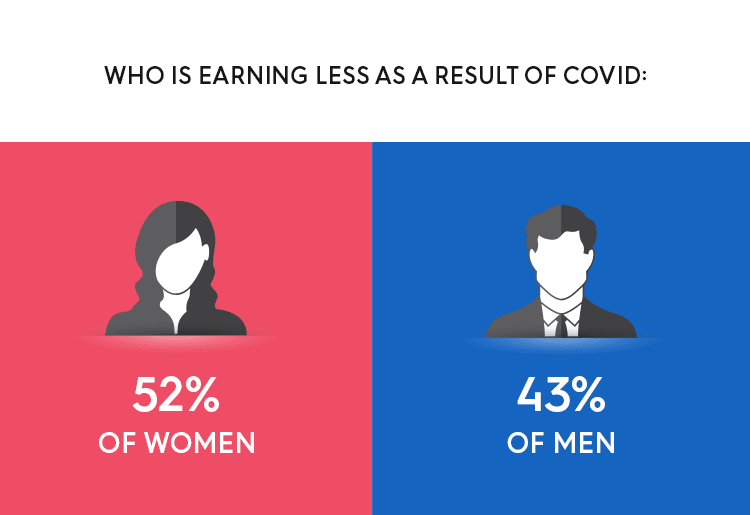 Not only are many people concerned about the loss of jobs, but there is also concern about the loss of income. Individuals have also been experiencing pay cuts and a loss of income due to COVID business closures. After being quizzed on how their financial situation has changed since COVID, nearly half of the respondents said that they are earning less money since the outbreak started (48%). About 80% of the people making less have cut spending. That means 38% of people are spending less money these days. 30-44-year-olds were the most likely group (52%) to take a pay cut as the result of COVID. A larger percentage of women (52%) is earning less as a result of Covid than men (43%).
Netflix More Important Than Clothes, Groceries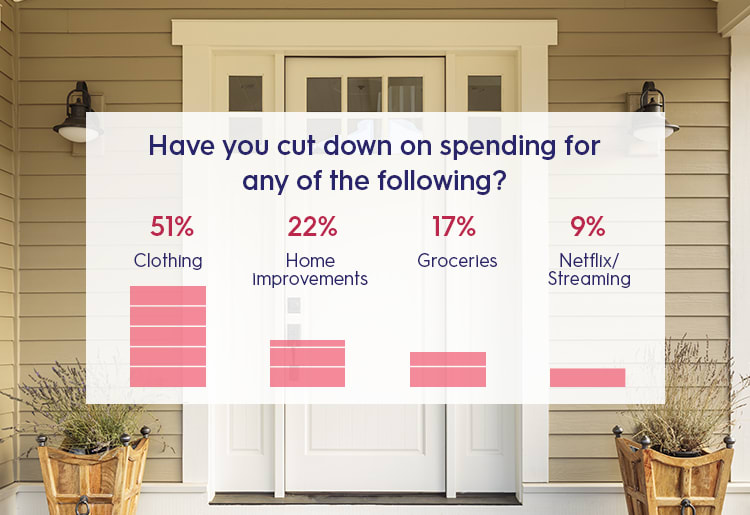 The most challenging decision in day to day life is where to cut the spending due to that loss of income. With families and mouths to feed, where do you decide to cut costs? According to the survey, the most significant cut to spending has been for clothing. More than half of people (51%) have cut spending on clothes. More people have cut spending on groceries (17%) than on streaming services like Netflix (9%). Women (55%) have cut more on clothing than men (47%), while men (25%) have cut more on home improvements than women (19%). Cutting down on eating out was a common write-in answer for all income groups.
Men More Optimistic About Their Financial Future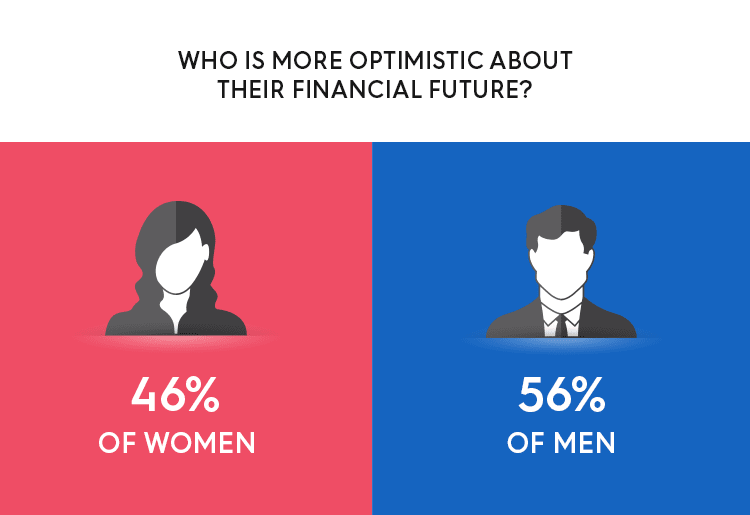 On a positive note, more than 50% of people are optimistic about their financial future. Not surprisingly, since they lost their jobs less and took fewer pay cuts, men (56%) are more confident than women (46%) about their financial future. 18-29-year-olds are the most optimistic group; 45-60-year-olds are the least optimistic. There was also perhaps less optimism among the $175,000-$200,000 than you would think: they were the most likely group (31%) to say they were not overly optimistic.
Now's the Time to Take Control of Your Finances
This new way of living, or New Normal, has brought many changes and unexpected unknowns. While we press on through the unknown of the COVID crisis, we find new ways to adapt to the situation. Overall, the survey shows an outlook that is more optimistic than pessimistic, despite the loss of jobs and income.
Yes, these are uncertain times, but that doesn't mean you can't be in control of your financial security and provide a secure future for your family. Our survey shows that people are increasingly thinking of ways they can budget and save money for what really matters. There's a host of online services and apps that can help you get your finances in order, all of which you can use from the comfort of your own home. Some of our favorites include:
One of the main takeaways from the survey is that the Coronavirus crisis has proven to be a wake-up call for Americans to be more aware of their financial situation. Now's the time to make sure you're prepared for any eventuality, and that your financial future is in your hands.