While a dire UN report urged the world to ease up on meat, a single chicken sandwich captivated the nation, leading to memes, Twitter wars, and sellout lines. Still, one Impossible Burger proved that meat may be on the way out. Meanwhile, the president served fast food from the hallowed halls of the White House, hard seltzer became a legit threat to beer companies, and the nation's first cannabis restaurant opened in Hollywood.
Here's a look at some of the biggest trends and newsworthy food items of 2019:
More Meat-Eaters are Turning to Plant-Based Foods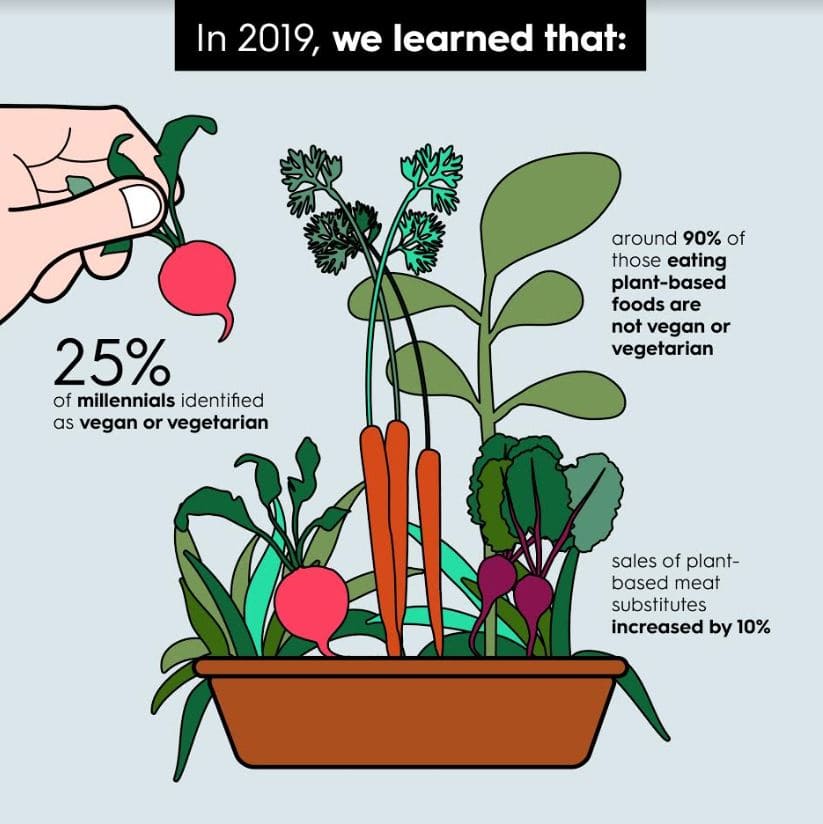 One of the biggest food-related stories of 2019 was the United Nations report linking meat consumption to climate change. Signed by 107 UN scientists, the report urged people across the globe to increase their consumption of plant-based foods.
In America, things were already trending in that direction. According to the USA Today, the sales of plant-based meat substitutes had increased 10% from 2018, reaching $946 million by October. One market research firm found that 38% of Americans are trying to eat more plant-based foods.
In fact, the Economist billed 2019 "The year of the vegan," saying that 25% of millennials (aged 25-34) are vegan or vegetarian. But here's a curious statistic from the NPD group:
Around 90% of those eating plant-based foods are not vegan or vegetarian
It's clear that plant-based eating is no longer the domain of the health-food-store set. We can credit much of that to the Impossible Burger, a plant-based burger that became something of a food zeitgeist in 2019 and landed on the menu of fast-food chains such as Burger King.
The following facts are further proof that plant-based eating is going mainstream in America: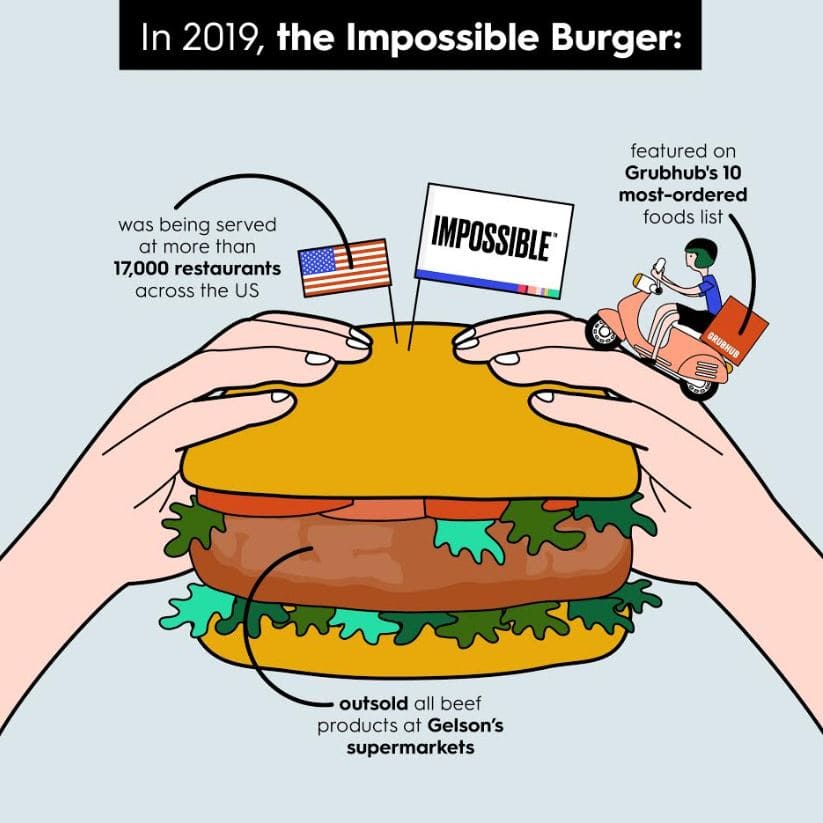 The Impossible Burger landed in the top 10 most-ordered foods on Grubhub in 2019
At Gelson's, a supermarket chain with 27 locations, the Impossible Burger outsold all beef products
It's being served at more than 17,000 restaurants across the US, including chains like White Castle, Red Robin, and The Cheesecake Factory
A Big Year for Meal Kit Delivery Services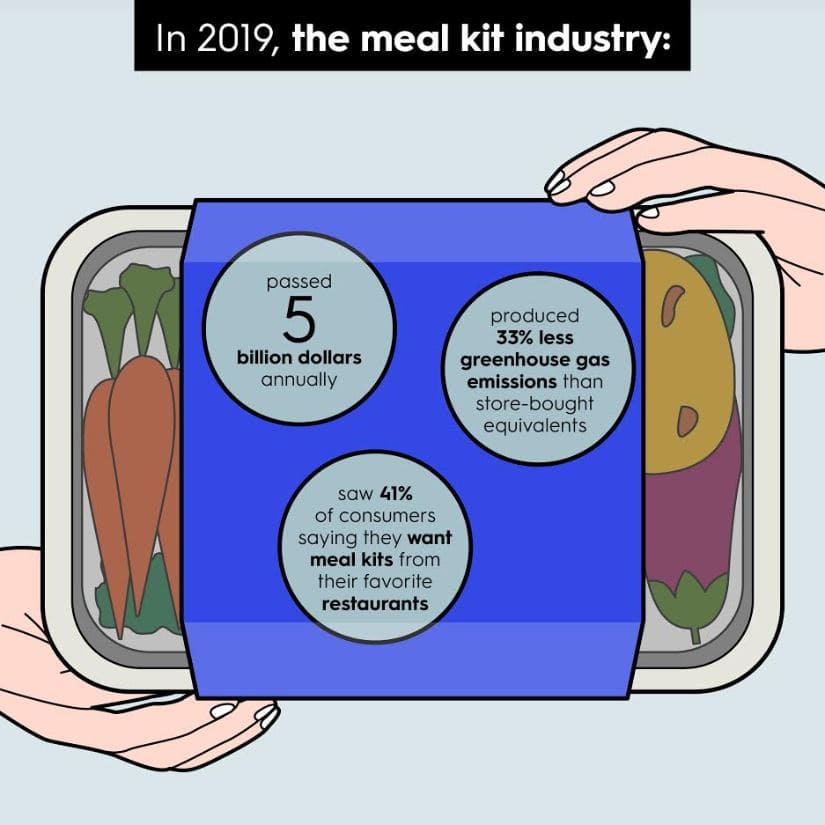 This year the meal kit delivery industry passed $5 billion annually, according to Food Truck Empire. Companies like Hello Fresh and Blue Apron are part of a growing industry catering to young professionals, busy parents, and kitchen novices who are turning to meal kits for their ease and healthy menus.
Though the best meal kit delivery services have weathered their share of critiques, they've proven to be resilient. Many have questioned the environmental impact of these independently packaged meals, but a recent study featured on NPR argues that the carbon footprint on meal delivery kits is smaller than the equivocal amount of food purchased at a grocery store.
Meanwhile, an annual survey by the National Restaurant Industry reveals that 41% of consumers would purchase meal kits from their favorite restaurants if offered, meaning that if chefs catch on, we could see meal kits from celebrity chefs and trendy restaurants giving Grubhub and Doordash a run for their money in 2020.
State of the Plate 2019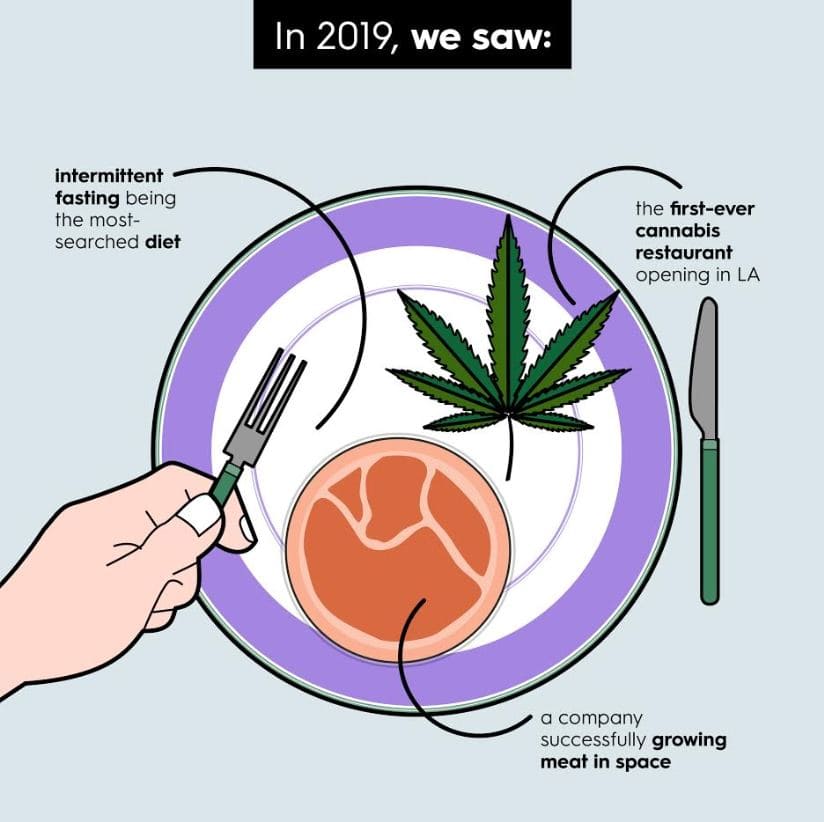 The year saw many favorite foods fall from favor while others gripped the nation. Here's a look at the trendiest diets, foods, and newsworthy stories over the past year:
According to Google's 'Year in Trends" search, intermittent fasting was the most-searched diet of 2019
According to Grubhub's annual food report, celery juice and oat milk are trending upwards and will figure big into 2020
Burrito bowls were the most popular delivery orders from Doordash in 2019
The Popeyes chicken sandwich easily wins the food-media event of the year with a rollout that included Twitter wars, sellout lines, New Yorker think pieces, and even an incident involving a live gun
Aleph Farms announced that it had successfully grown meat in space
The first-ever cannabis restaurant opened in Los Angeles, pairing upscale seasonal cuisine with cannabis edibles and pre-rolled joints to be enjoyed with the meal
President Donald Trump took heat for his menu-planning decisions when he welcomed visiting college athletes with a fast food buffet inside of the White House
White Claw and other "hard seltzers" skyrocketed in popularity, leading to shortages in liquor stores and copycats from major beer companies hoping to cash in on the craze
What's in Store for 2020?
Plant-based meats seem to be dominating healthy food trends this year, with major chains like KFC and Burger King offering meatless options and even carnivores opting to include more plant-based burgers and alternative proteins into their diet. If 2019 was "The year of the vegan," as the Economist stated, 2020 could be the year of casual veganism, when even those who don't subscribe to a specific diet start dabbling more in plant-based eating. Meanwhile meal delivery kits are vying for dollars from consumers with their own spins on plant-based items, and Grubhub is successfully incorporating meatless cuisine into its approach. There's no telling what the next year—and decade—have in store, but if 2019 is any indication, it will have less meat but plenty of toppings.