For the many meat-eaters of the world, there's nothing better than a dedicated meat delivery service. From juicy tenderloins to the occasional rack of lamb, meat delivery services offer you quick, convenient, and quality meat cuts delivered straight to your doorstep whenever you want them.
Meat delivery services offer customers a wide selection of meat cuts, including sirloin steak, ground beef, burger beef, pulled beef, strip steak, and filet mignon. You can usually find other types of protein as well, like poultry, pork, and fish. Some companies specialize in more unique cuts, more specialty ingredients, or some selective processes, like Moink that focuses on humanely raised animals or Porter Road that's got killer dry-aged beef.
Steak delivery services also provide you with an easier way to get the food you want. With contactless delivery, you don't have to leave the house to restock your freezer. Like the idea of getting your beef served to you on a silver platter? Then, fire up that grill and check out the best meat delivery services online today.
1. Porter Road
Best for: Variety packs of assorted meat cuts
Pros
Pasture-raised, home-sourced meats
Choose from a variety of boxes and delivery options
Customizable orders or curated boxes
Tons of recipes and cooking tips online
Cons
Free shipping only starts at $100
Many cuts out of stock due to Corona
Porter Road is famous for serving up high-quality cuts of locally-sourced beef. Meat is dry-aged and hand-cut on premises for optimal quality. Porter Road has a ton of options, from different cuts to various delivery options to fun boxes to choose from, the possibilities are exciting.
Customers can choose from some great boxes, including the ground beef bundle, beef and pork, or grill master box. There are also themed boxes like the butcher's choice box that's loaded with dry-aged steaks, pork chops, ground beef, and bacon, or the best of Porter Road box, which comes with a selection of the current favorites every season. Whichever box you order, you can customize to include more or less of something. So, there's plenty of variety with Porter Road.
What's included with Porter Road?
Porter Road emphasizes quality before all else. It sells only pasture-raised meats that are hormone and antibiotic-free. Some of the meat options available from Porter Road include dry-aged ground beef, sugar-free beef, beef bratwurst, beef osso buco, chili grind, heart steak, beef marrow bones, beef bones, burger patties, blade steak, short ribs, stew meat, tenderized, strip steak, tenderloin, roast, and a whole lot more. Porter Road also has pork, lamb, chicken, and sausage in a huge variety.
Pricing
Sample pricing. For more pricing, see the Porter Road website.
Favorite Meat Recipe: Braised Boneless Short Ribs With Spring Onion Jam

This is a meat-lovers dream because it's all about the meat. There's no heavy pasta to take away from the great flavor. Instead, you'll enjoy the succulent short ribs, slathered in a rich spring onion jam. There's a nice arugula salad and thin roasted potatoes.
2. Rastelli's
Best for: High-quality meat cuts & veggie options
Pros
Antibiotic, steroid, and hormone-free meats
Vacuum-sealed for up to a year freshness
Expertly-aged and trimmed
Money-back guarantee
Cons
High shipping fees
Can't customize your own box
Rastelli's is your one-stop-shop for all things protein. You can choose from a wide range of protein boxes, including whole organic chickens, wild-caught Icelandic cod, and filet mignon steak tips. What's more, Rastelli's offers some great advice on how to handle your meats, including the best method for thawing your proteins, and a money-back guarantee if you're not completely satisfied with your order.
Place one-time orders or sign up for subscriptions to save 5% on your favorite cuts. Regardless of how often you order, one thing's certain - Rastelli's meats are top of the line, responsibly sourced, professionally-butchered in state-of-the-art facilities, and aged and trimmed in-house. We're talking the best of the best here.
What's in Rastelli's meals?
Rastelli's really stands for quality meat at every level. All proteins are domestic, sustainably-raised, and wild-caught. These products are steroid, antibiotic, and hormone-free. Rastelli's also has a unique dual-freshness process. It starts out with blast freezing and ends with vacuum sealing to keep the proteins as fresh as possible. In fact, Rastelli's products are guaranteed to stay fresh for up to a year in the freezer.
In addition to high-quality meat products, Rastelli's offers a vegetarian option for those who believe eating beef is animal cruelty. There are VBites boxes you can buy in beef, duck, pork, fish, and ground beef varieties.
Pricing
Pre-cooked pulled beef in bbq sauce
Organic cooked breakfast sausage
This is a sample of the boxes available. For a full price list, go to the site directly.
Favorite Meal: Cheddar and Bacon Stuffed Burgers with Dijon Roasted Brussels Sprouts
Another meat-lovers delight, these burgers are like nothing you've ever tasted. They've got cheddar cheese and bacon oozing out of them and are served with brussel sprouts that are oven-roasted and topped with creamy dijon mustard and parmesan cheese sauce.
3. Moink
Best for: Customizing premium cut proteins
Pros
Shipping is free to everyone in the US
Sample boxes available
Totally customizable boxes
Premium quality proteins (grass-fed, sourced, no antibiotics, etc.)
Cons
Slightly smaller selection than other meat deliveries
No large boxes
If variety is what you're in the market for, look no further than Moink. Supplier of ethically-sourced, grass-fed and finished beef and lamb cuts, pastured pork and chicken, and wild-caught seafood, Moink has totally customizable boxes you can order straight to your door. Choose the size and type of box you want, and then tailor it to fit your needs or tastes. So, let's say that you order a small-sized box of various proteins that normally comes with one pack of drumsticks, one arm roasts, two pork shoulder steaks, two NY strip steaks, three pounds of ground beef, and two sockeye salmon filets. But you're not a big fan of drumsticks. You can sub that out for a boneless rib-eye steak, package of chicken wings, or filet mignon instead. Moink lets you customize so that you get the meats you want and nothing else.
What's in Moink meals?
We like the simple and sensible logic that Moink follows: good quality products don't need to be tampered with. These meats are antibiotic-free, contain no growth hormones, and are GMO grain-free. There are also no artificial colors, sugars, or solutions added to enhance or alter the flavor or color of these proteins. Lastly, there are no nitrites or nitrates in any of the Moink products.
Pricing
Medium box w/ or w/o pork
Best of all, Moink offers free shipping across the United States.
Favorite Meal: Adam's Famous Moink Balls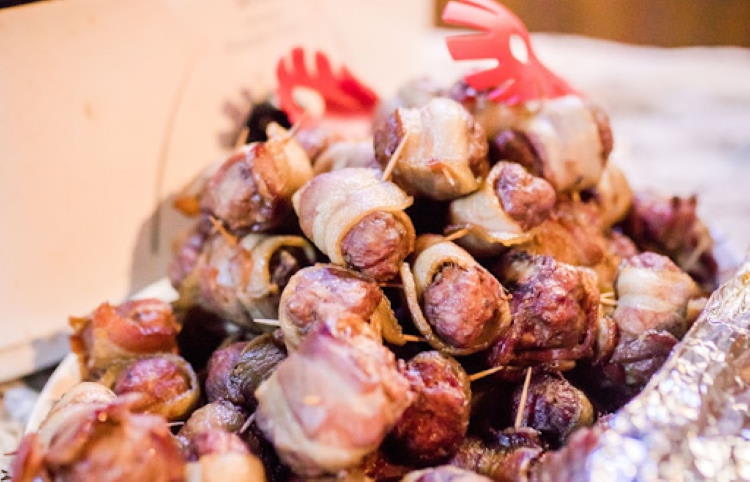 We liked these so much because they can be made in so many different ways, and the recipe can even be adjusted to suit your tastes. The Moink balls can actually be made out of any combination of proteins tossed together, and you can cook them in several ways, including smoking, oven, skillet, you name it! We had the ground beef, pork, and bacon combo, and they were finger-licking good.
4. Home Chef
Best for: Full-package meal deliveries
Pros
Full meal or just the meats kits available
Affordable pricing
Highly customizable plans
Flexible subscriptions and delivery options
Cons
Lots of packaging to deal with
Shipping is only free under $100
Home Chef is a top meal delivery service that offers full meals, not just the meats. So, if you are looking for a very simple way to create a full dinner, then Home Chef is a good place to start. You can select from a wide variety of meal options, including mouth-watering selections like sirloin steak and loaded bacon potatoes, salmon with hazelnut brown butter sauce, and Mongolian beef on roasted broccoli. Home Chef is a really good choice if you don't know what to make for dinner because it comes with all of the ingredients you need and the recipe to make a full meal for you, your family, and your friends.
Home Chef also has a variety of protein packs that you can order if you just want the meat. Choose from three different packs, including essential protein pack, classic protein pack, and premium protein pack, depending on what you're looking for from your box. Home Chef delivery options are super customizable; you can add or take away ingredients, quantities, and delivery schedules.
What's in Home Chef meals?
Home Chef meals are responsibly-sourced. Not all ingredients are organic all the time, but Home Chef does its best to provide high-quality ingredients. All ingredients are fresh and delivered to maintain freshness. Meals include everything you need to create a full dinner, including all ingredients you need, precisely portioned for fast and easy cooking. Meals also come with recipe cards that have easy to follow instructions.
Pricing
Home Chef has meals that start at $6.99 a serving. If you want, you can customize your order, adding the number of people you're cooking for and specifying how many times a week you want to have meals for. Pricing will vary depending on the quantity you order.
Favorite Meal: Sirloin Steak and Loaded Bacon Potatoes with Asparagus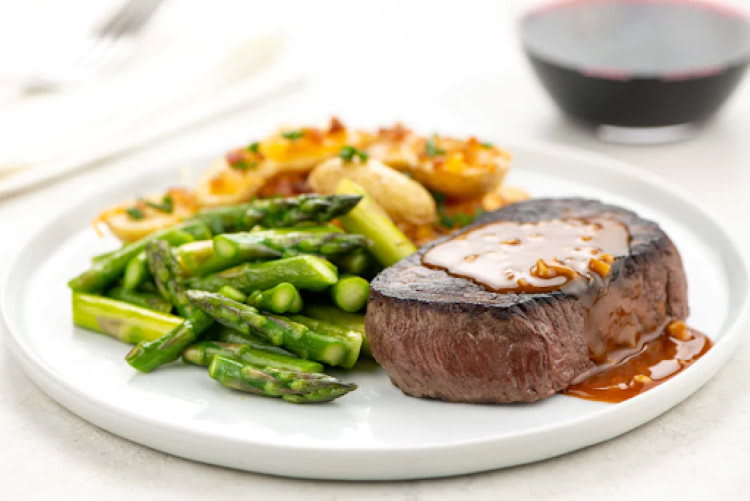 For the true beef lover, this classic sirloin steak will have your mouth watering before it's even fully cooked. Juicy and tender, just the way steak was meant to be, the sirloin cut is slathered with a buttery garlic sauce. And with the potato wedges (filled with cheesy cream sauce and bacon) and fresh asparagus, you'll be eating like a king.
Read the full Home Chef review

Home Chef View Plans
5. HelloFresh
Best for: Healthy, eco-friendly meal kits
Pros
High-quality ingredients
Full meal kits for complete meals
Lots of meal options
Environmentally-friendly practices and packaging
Cons
No exclusively-beef ordering option
Can't choose meals till you subscribe
HelloFresh is another meal kit delivery service that offers full meals delivered to your door. One of the perks of using HelloFresh is that there's no "skimpin' on the chicken" (that's a direct quote). These meals come with a hearty helping of the protein of your choice. So, you always have enough of the good stuff.
What's more, HelloFresh has chef-created meals that have been tested 200 times, so you know you're getting something good with every meal. There are over 20 meal options to choose from every week, too. So, you can change things up as often as you'd like. Whether balsamic fig chicken with roasted potatoes speaks to you or you prefer something like Korean bbq bulgogi sirloin with banchan rice and veggies, there's an exotic and delicious meal waiting for you.
What's in HelloFresh meals?
HelloFresh is a meal delivery service that focuses primarily on superior quality ingredients. All ingredients are responsibly-sourced, packaging is environmentally-friendly, and HelloFresh has a personal relationship with each of the local vendors. And because ingredients are portioned out so that you have just what you need for each recipe, there's less food waste than traditional grocery shopping meals. Less prep and less waste.
Meal kits come with all the ingredients you'll need to prepare your meal, including the proteins, side dishes, and vegetables. There are also colorful cards to help walk you through the cooking process, making it a fun experience.
Pricing
Favorite Meal: Hearty Steak and Potatoes with Balsamic-Cranberry Pan Sauce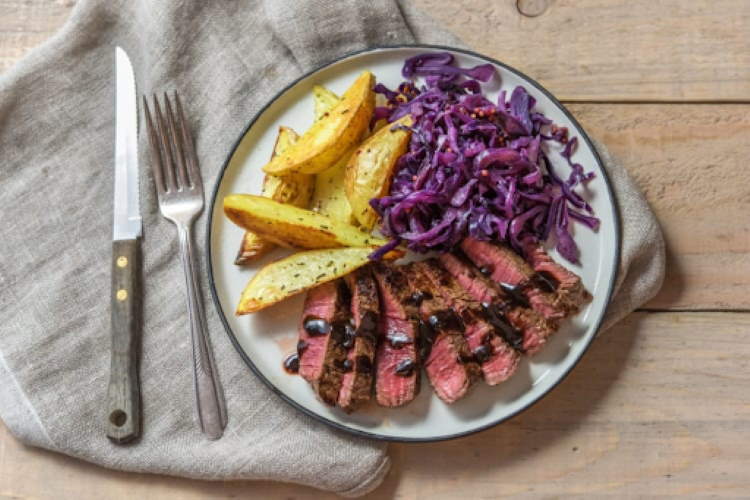 Strips of steak are gently drizzled with a flavorful balsamic vinegar and soy sauce and cooked to perfection. This meat dish is served with rosemary-brushed potato wedges and tangy cabbage salad on the side.
Read the full HelloFresh review

HelloFresh View Plans
How Meat Box Delivery Services Work
Ordering from one of the best online meat delivery services is just like ordering anything else you'd get online.
Go to your favorite meat delivery service, and browse through the selection (try not to drool onto your keyboard).
Place items you like into your cart.
Finish shopping, enter payment, and shipping information.
Select your delivery schedule (if applicable).
Wait with your favorite marinade in hand for your meat to arrive.
You can get recurring deliveries or place one-off orders. If you decide to go for a steady flow of meat deliveries, then your meat should arrive on the same day according to your delivery schedule. Meat delivery services alleviate the issue of running low on your favorite cuts, ensure that your dinner doesn't get affected by current meat supply shortages, and saves you the annoyance of having to run to the store for extra beef for that impromptu barbeque.