Avoiding milk and other dairy products is an easy way to alleviate these unpleasant side-effects. But there are other less-known benefits to eating a dairy-free diet. For example:
Clearer skin
Healthier digestion
Weight loss
Lower risk of certain cancers
Stronger bones
Smaller carbon footprint
But figuring out how to make easy dairy-free meals, coming up with healthy alternatives, and figuring out menu plans constantly is enough to make anyone stick to what they've been doing for years...even if it's not the best alternative for them.
Enter dairy-free meal delivery services. Cooking, in general, is not a wildly popular idea, especially in our fast-paced, too-busy-for-life modern society. So, asking someone to cook a specialized diet is certainly not going to go over well.
Fortunately, for those who abhor cooking, there are several of the best meal delivery services out there that not only make the whole process of cooking healthy and delicious meals more palatable, but they also specialize in dairy-free eating. Even the ones that don't specialize offer plenty of options to cater to this new, healthier lifestyle. You can decide to cook the ready-to-go meal kits on your own, with friends, or together with a spouse or kids to create a fun cooking experience. Or you can decide to go with top prepared meal delivery services that bring dairy-free food catered to your door. Either way, you've got dairy-free meals that are good and good for you.
If you are at the stage where you are ready to make a change that could help you have more energy, healthier skin, stronger bones, and less bloat, then check out the top five dairy-free meal delivery services on the market in 2020.
1. Best for Variety: Freshly
Pros
Meals come completely cooked and ready to eat
8-12 dairy-free meal options every week
Lots of variety in plans and menus
Cons
Shipping isn't free
Not a wholly organic meal service
Not a good vegan, or other specialty solution
What's in Freshly Food?
Freshly is not an exclusively-organic ingredient meal delivery service, but it is one of the healthiest options in the mainstream market. All meals are prepared with a minimal amount of sugar, using whole, real foods, and include all of the major nutrients you need for a healthy meal. Meals are designed to include a complex carb (even the gluten-free ones), quality protein, healthy fats, and a combination of nutrient-dense ingredients to top it all off. Freshly meals are prepared by a team of chefs, culinary scientists, and nutritionists. So, you get the best of all worlds with these meals.
In fact, Freshly meals have a list of more than 85 ingredients that are completely banned from the kitchens, including artificial flavors, aspartame, hydrogenated fats, refined sugar, high fructose corn syrup, and bleached flour.
How Much Does Freshly Cost?
Favorite Freshly Meal: Creamy Cashew Coconut Chicken with Brown Rice & Veggies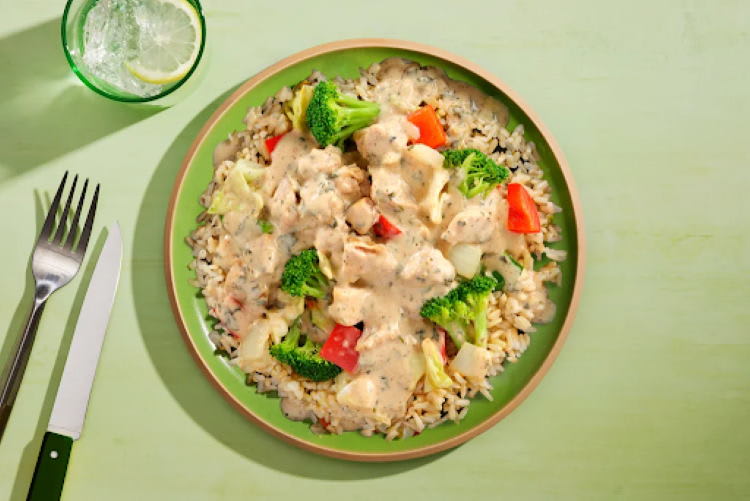 This creamy and flavorful meal will make you forget that you aren't eating dairy. Get juicy grilled chicken thighs, a healthy veggie mix like broccoli and peppers, and that decadent cashew sauce that delivers a strong helping of umami, served on a bed of healthy brown rice.

Freshly View Plan
2. Best for Plant-Based Meals: Purple Carrot
Pros
All plant-based menu
Ingredients come pre-measured and portioned out
Meals ready in five minutes
Extremely healthy and still flavorful meals
Free shipping
Cons
No animal protein options
Not a lot of variety
What's in Purple Carrot Food?
Purple Carrot is the premier meal kit delivery service for vegans, vegetarians, and anyone else who wants to eat a diet that's better for the body and the world. Turns out, it's also an ideal solution for dairy-free meal kit deliveries. A wholly plant-based meal kit delivery service, Purple Carrot offers some of the most innovative, exotic, and delicious ways to prepare vegetable-based dishes. The company uses organic ingredients like nuts, tempeh, vegan cheeses, and beans. There's also a special menu plan for totally gluten-free meals. Purple Carrot also has a high-protein meal option for keto-friendly eaters.
Purple Carrot speaks a lot about the benefits of eating a plant-based diet. Health benefits can include lower blood pressure, reduced risk of heart disease, and lower risk of diabetes and environmental benefits include lower carbon emissions production and reduced water usage. So, this can also factor into your decision for dairy-free meal kit delivery services.
How Much Does Purple Carrot Cost?
Snacks cost between $3.99 and $15.99, and you can add these extras to your meal plan during the ordering process. Snacks include tasty treats like peanut butter cup truffles, cookies, lime twist cashews, and golden milk chia pudding. Purple Carrot also has free shipping.
Favorite Purple Carrot Meal: Spicy Almond Butter Noodles with Gai Lan and yellow squash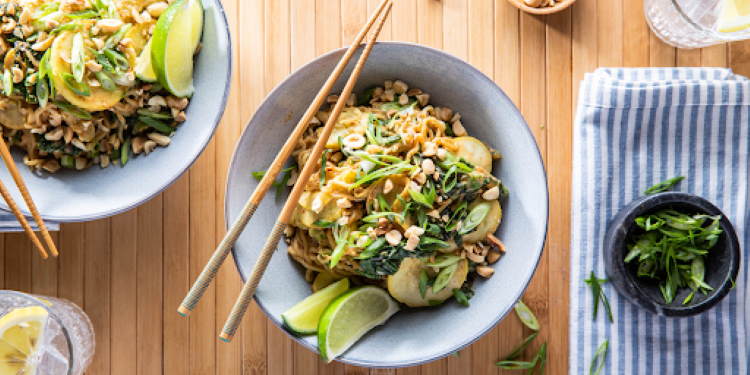 Almond butter noodles taste like the real deal, and with a dressing that includes tamari sauce, turbinado sweetness, chile garlic sauce, and lime, your tongue will have a blast enjoying each of these unique flavors while your eyes enjoy the attractive display of this dairy-free dish.
Read the full Purple Carrot review

Purple Carrot View Plan
3. Best for Customizable Meals: Home Chef
Pros
Customizable meal plans
One of the most affordable services
Protein-friendly menu
Good solution for carb-free, vegetarian, or dairy-free diet
Cons
No dairy-free filter on menu search
Not an organic service
No price list available
What's in Home Chef Food?
Home Chef is definitely one of the most popular meal kit delivery services out there. It offers inexpensive meal kits that come with all of the ingredients you'll need to make scrumptious and nutritious meals in approximately 30 minutes. So, for $6.99, you can enjoy nutritious meals like steak Diane and mushroom demi with truffled mashed potatoes and roasted asparagus or chicken teriyaki bowl with bok choy and edamame. Try getting that same deal from your local take-out store!
Home Chef sources locally and responsibly, which means products are sometimes organic, but that's not guaranteed. Dairy-free lovers will be happy to know that Home Chef has plenty of meal options that don't include any dairy ingredients. There's even a variety of protein packs you can purchase that are straight-up meats (chicken breasts, ground turkey, ground beef, sirloin steaks, salmon fillets, mahi-mahi filets, shrimp, etc.). Meal prep ranges from 10-45 minutes, depending on how complex the recipe you order is.
How Much Does Home Chef Cost?
Number of people cooking for
*This table is based on an $8.99 meal selection. But many Home Chef meals are as low as $6.99, making the meal plans much less. Shipping is always $6.99
Favorite Home Chef Meal: Honey-Ginger Salmon with roasted sweet potatoes and bok choy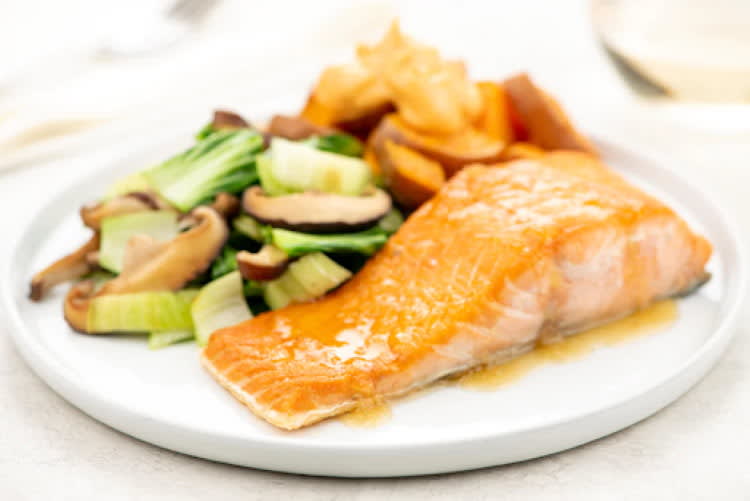 What's for dinner? How about a golden orange salmon filet topped with a sticky and pungent ginger sauce! Serve this gently seared fish dish alongside a medley of vegetables, including roasted sweet potatoes, mushrooms, and bok choy.
Read the full Home Chef review

Home Chef View Plan
4. Best for Prepared Meals: Veestro
Pros
Totally plant-based meals, all-organic
All meals are prepared and come ready
Entire exclusively-dairy free menu
Cons
Meals are frozen
Dry ice packing material
No meat meal options
What's in Vestro Food?
Veestro is a healthy eater's dream come true. That's because it offers nutritious, clean meal plans that can accommodate just about any diet, including nut-free, gluten-free, high-protein, soy-free, low-calorie, and kosher. A top vegan meal delivery service, Veestro is obviously dairy-free, as well. It's nice to have an exclusive option that doesn't make you search through the entire menu to find the individual items that are suitable for your diet. There are also no preservatives added to any of the meals.
All ingredients used to make Veestro meals are non-GMO, organic, real foods. Meals are all vegan, free from meat, chicken, fish, dairy, eggs, and honey. Customers can purchase 10, 20, or 30 meals at a time, keep them in the freezer, and defrost and eat in just five minutes. Veestro has several plan options, including full-day meal plans, Chef's Choice, and a la carte ordering.
How Much Does Veestro Cost?
Veestro shipping is always free.
Favorite Veestro Meal: Shepherdless Pie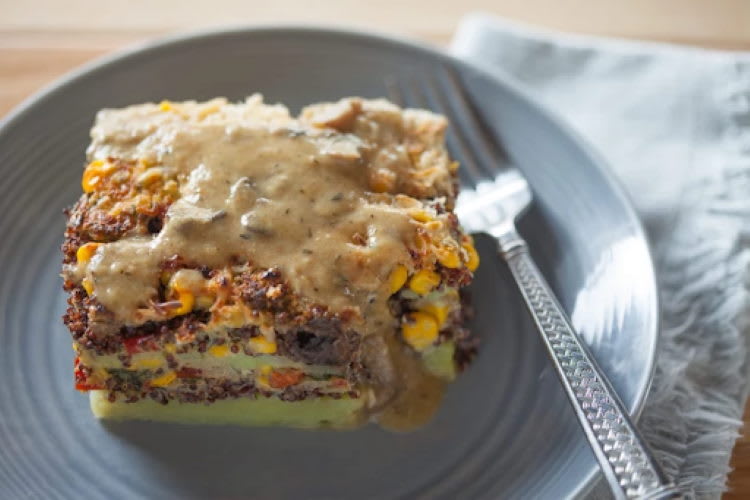 This dish has layers upon layers of tantalizing potatoes, kale, red peppers, quinoa, and crimini mushrooms. It's oozing with savory mushroom gravy and includes other delectable flavors like artichoke hearts and coconut milk. But best of all, it's smothered in vegan parmesan cheese!

Veestro View Plan
5. Best for Organic Meals: GreenChef
Pros
The 1st USDA and CCOF-certified organic service
All ingredients come already measured and prepped
Easy color-coding for faster cooking
Several special dietary needs plans
Cons
Have to pay for shipping
No a la carte shopping
What's in Green Chef Food?
Green Chef prides itself on it being the first fully-certified organic meal kit delivery service. While other companies say they strive to select healthy ingredients whenever possible, Green Chef can proudly announce that all of its ingredients are completely organic, the healthiest and most nutritious options out there. Ingredients used in these meal kits are also non-GMO, pesticide-free, petroleum-based synthetic fertilizer-free, radiation-free, human sewage-free, antibiotics-free, hormones-free...you get the point.
Green Chef makes its kits easy to use. All ingredients come pre-measured and prepared. Plus, recipes have color-coding, so you know which ingredients to use for which recipe. Green Chef has a vast variety of menus that cater to many specialty diets (yes dairy-free, as well), including keto, paleo, plant-powered, gluten-free, pescatarian, heart smart, Mediterranean, lean and clean, and the more traditional omnivore. Green Chef even has a family plan for people who are cooking with kids in mind (or just like to eat more!).
How Much Does Green Chef Cost?
Cost Per Serving (for 2-person plan)
Shipping ranges from $6-$9.
Favorite Green Chef Meal: Mediterranean Chicken with artichoke, brussels sprouts, roasted red peppers, and pepita pesto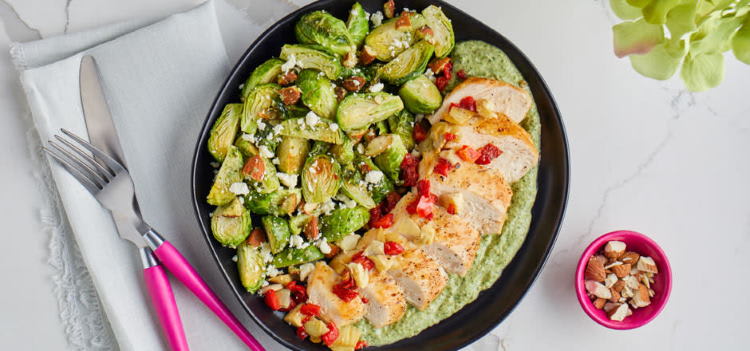 Explore a fun dinner option with a rich Mediterranean punch. These pan-seared chicken breasts come out juicy and are served over zesty pesto sauce made of parsley-basil pepita. Top it off with artichokes and roasted red peppers.
Read the full Green Chef review

Green Chef View Plan
Here are 5 more top-notch meal delivery services that offer dairy free meals that deserve an honorable mention:
6.Sun Basket
Sun Basket is a healthy meal kit service that delivers organic ingredients and a selection of dairy-free recipes right to your door. Sun Basket's award-winning chef creates international recipes, with all meals using seasonal ingredients. Sun Basket gives you wholesome food, while strongly emphasizing environmentally-conscious company values.
Read the full Sun Basket review
7.Plated
Plated offers different meal options to suit any customer's taste preferences or dietary restrictions, including vegetarians and those who don't eat dairy. So, if you're on the picky side or trying out a new diet, Plated could be the right meal kit for you to try.
8.HelloFresh
HelloFresh is all about freshness and its ingredients are both responsibly sourced and high-quality. Convenience, easy-to-follow yet interesting recipes, high-quality ingredients and freshness place this meal kit delivery service a step up from the rest, and its dairy-free options make it a perfect all-round choice.
Read the fill HelloFresh review
9. Balance
If you're a sometimes-vegan or interested in cutting down your dairy intake, you'll find a huge menu of healthy selections chosen by Balance's nutritionally conscious chefs. Balance offers a number of specialty options including gluten-free, heart-healthy, and diabetes-friendly menus, plus a wide variety of snacks and supplements.
10.Gobble
Gobble is an ideal solution for anyone following a dairy-free diet who wants healthier, homemade meals. It's one of the fastest and simplest meal delivery services on the market, and the dishes are mouth-watering.
How Meal Kit Delivery Services Work
The beauty of dairy-free meal kit delivery services is that they're so easy to use. Here's how it works:
Sign up for a service that you like (more on that in a minute).
Select the plan and meals that appeal to you.
Wait for your meals to arrive.
At this point, there's a distinction between meal kit delivery services and prepared meal delivery services:
Dairy-Free Meal Kit Delivery Services
Once your box arrives, you'll have all the ingredients you need to cook up a storm. Packages usually come with measured and/or prepped ingredients and recipe cards with instructions on how to prepare the meal. Toss the ingredients together, follow the instructions, and eat as soon as your meal is ready.
Dairy-Free Meal Delivery Services
Prepared meal delivery services cut out the first step; they prepare your meals for you. Then, the meals are either flash-frozen or sent directly to you. So, you can heat and eat your meals in just five minutes.
How to Choose The Best Dairy-free Option
Deciding to eat a diet sans dairy is the first step. Choosing the right dairy-free meal kit deliveries service is the next one, and it's certainly the trickier of the two. Because sifting through the various options out there can definitely take time, especially if you don't know what to look for. Here are a few features to keep an eye out for to help you narrow down your selection:
Sounds obvious, but there are plenty of people that just look for meal kit delivery services without thinking about their own preferences. Make sure the brand is either exclusively dairy-free (vegan options are great for this) or has good search filters for finding dairy-free meals quickly and easily.
Flexible orders and subscriptions
Since this is new to you, you certainly don't want to be tied into a long contract with a brand you don't even know. Look for dairy-free meal kit delivery services that offer a la carte ordering, the ability to pause or cancel plans easily, or weekly/monthly subscription options.
Meal kits or prepared meals
This one is a personal preference. Do you want to get a meal kit that you can put together on your own or do you prefer having the entire meal already prepared, so you can just heat and eat. If you like cooking, have 10-30 minutes to spare or want a more economical option, go with the meal kit delivery services. Alternatively, if you hate the idea of cooking, can afford the extra few bucks a week, or barely have time to rip off the wrapping of your Happy Meal, you're better off choosing a full-out meal delivery service. It'll give you healthier options, easy dairy-free meals that you can pop in the oven or microwave and eat in minutes.