But what if you're not the cooking type? Or what if you just don't have the time, creativity, or patience to create a lavish feast for the one you love? If this sounds like you, then there's definitely an easier solution. Romantics looking for an alternative to lengthy home-cooked meals are turning towards top meal delivery services to supplement their stay-home date dinners. And none do it quite as well as HelloFresh.
What's for Dinner This Date Night? HelloFresh Has You Covered
Known for its hefty portions, easy ordering process, farm-fresh, and reasonably-priced meals, HelloFresh is a meal kit delivery service that helps anyone who wants to become a chef instantly. You'll get all the ingredients you need, easy-to-follow recipes, and conveniently-prepared contents ready to be used.
But what many people don't know about HelloFresh is that it is also a great place to turn to when you're trying to cook up something special for a romantic dinner for 2. It actually boosts your romantic efforts in 2 ways: by giving you delicious, tender victuals to share over a candlelit table and also giving you an opportunity to spend an enchanting evening doing something fun with your special someone. Check out these enchanting meals that are sure to get you in the mood.
Honey-Thyme Pork Tenderloin with Roasted Potatoes and Broccoli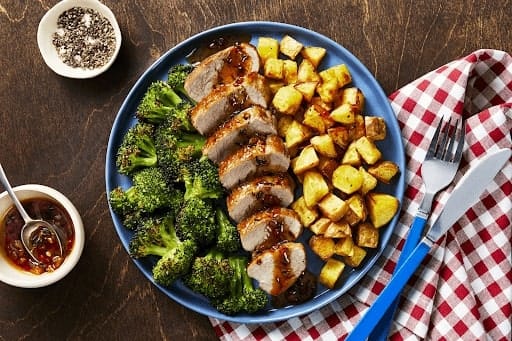 Not only is this pork tenderloin finger-licking good, but it has an important ingredient that will guarantee success with your sweetheart on date night. Honey is actually an aphrodisiac, and it has been used for centuries to stimulate sexual interest. It was used as far back as 500 BC when Hippocrates used it to increase libido in his patients, and you'll also find several references to honey in the Kama Sutra. Besides, who doesn't love something sweet?
The honey-thyme pork tenderloin is glazed lightly to combine a zesty sweet and savory flavor. The potatoes and broccoli florets complement this main beautifully.
Prep time: 35 minutes
Calories: 770
Level of cooking: Easy
Bruschetta Chicken with a Crispy Mozzarella Crust, Bacon Mashed Potatoes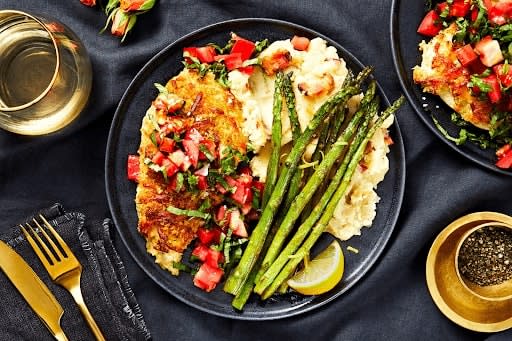 Moist chicken breasts, crispy mozzarella crust, and bacon served next to some creamy mashed potatoes. You just can't go wrong! Plus, this recipe has asparagus in it, and we all know what that means. No? Then, we'll tell you.
Asparagus, having nothing to do with the painfully obvious sexual imagery, has been linked to boosted sexual performance. This was a common practice centuries ago, but modern scientists have backed up the folklore with hard (excuse the pun!) evidence. Asparagus contains loads of vitamins that give you an energy jet pack. More than that, this sexy veggie has vitamin E, which increases blood flow to, you guessed it, Mr. Happy.
Prep time: 35 minutes
Calories: 770
Level of cooking: Easy
Scallops Over Truffled Mushroom Risotto with a Brown Butter Herb Sauce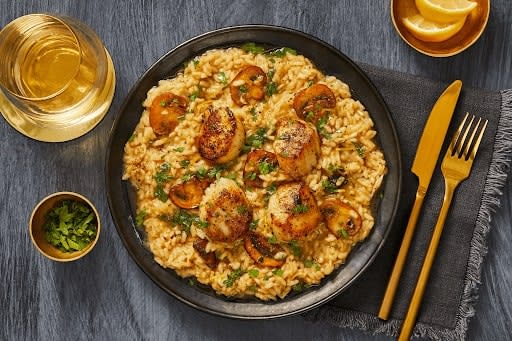 If you're planning on having an...eventful evening, then you're probably not looking for anything too heavy when it comes to dinner. If that's the case, these scallops will do the trick beautifully. The mushroom risotto is also creamy, giving you warm, smooth, and indulgent sensations throughout your body.
What's more, truffles are also an aphrodisiac that was used frequently in Ancient Rome and Greece. Even Napoleon ate them to boost his "masculine potency" (that's an actual quote!). So, enhance your date night dinner with this subtly erotic addition.
Prep time: 50 minutes
Calories: 800
Level of cooking: Medium
Bold 'n' Beefy Tacos with Tangy Slaw, Pico & Guacamole Cream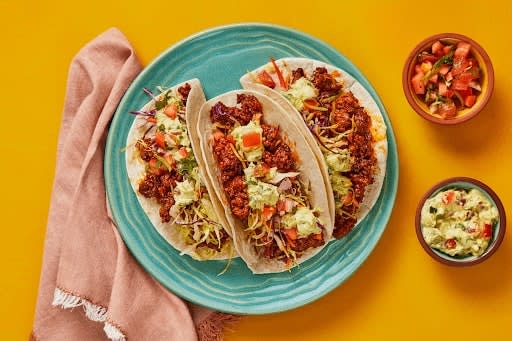 Okay, granted, tacos aren't the most romantic meal you've ever had. But this meal kit has 2 perks that make it a great date night dinner anyway.
Everyone loves them! Tacos are an easy, obvious choice when you aren't sure what to make because everyone has a special place somewhere in their heart for tacos. So, if you're coming up short or just want a casual but delicious date night dinner, this is a good one to pick.
It's got guacamole cream. Aside from the fact that just the sound of that gets most people going, avocados are as sexy as they come! On top of the fact that the green delights are actually shaped like a full-figured woman, avocados were eaten for fertility by the ancient Aztecs. What's more, these creamy veggies have ample helpings of the right vitamin cocktail to boost your sex drive. From vitamin E to magnesium, potassium, and beta carotene, your body will be perfectly prepped for an evening of romping.
Prep time: 30 minutes
Calories: 830
Level of cooking: Easy
Figgy Balsamic Pork with Roasted Green Beans & Rosemary Potatoes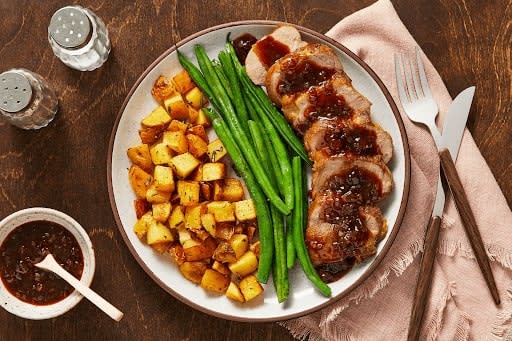 What do you get when you cross the sweet goodness of fig jam with the tangy punch of balsamic vinegar? A recipe for success! A splendid blend of many flavors that dance delightfully together across your tongue, these pork slices will set the tone for a decadent evening.
Figs are also commonly associated with sexuality, particularly for women. So, if you're a guy trying to get your lady in the mood, this is the ingredient to grab. Filled with iron and potassium, it'll also boost your energy levels for some late-night action.
Prep time: 30 minutes
Calories: 580
Level of cooking: Easy
NY Strip Steak with Balsamic Reduction over Polenta, Blistered Tomatoes, and Green Beans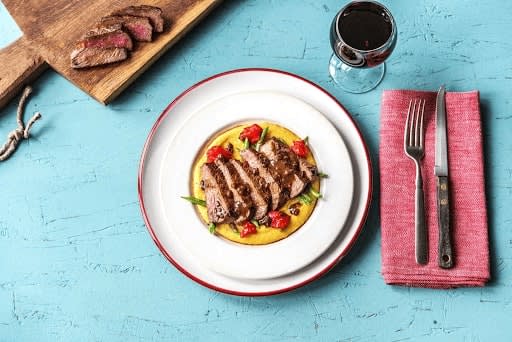 Steak is an extravagant dinner option that will make you feel pampered, indulgent, and affluent. What's more, the exotic blend of balsamic reduction, blistered tomatoes, and green beans will get you feeling feisty.
But the secret ingredient in this recipe is the exotic Baci chocolate. Studies found that women who consume chocolate had higher levels of sexual function. Score one for everyone!
Prep time: 30 minutes
Calories: 740
Level of cooking: Medium
And if you're going for a cozy, stay-in date breakfast, here are some great ideas to kick things off right:
Breakfast Champion's Chilaquiles with Black Beans, Eggs, and Poblano Chili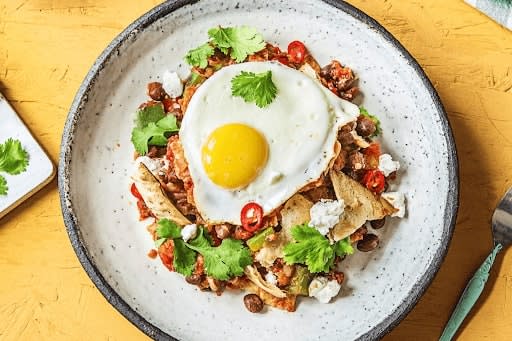 There's no way your partner won't fall madly in love with you when they wake up to this hearty breakfast in bed. Jam-packed with loads of flavor, the sunny-side-up egg sits on a bed of chilaquiles, black beans, tomatoes, chili, and cheese.
And in case you had forgotten about the love potion, the Breakfast Champion's Chilaquiles have chili peppers sprinkled throughout. So, what? Well, if you're trying to heat things up, chili peppers are a great way to do it. Giving your system a boost of heat with these spicy bad boys will actually release endorphins into your bloodstream, boosting your heart rate, making you feel happier, and without a doubt, make sure that things are getting hot in here!
Prep time: 30 minutes
Calories: 790
Level of cooking: Easy
Bacon Apple Breakfast Flatbreads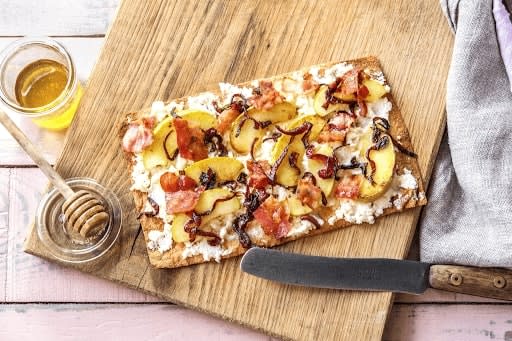 Most people dream of pizza, but how awesome would it be to wake up in the morning to this healthy and delicious pizza-inspired breakfast? The bacon and apple flatbread has all of the right ingredients for a soothing and scrumptious start to your day of love. Filled with creamy ricotta, chunks of apple, and crispy bacon, all served on a crunchy flatbread. Yum!
Prep time: 30 minutes
Calories: 640
Level of cooking: Easy
Southwestern Sweet Potato Hash with Bacon and Avocado Lime Crema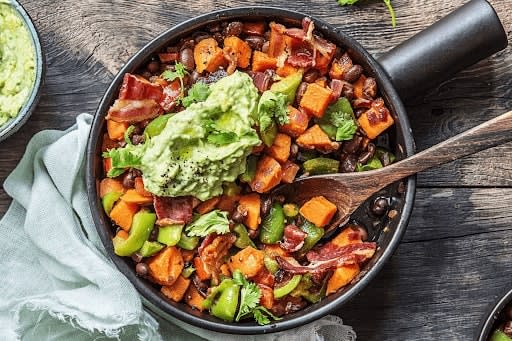 This one's got all the fixin's for a full belly and a happy heart. Sweet potatoes are one great way to add sweetness to a meal without the unnecessary sugars. And then there are smoky bacon and poblano peppers to balance out the flavor. Plus, the southwestern sweet potato hash has avocado, and we've already told you how good that can be for your libido.
Prep time: 30 minutes
Calories: 820
Level of cooking: Easy
Pumpkin and Cauliflower Soup with Coconut Milk, Coriander, and Cilantro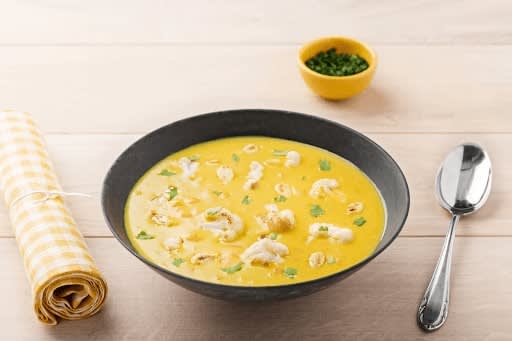 This last one can really be used as breakfast, lunch, or dinner - whenever the mood strikes you! Aside from the creaminess and rich flavor, why did the pumpkin cauliflower soup make our date night meals list? Pumpkin is another famous aphrodisiac that's full of zinc (a known testosterone booster) and improves blood flow to the nether regions of our body. This creamy, hearty soup will also make you feel full without weighing you down.
Prep time: 40 minutes
Calories: 444
Level of cooking: Easy
Turn up the Heat on Your Date Night With a Little Help From HelloFresh
HelloFresh has a delightful selection of romantic meals that are not only delectable but easy for couples to prepare together. Ready to turn up the heat? Which sensuous meal will you cook up with your flame this date night?