The industry faces some hurdles due to the logistic issues involved in acquiring premium ingredients and shipping them—on time—to customers across the country. Facing these distribution issues, a growing number of top meal kit delivery services have opted to partner with major retail companies, who can sell their kits in-store, and provide the logistic backing that can make the business model soar.
Getting the Food To the Customer
Most meal kit delivery companies ship to all or nearly all of the continental United States with the same delivery expectations and shipping fees. While this is great for consumers who don't pay extra for shipping no matter where they are, it does put a strain on the meal kit companies themselves.
Industry leader HelloFresh has 3 distribution centers in the United States—in California, New Jersey, and Texas. This means that food packed at one facility could travel thousands of miles to its final destination. This is certainly doable with the right planning, but it leaves little room for error and makes for a profit margin that leaves something to be desired.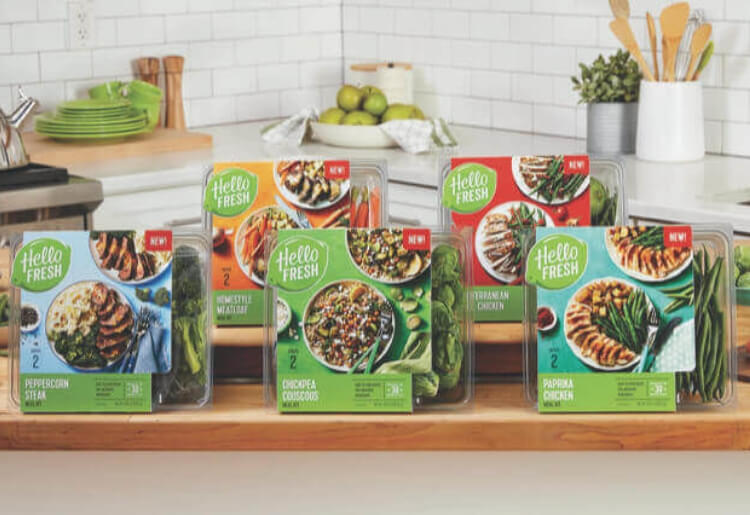 Major retailers like Albertson's (which has partnered with Plated) have the shelf space to easily host large amounts of ready-made meals, which customers can scoop up on the way home. With the meal kits on site, the shipping problems are vastly simplified. In addition, because the meals don't need insulation and cooling packs to keep them cool on your front porch, there is far less packaging needed.
It also makes sense for meal kit companies to partner with grocery stores for one simple reason—most people still prefer to do their grocery shopping in person. In fact, it's estimated that only 2% of food sales take place online.
The Draw of Ready-Made Food
One of the main selling points of meal kits is that they help customers get over their kitchen anxiety and enjoy home-cooking. The pitch is that with a meal kit, you'll learn new techniques and get to know ingredients which can brighten up your cooking from here on out. This is all true, but some nights you just don't have time to cook, and this is when ready-made or express meal kits sold at grocery stores can be a more appealing option.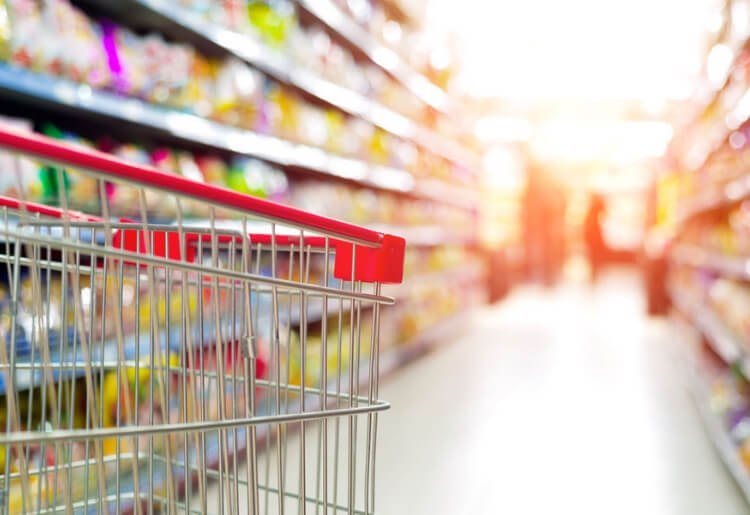 Some of the meal kit companies are starting to get the memo, including HelloFresh, the biggest name in the industry. In June, the company announced that it is considering selling ready-made meals in the US which users can order online.
What would this mean for grocery retailers? Major retailers can provide the floor space to feature ready-made meal kits from companies like HelloFresh, saving customers the shipping fees—not to mention the need to prepare and cook the food.
And while it's not quite ready-made food, in October, Kroger began rolling out Home Chef meal kits in its stores. The roll-out consisted of four "quick prep" meals, which require significantly less preparation than the standard meal kit fare. Earlier in the year, Blue Apron announced a partnership with Costco, to feature easy-to-prepare meal kits, though the collaboration was shelved months later. In addition, Gobble, which is known for meal kits that only take 15 minutes or less to prepare in a single pan, announced a partnership with retail colossus Walmart in August. The company said at the time that it is focusing more on busy parents who don't have time for complicated food preparation.
One company that's banking on ready-made food is fast food favorite Chick-fil-A, which in July announced that it would start marketing its own meal kit service. The plan was launched in 150 of the chain's restaurants in the Atlanta area, and while it doesn't involve partnering with a major retailer, it still takes advantage of the same principles—cut out the delivery hurdle and the subscriptions, and just provide customers with meals they can grab on the way home. In addition, the meals are already prepared and ready to heat up at home. They also cost only $15.89 for a 2-serving kit, while the average meal kit costs around $10 per serving, not including shipping.
High Overhead and Buyer Fatigue
Meal kits present an interesting and appealing pitch—the ability to receive interesting ingredients and easy-to-follow recipes directly to your home every week. As the pitch goes, the longer you stay with the company the more skilled you become as a cook, and you truly learn the joy of home-cooking.
There is some question as to how long people stick with meal delivery. According to one study, more than half of the customers cancel their subscriptions within the first 6 months, and nearly three-quarters within the first year. This statistic doesn't tell the whole story though—many of these people leave after 6 months or so to try a different meal kit company, and have not abandoned the entire concept altogether.
Nonetheless, meal kit companies that partner with grocery stores won't have to worry so much about retaining customers with long-term subscriptions—they just need to appeal to people who are already in the store doing their grocery shopping. Many companies, such as HelloFresh and Sun Basket, have taken heed to these statistics already and offer meal delivery that doesn't require a long-term subscription.
Looking Forward
The meal kit industry has a product with a lot going for it, but also some serious challenges that can impair growth. Partnering with retailers and producing more ready-made food can solve much of the shipping and transportation headaches, and will open the companies up to much larger customer bases, as potential buyers can snatch up the meals while they do their regular grocery shopping, and don't have to worry about a subscription or about cooking dinner when they get home. One thing's for certain, it should be interesting.
You might also like: