What could be simpler than selecting the meal plan to suit you, choosing your favorite recipes, then sitting back and having the lot delivered to your door?
Celebrities have been following this trend too, and some have even been cashing in on it, with the likes of Beyonce, Martha Stewart, and Tom Brady all partnering with their favorite meal delivery companies to bring you a selection of the meals they cook and eat at home.
Here are a few of our favorite examples:
1) Maria Menounos with Home Chef
TV host and cookbook author, Maria Menounos, recently partnered with Home Chef for a "Meal Makeover" to help Americans ditch "dull dinners and sad desk lunches", and "fall in love with cooking again."
For a course of 4 weeks, customers were challenged to cook chef dishes for a chance to win a variety of prizes. Meals included ingredients such as hearty steak, chicken, pork and seafood. Vegetarian, calorie-conscious and carb-conscious options were also available, as well as 5-minute lunches that require no cooking.
Favorite dish: Steak with Rosemary Cream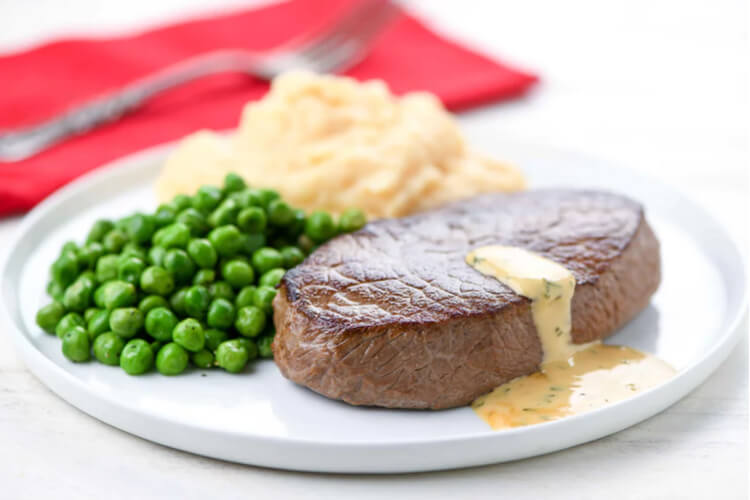 This meal is whipped up from sirloin steak, cheddar cheese, peas, white wine, potatoes, garlic, rosemary and light cream. These soulful and aromatic ingredients make for the ultimate comforting, healthy meal.
2) Martha Stewart with Martha & Marley Spoon
Each week, Martha & Marley Spoon customers can choose from a scrumptious selection of 10 recipes lovingly created by Martha Stewart—including healthy options, vegetarian, gluten free, and kid friendly ones to suit the whole family.
Martha is famous for opting to use seasonal ingredients where possible, and she has infused all of these recipes with delicious flavors, keeping in mind most people's need for easy weeknight cooking.
The plans allow you to choose the dishes you love, skip any week as needed, and have your box delivered free to your door each week.
Favorite dish: Cilantro Chicken and Rice with Bell Pepper & Lime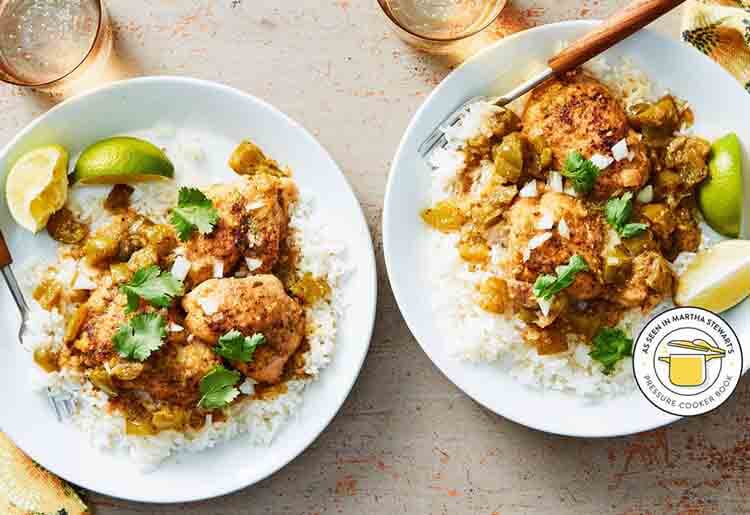 This is Martha's take on Jamaican jerk chicken, and is packed with delicious flavors that will transport you straight to the Caribbean! With Martha's special spicy jerk seasoning, and a mix of fresh herbs and vegetables stewed slowly in a broth with succulent chicken thighs; you can do minimal prep, sit back, and enjoy your dinner.
3) Tom Brady and Aly Raisman with Purple Carrot
Football all-star Tom Brady has been very public about the vegetable-heavy diet he follows with his supermodel wife Gisele. Eighty percent of what they eat is veg, mixed with small amounts of whole grains and lean meats.
Brady has teamed up with Purple Carrot—a plant-based only meal delivery service—to show other meat eaters (and athletes) that it is possible to follow and enjoy a vegan diet, and get all the nutrition you need to perform at your best.
TB12 Performance Meals are available for $78 a week—which includes 3 meals, and 2 servings in each.
Aly Raisman, American gymnast and two-time Olympian, is another athlete that has been approached by Purple Carrot. It is very clear that the company is all about providing customers with easy meals that fuel the body and keep us fit and strong.
Raisman shares that after viewing several documentaries to further educated herself on health and wellness, she shifter her nutrition to mostly plant-based. Her favorite dishes at the moment include white bean hummus flatbread, kale parmesan salad, and Thai coconut corn chowder.
Raisman and Purple Carrot are now collaborating on new recipes in hopes to spread the word about the health benefits of veganism.
Favorite dish: Beluga Lentil Taco with Quick Guacamole & Radish Jalapeno Slaw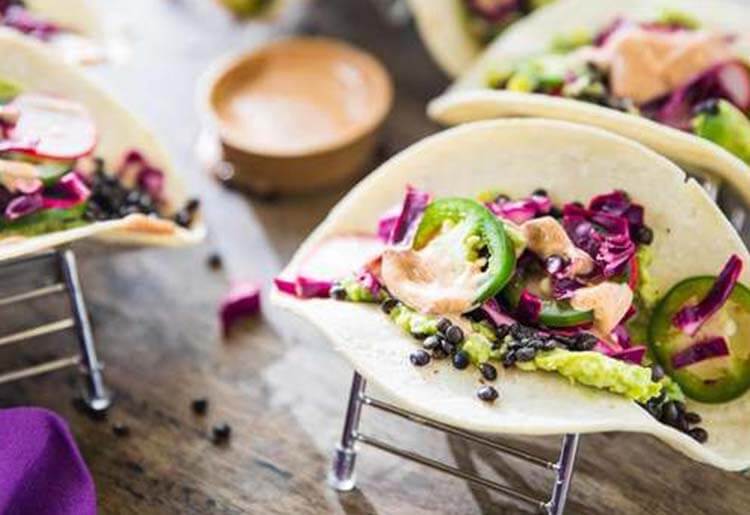 The hearty lentils provide all the protein you need in this dish to keep yourself fueled for longer, while the mix of spicy and crunchy radish, jalapenos, red cabbage, and Mexican-inspired dressing pack a tonne of flavor into these corn tortilla tacos. Just look at those stunning colors!
4) Beyonce and 22 Days Nutrition
Much like Tom Brady and Aly Raisman, Beyonce and her husband, Jay-Z, are trying to eat more of a plant based diet, and hope their meal planner challenges the world to do the same.
In Beyonce's meal planner, customers can discover a ton of delicious recipes, plan their weekly meals, and shop for ingredients all on the same platform.
The platform will also be personalized to your needs, and any dietary requirements you might have. Plus, everything on the site meets expert nutrition requirements, so you can be sure you and your family aren't missing out on anything important.
This is healthy eating made incredibly simple, for just $14/month or $99/year. Beyonce encourages us to think about our own health, while also giving a thought to the health of our planet and the impact we're having on it.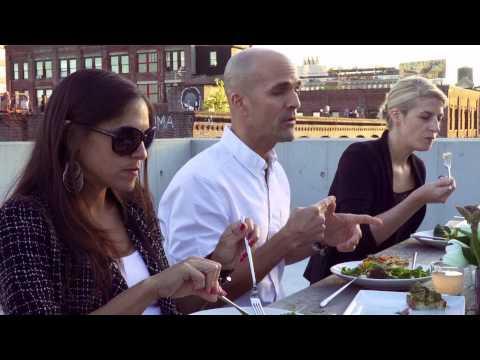 Favorite dish: Tomato & Kale Pasta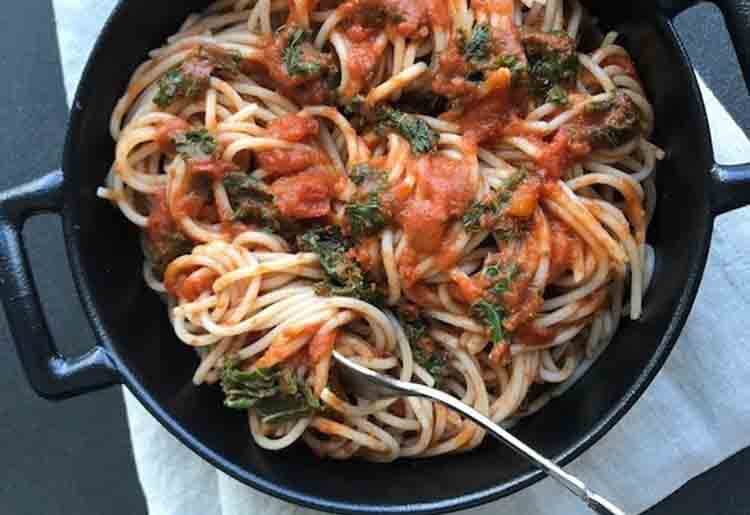 This yummy, gluten-free pasta dish is incredibly simple, but doesn't scrimp on flavor. Tomato sauce is mixed with onions, garlic, and basil, and served with a handful of wholesome kale.
So simple to make, and it tastes SO good!
5) Chrissy Teigen with Blue Apron
Chrissy Teigen has partnered with Blue Apron, to bring customers a range of 6 of her favorite home-cooked recipes that she feeds her family—inspired by her 2 cookbooks.
Blue Apron prides itself on delivering only responsibly-sourced, quality ingredients, recyclable packaging, and easy to follow recipes that will leave you wanting seconds.
Chrissy's selection of recipes includes a Chinese chicken salad, garlic and soy-glazed shrimp, and pork banh mi sandwiches.
Favorite dish: Garlic Shrimp & Spanish-Style Potatoes with Peppers & Onions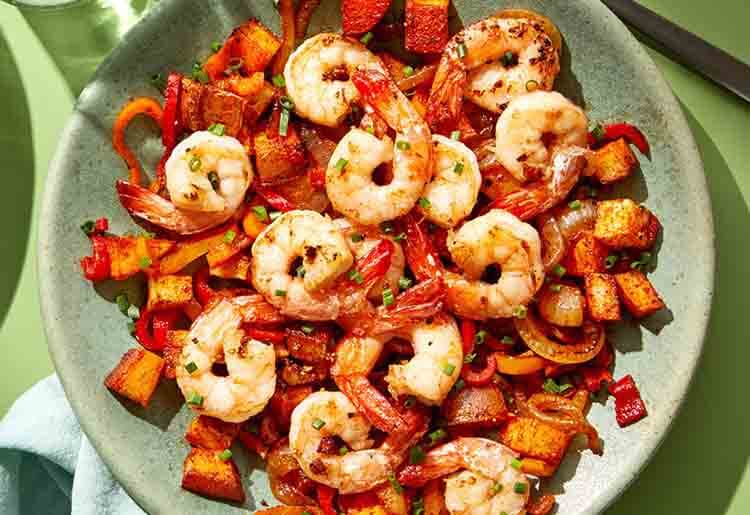 This seafood dish is a customer favorite, with juicy shrimp sautéed in garlic, served on a bed of roasted potatoes, with a blend of warm spices to kick things up a notch. All of this out of the packaging and onto your plate in just 30 minutes.
Blue Apron offers delivery meals starting at $7.49 per serving, and several plans to choose from, with no commitment.
Eat like a Celeb
So whether you want to unleash your inner domestic goddess and cook like Martha Stewart, or eat like a pro athlete such as Tom Brady and Aly Raisman; more and more services are making that easily attainable. With a huge range of meal kits and delivery plans to choose from, there is guaranteed to be one to suit your taste and nutrition preferences.
You also might like: