A little bit of preparation is all it takes to transform feelings of helplessness into feelings of security. In the past, preparedness may have meant gathering goods yourself. But these days, pre-made survival food kits let you stock up with minimal effort and then move on with your life.
Whether you're concerned about natural disasters, power outages, or pandemics, here are 5 emergency food kits that are worth having around.
Legacy Food Storage
Non-GMO pastas, soups, sides, and desserts
Dehydrated meals with a shelf life of 25 years
Ready to eat in 15 minutes
Price: 360 serving package for $830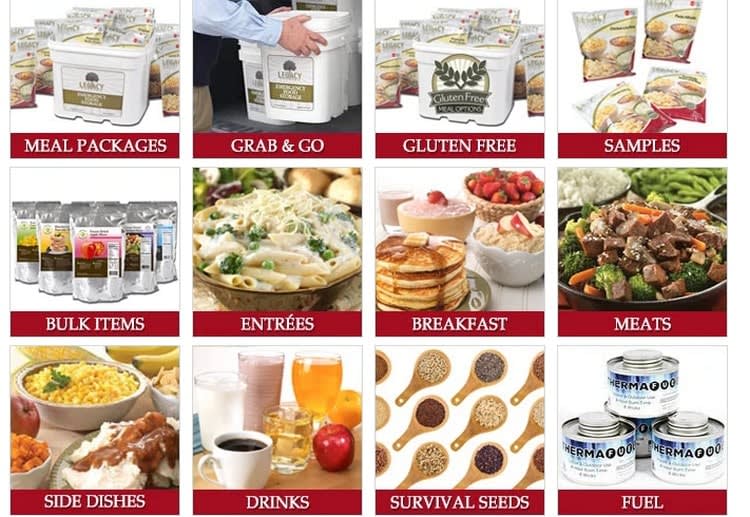 Legacy Food Storage makes preparedness as simple as placing an order and finding some space on your shelf.
The emergency food kits come in heavy-duty plastic cartons that can be stored in a garage, basement, or shelter for up to 25 years without degradation. The meals inside run the gamut from stroganoffs and enchiladas to soups, stews, pancake mixes, and freeze-dried fruit. All you have to do is add boiling water and wait 15 minutes to eat.
Legacy also offers gluten-free options, as well as a variety of emergency food kits for whole families and even pets.

Legacy Food Storage Visit Site
My Patriot Supply
Hearty meals stored in 4-layer pouches
Meals provide 2,000 calories a day
Add boiling water and enjoy in 10-15 minutes
Price: 252 servings for $297
My Patriot Supply has been in the self-reliance industry for more than a decade and specializes in emergency food kits, water filtration supplies, and survival gear.
The survival food kits, which are designed to sustain you during long-term emergencies and short-term quarantines, provide 2,000 calories per day and feature around 20 entrees to choose from. The kits include pastas, soups, puddings, and freeze-dried fruits.
All of My Patriot Supply's meals can be prepared by adding boiling water. The kits come in heavy-duty water-resistant buckets that can be stored for up to 25 years.

My Patriot Supply Visit Site
Survival Frog
Pre-cooked canned beef, chicken, and turkey
Heavy-duty emergency food kits from a variety of brands
Emergency water packets and disaster prep supplies
120 servings for $397.95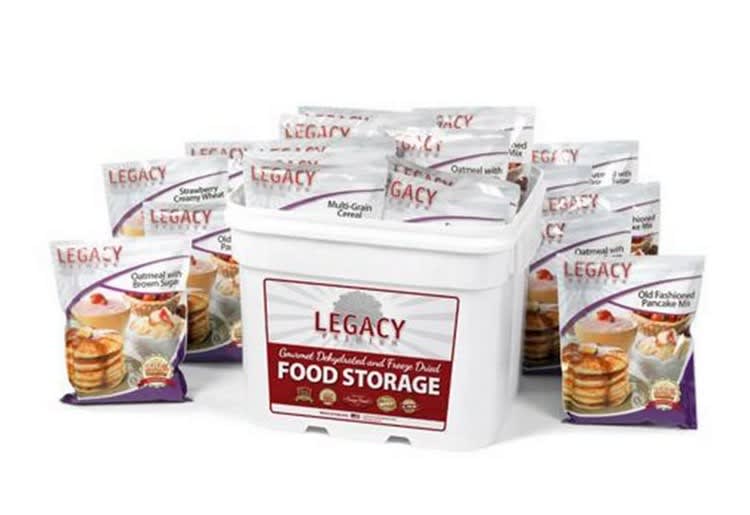 Survival Frog distinguishes itself from others in the field with its large selection of meat options. You can find all-natural canned beef, chicken, and turkey that's been slow-cooked after being sealed, meaning they're ready to eat upon opening.
You'll also find plenty of meatless survival food kits from top brands like Legacy Food Storage and Mountain House. You can search by brand, serving size, nutritional details, and food type so that it's easy to find a kit that best fits your needs and preparedness guidelines.
Survival Frog also carries emergency water rations and survival gear such as first-aid kits, water distillation supplies, and solar radios.

Survival Frog Visit Site
Valley Food Storage
Natural, non-GMO emergency food kits
Vegan and gluten-free survival kits available
Kid-friendly options
150 servings for $199.99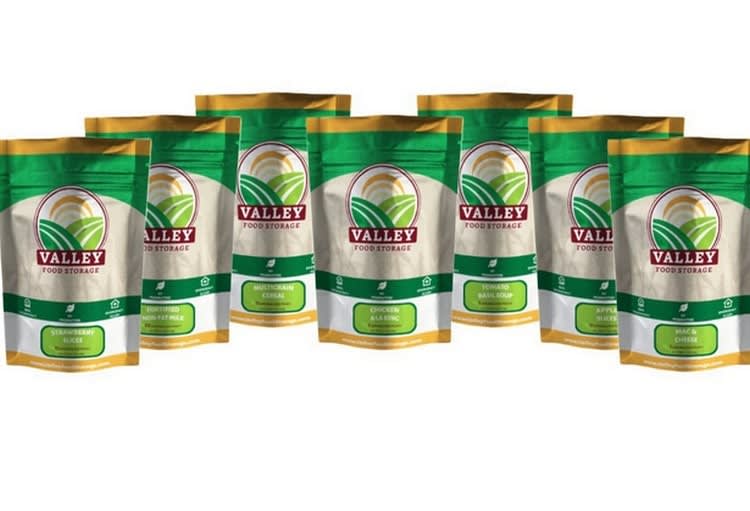 Valley Food Storage offers nutritious-minded survival kits designed for adults and children.
All of its meals are free of GMOs, artificial ingredients, and preservatives. Selections include pasta primavera, tomato soups, white bean chilis, as well as kid-friendly offerings like mac & cheese and pancakes. Valley Food Storage offers long-term meal kits that include proteins such as freeze-dried chicken, eggs, and milk, as well as individual breakfast, fruit, and protein packs.
All of Valley Food's kits have a shelf life of up to 25 years and come in durable, easy-to-store plastic containers.

Valley Food Storage Visit Site
Wise Company
American-made emergency food kits
Organic and gluten-free options
Metallyte™ packaging for maximum longevity
240 servings for $599.99
Wise Company, one of the more well-known survival food kit providers on the market, is a popular choice for camping enthusiasts as well as survivalists. Chalk that up to its large supply of hearty dehydrated and freeze-dried foods. The menus include lasagnas, pasta alfredos, soups, meats, and breakfasts that can be cooked with water and eaten within minutes.
Wise's meal kits are delivered in heavy-duty buckets for easy storing, and are individually wrapped in ExxonMobil-created Metallyte™ packaging for optimal storage.

Wise Food Storage Visit Site
Kettle & Fire
All organic, responsibly-sourced ingredients
Gluten-free, paleo, and keto-friendly
Extremely flavorful with beef and chicken bone broth
36 servings for $116.82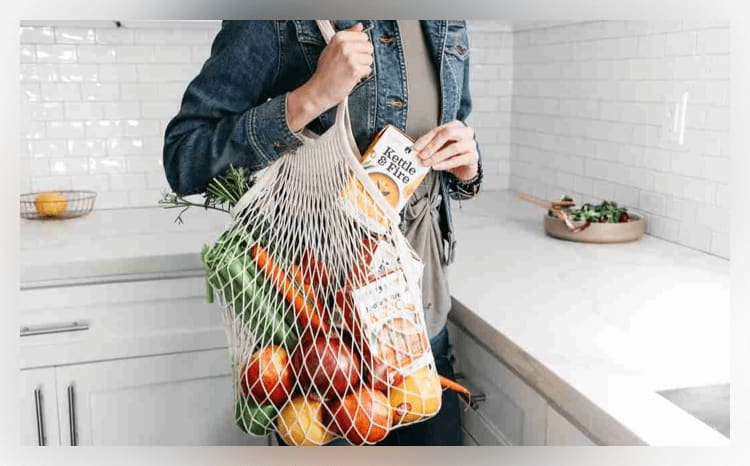 Kettle & Fire is one of the most nutrition-conscious survival meal kits there are. Not only are all meals made with totally organic products (no antibiotics or hormones, 100% grass-fed and grass-finished and humanely raised cattle and chicken bones), there are also no additives, preservatives, GMOs, MSG, or artificial flavors). But Kettle & Fire goes even further. Each meal is chock full of clean proteins, like collagen, that is good for your hair, skin, joints, and nails. Kettle & Fire meals are also helpful for promoting overall gut health.
You can choose from a variety of meal flavors, including broccoli and cheddar, mushroom bisque, and lemongrass ginger pho. All soups are made with healthy bone broth that's made by slowly simmering grass-fed beef bones and organic chicken bones for 24 hours. Beef and chickens are all responsibly sourced, and the packaging is even recyclable. Kettle & Fire offers free shipping on almost all orders, a 30-day money-back guarantee, and savings on bulk orders, making it an obvious choice for survival or general health meals.

Kettle & Fire Visit Site
Planning Ahead With Survival Foods Kits
The best survival food kits are the ones that are easily forgotten. A good kit can be stored in your basement or shelter for years without degradation, allowing you to go on with your daily life with the assurance that you're equipped with essentials should an emergency occur.