These days, all types of "plant-based" and high protein smoothies feature a laundry list of fruits you may have never heard of, and superfoods you're not sure you can pronounce.
In this post we'll shed some light on the world of smoothies, and let you know about some of the companies that will bring the blended goodness right to your doorstep, in the same way that the best meal delivery companies will bring all your favorite ingredients to your door.
What Are Plant-Based Smoothies?
Plant-based smoothies combine fruits, berries, nuts and so on, with a base of veggies and leafy greens. Think spinach, kale, or dark lettuce. With a plant-based smoothie, you can easily consume your daily share of healthy greens, and because it's mixed in with all that sweet smoothie goodness, you won't even be able to tell the difference.
What Are Superfoods?
The name may imply a hamburger that can fly faster than a speeding bullet, or a tater tot that can breathe underwater, but that's not quite what superfoods are. "Superfoods" is a marketing term used to describe foods that are believed to have strong health benefits. A number of foods have earned this moniker, including chia seeds, goji berries, wheatgrass, and even the humble blueberry. While the science behind the superfood claims are disputed, there's no doubt that a smoothie is an easy way to get a whole lot of servings of these items.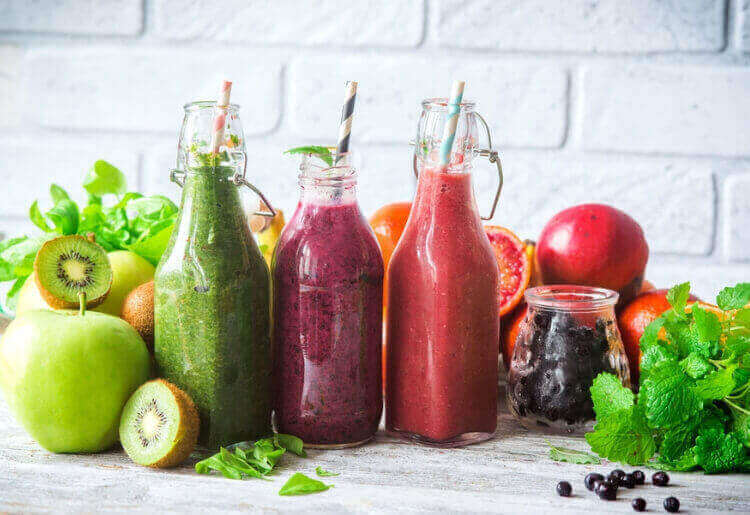 Can Smoothies Help You Diet?
Many people tout smoothies as a way to "cleanse" or "detox" the body, and as a diet food that can help you lose weight. The jury is still out on this, and fruit smoothies in particular include a high level of sugar that can make it harder to lose weight. Some smoothies—in particular plant-based, high protein, low sugar ones—can help if you consume them in lieu of a meal, but by and large even with smoothies, the key to weight loss is the same—eat healthier, and exercise more when you can.
While smoothies aren't an easy, quick way to lose weight and instantly extend your life, they can be a fresh, delicious way to start your day, replenish your energy after the gym, or just kick back next to the pool. Here's a look at some companies that specialize in sending everything you need for delicious smoothies directly to your front door.
1. Daily Harvest
"Good food that works for you" is the tagline for Daily Harvest, a company devoted to providing healthy, delicious smoothies using ingredients from trusted sources.
When you select your smoothie plan, you get to pick from a number of fanciful offerings, ranging from pretty standard fare like strawberry and peach, to carrot and chia, cold brew coffee and almond, and oats and cocoa. The smoothies also include "superfoods" like organic maca, hemp protein, and organic kale. When you click on a smoothie, you get to see a list of benefits, including "immunity-boosting" and "beautifying" to name a couple, as well as the ingredients and customer reviews.
All of its ingredients arrive frozen to preserve their flavor and shelf life, and you just pop them in the blender and give it a whirl.
Pros
Chock-full of info about the benefits of each smoothie

Can also order soups, lattes, "harvest bowls"

Fully-customizable
Cons
Does not deliver everywhere in the US (does reach 95% of continental US)

No 24/7 customer service
Pricing and Plans
The pricing for Daily Harvest is pretty straightforward. You select whether or not you want 9, 12, or 24 smoothies in your order, and whether or not you want it to be weekly or monthly.
The price per smoothie goes down as you order more smoothies, with the 24-unit box costing $6.99 per smoothie, as opposed to $7.75 per smoothie with the 9-unit box.
$69.75 ($7.75 per smoothie)
$89.88 ($7.49 per smoothie)
$167.76 ($6.99 per smoothie
2. Sub Zero Superfoods
For the past 5 years, Project Justice's Subzero Superfoods project has provided customers with clean, healthy, and delicious smoothies delivered directly to their doors, chock full of superfoods—and with shipping always included.
The superfood smoothies are arranged into 3 different groups—greens, fruits, and proteins, and you can mix and match as you see fit. You can click on any smoothie and instantly see the nutritional info including which superfoods the smoothie contains and which things its good for, such as detox, strength, or digestion, to name just a few.
Pros
Flexible plans

Shipping included

Delivery to all 50 states
Cons
Less smoothie options than some competitors

No 24/7 customer service
Pricing and Plans
Sub Zero has very flexible membership plans and you can skip deliveries or cancel your membership at any time.
You select an 8, 12, or 24 smoothie box, and the price per smoothie goes down as the number of smoothies you order increases. You can also decide for yourself whether you want the deliveries to be weekly, biweekly, or monthly.
Read more about Project Justice's Subzero Superfoods
3. Frozen Garden
Frozen Garden specializes in ready to blend green smoothies that you can just open, add water, and blend. They are arranged into a wide variety of smoothies, such as calorie counter, sweet tooth, and liquid lunch, to name a few. With each smoothie, you can easily view the nutrition information and ingredients in a flash. It will also show what the company says the smoothie is best for (digestion, brain health, etc).
There is also a wide variety of green frozen smoothies, that use a base of dark leafy greens so that you get all those health greens—even if you aren't a fan.
Now, it's not a subscription service, you can't order a plan that automatically renews every month. But the prices tend to be lower than the competitors, and also, you'll definitely have flexibility.
Pros
Low per-smoothie price

Very flexible—order only what you want, quit anytime

Includes smoothies geared toward kids
Cons
Not a monthly subscription service

Shipping not included
Pricing and Plans
Frozen Garden is the epitome of flexibility in pricing. The company doesn't do monthly memberships, rather, everything is a la carte, you order only the smoothies you want, and you don't have to sign up for any sort of commitment.
The amount you pay for shipping depends on how much you ordered, but Frozen Garden discounts half the shipping costs on orders of more than $75, and doesn't charge you any shipping for orders over $125.
Green smoothie starter pack (9 smoothies)
Green smoothie family pack (14 smoothies)
Paleo-friendly smoothie pack (14 smoothies)
Stock up and save smoothie packs (30 smoothies)
4. Juice Generation BIY
No doubt you've heard about sipping a smoothie made of exotic, organic fruit, but what about putting one on your face? Juice Generation BIY (blend it yourself) is perhaps unique in the world of home smoothie delivery for producing smoothies that you can also use as a restorative face mask.
The smoothies are sourced from sustainable farms with organic produce from trusted providers. And it's all quite easy—you order either 6 or 12 smoothies and it all comes in a single cup with straws and spoons included. And to make it better—shipping is always free.
Pros
Smoothies that double as face masks

Shipping is always included

Some of the most exotic fruit blends anywhere
Cons
Does not ship everywhere in the US

Slightly higher per smoothie price than some competitors
Pricing and Plans
There aren't any complicated pricing arrangements on Juice Generation, you just order a pack of either 6 or 12, and shipping is always included.
Read more about Juice Generation BIY
5. Smoothie Box
In a matter of minutes you can whip up easy smoothies. Each month you receive a box of 20 pre-portioned frozen smoothie ingredients. The idea is for the smoothie to be a meal alternative of sorts and the company uses 3 base flavors for their smoothies: super smoothie cacao, super smoothie clementine, and super smoothie green. Also, your first box comes with 20 collagen peptide packets so you can take those smoothies to the next level.
It's a DIY sort of experience within a smoothie box, and a great way to start your morning off right, so just pop open the bag, add the liquid of your choice, blend it, and drink it.
Pros
Free peptide packets

Free delivery

Flexible—cancel anytime
Cons
Only 3 flavors

Doesn't deliver to all of the US
Price and Plans
Pricing is quite clear with Smoothie box. All of the smoothies cost $5.95 each, and you can mix and match when it comes to which smoothies. And to sweeten the deal—shipping is always included.
The company also has sales from time to time, such as a free mug and $10 off when you order your first box.