It's one of the first questions you ask a couple. And it usually sets the scene for some romantic story about a fateful meeting, serendipitous encounter, or quirky meet-cute.
But that's quickly changing. According to a study by Stanford University, nearly 40% of today's heterosexual couples have met online.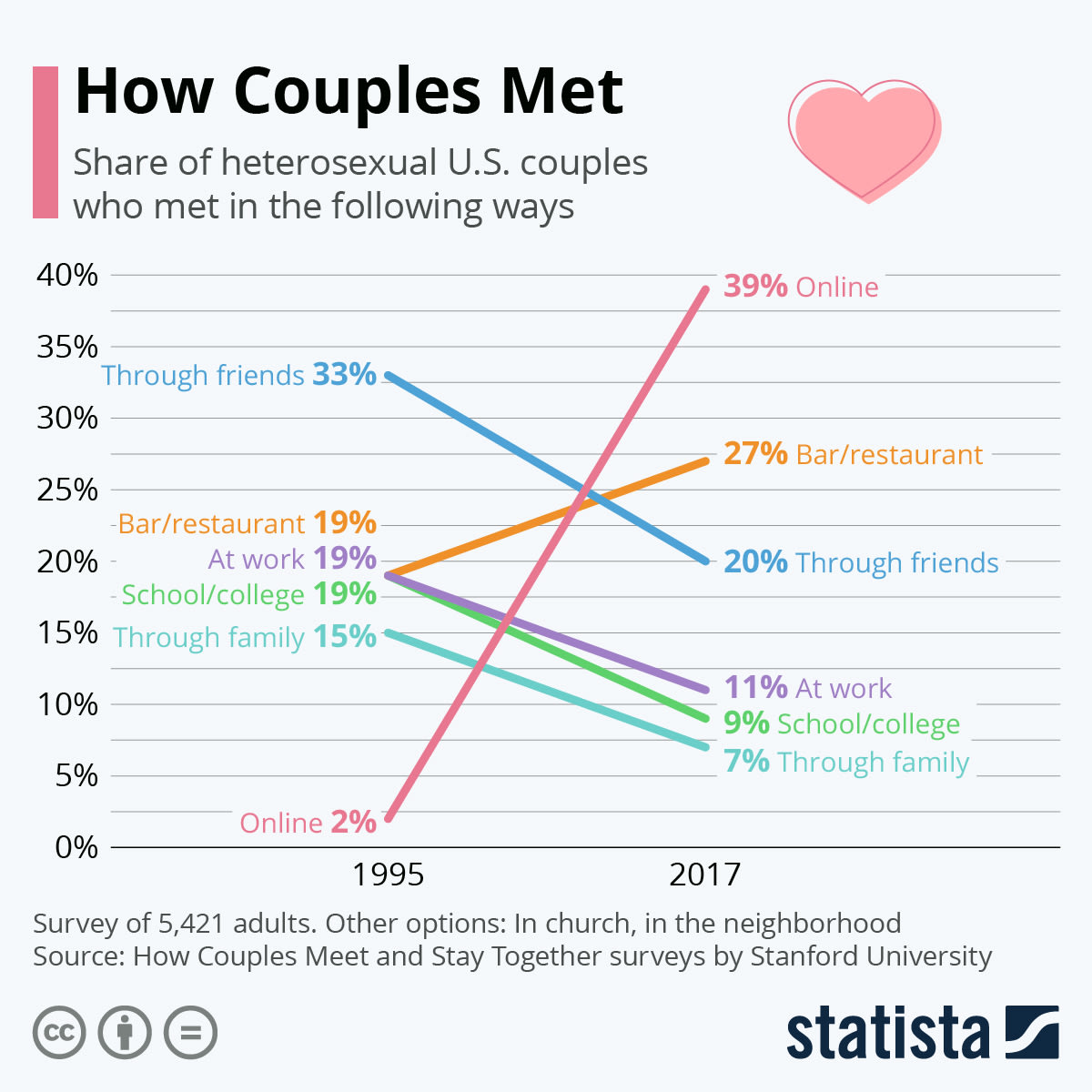 You will find more infographics at Statista.

This shouldn't come as a complete surprise, of course. With sites like Match and Tinder connecting millions of singles through their smartphone screens, it's only natural that the old ways of meeting people—through friends and family, or at college functions —are giving way to swiping and messaging. But it's still interesting to see how differently the romantic landscape looks than it did just 20 years ago—and even more interesting to think about how it will look in another 10 years.

The study, titled "Disintermediating your friends: How Online Dating in the United States displays other ways of meeting," looked at dating trends over a 22-year period between 1995 and 2017, and shows how online dating has removed the onus from friends and family and given singles more control over their own romantic aspirations.

According to the results, 39% of heterosexual couples today have met online, up from just 2% in 1995. Even though online dating was largely unheard of in 1995, the sharp increase in numbers is indicative to how seriously today's singles are embracing online dating.

You may also like:

Study: How Long Does It Take to Meet 'The One'?

It's equally interesting to see how the once-reliable ways of meeting our partners has decreased so dramatically.

In 1995, for example, 33% of couples met "through friends." In 2017 that number dropped down to just 20%, with no sign of going back up.

College, another once-reliable atmosphere for coupling, has also suffered a decline: 19% of couples in 1995 said they met "in school/college," while that number fell to just 9% in 2017.

So what's the takeaway from these numbers? Has online dating succeeded so greatly simply because it's convenient? Or are we less trusting of our friends and family, and happy to give up awkward setups and blind dates for the luxury of scrolling through dating profiles and making our own decisions?

Count Michael Rosenfeld among the surprised. The sociologist who led the Stanford study said he once believed that friends could never be replaced. "Our previous thinking was that the role of friends in dating would never be displaced," he told Stanford News. "But it seems like online dating is displacing it."

Seeing the sharp declines in once-popular modes of meeting people makes you wonder just where we'll be in another 10 years. By all indications, online dating will keep growing, improving, and finding more and more innovative ways to connect us. Is it possible that by 2030, half of all American couples will have met online? Could it be 75%

It's impossible to tell. But one thing's for sure: singles are relying less on friends and family to set them up, instead turning to online dating and taking their relationship prospects into their own hands.

And maybe that's a good thing. Even if the "How'd you meet?" stories won't be as fun as they used to be.

Still looking for the one? As you can see, online dating is the way to go! Check out our list of the top online dating sites and apps and start dating, today!