According to a study by DatingScout, which surveyed more than 22 million dating profiles from across the world, some of obvious locations are, well, obvious.
Maybe it's time to rethink where we're posing for our online dating photos. The common spots are so familiar that your matches might pass them up, their eyes glazing over at what seems to be the same image they've seen before.
There are other factors to consider too. A good dating-profile photo should speak for you, but it should also invite the viewer to chime in. A good photo will arouse curiosity, invite questions, and serve as a springboard for more conversation. So before we dive into specifics, here are a few general tips on what to keep in mind when choosing where to pose for your profile photos.
Give Your Match an Opening to Ask Questions
Nobody likes an opening message of "hey." A unique profile photo gives matches more opportunities for icebreakers. Think of original and unique places that will evoke curiosity and inspire people to want to know more. And be prepared to answer with some good anecdotes.
Arouse curiosity
The more familiar a location, the less there is to say about it. Think about the questions you'd like your photos to inspire people to ask: generally, "Where" questions lead to better conversations than "How" questions. Compare: "Where was that crazy 360-panoramic view taken?" Vs. "How was Paris?"
Express your individuality
Hey, not everybody loves Paris. If a picnic at the base of Everest, or bottle of wine on a pontoon boat in Louisiana, is more your style, show it.
So what are the most overused dating profile spots?
The Eiffel Tower
Of the 10 most commonly used landmarks in Americans' dating profile photos, the Eiffel Tower placed solidly at number 1.
It's not difficult to see why: the Eiffel Tower is iconic. Paris practically breathes romance, and France is a timeless destination that proves its visitors have culture, sophistication, and a valid passport. But there's a downside as well: overfamiliarity. The Eiffel Tower is so ingrained in our minds that we might simply gloss over it without thinking there's anything new to see. Overfamiliarity poses a threat in situations like this, drowning out everything else in its path. The Eiffel Tower is a safe choice, and there's not much bad that can come from using it in your dating profile. But it's not original. And these days, it might be hard to snap a pic without also including the less-romantic image of tourists milling around in the background.
The Alternatives: If you find yourself in Paris, opt for a more unique site that captures all of the beauty of Paris with none of the cliches. Take a stroll down the banks of the Seine and you're sure to find a good spot to say "camembert." A seemingly random spot that boasts just enough Parisian flair will increase the chances of someone asking where it was taken. That's your chance to impress them with a tale about how you stumbled across it one day while getting lost in the streets of Paris.
There are plenty of other iconic spots in Paris that can do better at conveying your personality and passions. A photo of yourself amidst the stacks of tomes in the famous Shakespeare and Co. Bookstore is sure to capture the eyes of book lovers. A shot from the top of the Sacré-Cœur Basilica, meanwhile, will not only accent your smiling face with a spellbinding birds-eye view of Paris, but will also send the message that you're in good enough shape to climb the 300 steps it takes to reach the top (there's no elevator).
The Grand Canyon
The Grand Canyon placed 3rd out of the top 10 most photographed landmarks in American online profiles. It's beautiful, after all, a marvel of nature whose enormity makes us feel, and possibly look smaller by comparison.
But it's much less captivating on film. For a number of reasons, the true scope of the Grand Canyon is hard to capture without a professional touch. And good luck getting a shot without tourists lurking in the background. Or storm clouds moving in. And make sure the position of the sun is just right—the last thing you need is to be squinting into the camera, blinded by the hot desert sun, half-cast in shadows or worst of all, covered in sweat. True, a well-taken photo in front of the Grand Canyon can be a beautiful thing. But it's hard to accomplish, overused, and there aren't many conversation-starters that can spring up from it.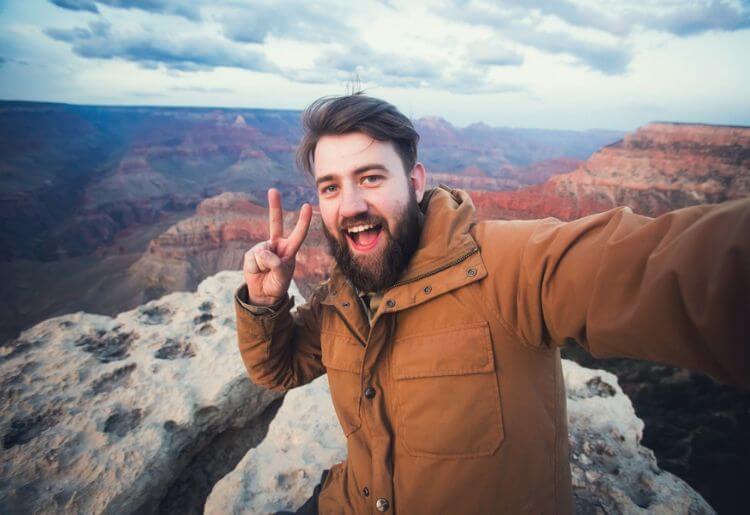 The Alternatives: If you're intent on getting a photo of yourself at the Grand Canyon, let go of the idea that you're going to capture it in all of its enormity. Any attempt to photograph the whole thing will compromise your own appearance in the photo. Everybody's seen photos of someone posing in front of the Grand Canyon, and frankly, with a few exceptions, neither the person or the Canyon appear in their best light when squeezed into a single frame. Instead, aim for some of the rim, but capitalize on the sky as well. Go for half-and-half pictures: pose on a rock and get a good combination of canyon and clouds. Look for other creative spots to pose: use trees, rivers, ridges, and cloud formations to your advantage. If only a portion of the Canyon itself appears in your photo, all the better. Leave something to the imagination. Intrigue is better than assurance in this case; let them ask you where it was taken without being able to answer it themselves.
The Golden Gate Bridge
San Francisco's Golden Gate Bridge landed number 2 out of 10 on the list of most common landmarks in American dating profile photos.
To be sure, it's a magnificent landmark, with enough scenery, history, and ingenuity behind it to earn it a spot in profiles across America. But there's just not much you can do with it, other than stand there and let it loom in the background. And that doesn't say too much about you, other than...you've been to San Francisco. Lots of people have. What did you do while you were there? Try for something a little more engaging.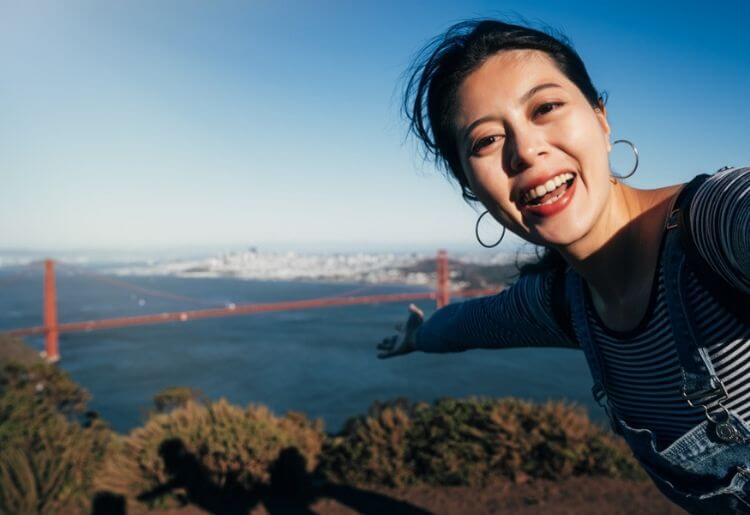 For example, climb a tree. If you pick the right spot, you can still get the Golden Gate Bridge in the background. Except now you're in a tree. You're adventurous, silly, spontaneous, and you're not about to let that bridge steal all of your thunder. Another option is to head to Telegraph Hill and pose from the observation deck of the lesser-known Coit Tower, which offers a 360-degree panoramic view of San Francisco, the bridge, and Alcatraz. Or, if you're feeling the need to express a little humor in your photos, try taking a photo from the Golden Gate Bridge, with a caption that says, "Everybody photographs the Golden Gate Bridge. But what would the Golden Gate Bridge photograph, if it could?" At worst, you might get you a few eye rolls. But that's a better reaction than a yawn, or worse yet, no reaction at all.
Conclusion
Knowing what the most common locations for profile pics are gives you a golden opportunity to stand out among thousands of other singles vying for attention on dating sites. As we've detailed above, you don't even have to be wildly different. You can take a new angle on a tried and true favorite and spark a discussion rather than just being one more forgotten profile that gets swiped the wrong way.