This is good news for Christian singles.There's even better news though: dating sites that are bringing more believers together than ever. Christian Mingle boasts over a million Christian singles, and its platform is tailor-made for users who wish to spotlight their faith and the role it plays in their lives. Meanwhile mainstream dating sites such as Match.com and Zoosk, while not religious, have proven enormously effective tools thanks to filtering options that allow singles of faith to find each other more easily.
With more and more Christian singles feeling dissatisfied with traditional singles meeting spaces, dating sites have stepped in to help. However, the Christian dating rules are different online. The abundance, accessibility, and anonymity of users in the online dating world has created a whole new model, which brings with it new considerations. How does one choose between the best Christian dating sites? How should they present themselves online? What are the advantages and dangers associated with online dating?
Here are a few tips for Christian singles entering the world of online dating. Read on for some valuable Christian dating advice on how to navigate the online dating world and find your special someone.
1. Find the Site That's Right for You
The number of online dating options out there can be overwhelming. Even for singles intent on meeting other Christians, the options range from niche dating sites to mainstream sites with millions of members, both of which have proven successful in matching Christian singles with others within their faith.
The first piece of advice is to reflect on what you're looking for. Are you devout and looking for someone who is not only Christian, but also intent on making spirituality an integral part of their lives? Do you identify with your faith in a more general way and want a partner who shares your background and values? These are important factors to consider; they'll help you not only choose the right dating site, but also present yourself appropriately in your profile.
If your ideal match is a regular church-goer who goes to fellowships on weekends and knows their scripture by heart, there's a better chance you'll find your dream partner on a Christian dating site. Check out Christian Mingle, which boasts millions of Christian singles and has questionnaires and profile features specifically designed to spotlight the nuances of your faith and practice. If you're not as concerned with finding a devout partner, your odds will be much higher on a site like eHarmony or Match. These sites have huge membership numbers, and they allow you to search and filter matches by religion.
2. Be a Christian....But Be Yourself Too!
Joining a Christian dating site for the first time can be exciting. Suddenly you have a platform to express your faith to the world with questionnaires, personal summaries, interests, scriptural quotes, photos, and more. That's great, but don't forget to express your own personality too.
Obviously, you want potential matches to know about your relationship with Christianity and God. Go ahead and show it, but don't be afraid to let other parts of your personality shine. Cite as much scripture as you want, but don't leave out the details that make you a unique person.
Share your favorite foods, your childhood memories, and your dream vacations. A great way to make yourself stand out is sharing personal anecdotes, aspirations, funny idiosyncrasies, and anything else that tells the world more about who you are and where you've been.
If you're on a Christian dating site, everybody will have plenty in common already. You'll want to find ways to make yourself stand out, so a healthy balance between who you are as a Christian and who you are as a person will go a long way in convincing that special someone to stop and send you a message.
3. Have Faith in God, but Be Cautious with Strangers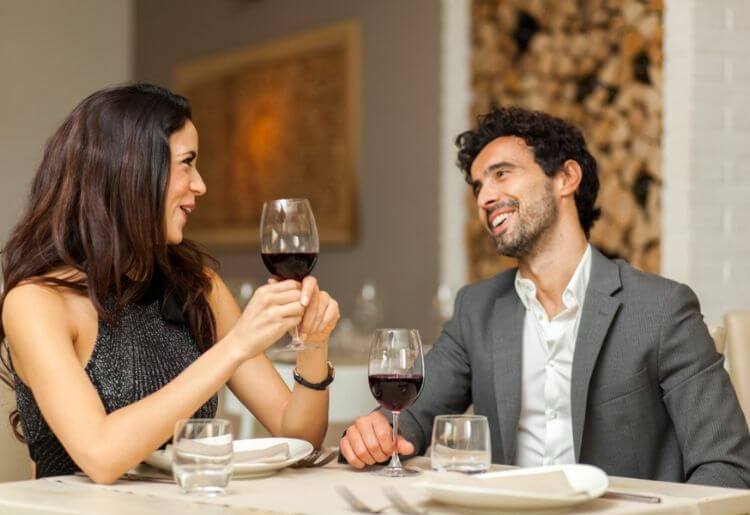 You may feel safer because you're on a Christian dating site. You may feel instant trust with a match because you share a favorite bible quote. That's natural to an extent, but don't let your guard down.
Always remember that the internet is anonymous and that it's very easy to present a picture of ourselves that differs from who we really are. To an extent this is normal in online dating: we use the most flattering photos, highlight our most appealing characteristics, and accentuate positive aspects of our personalities. Nobody is as perfect as they appear in their dating profile, and oftentimes the more righteous a person makes themselves out to be, the further from that image they are.
This is true for all dating sites, but spiritually-based sites have problems. Remember that no matter how many bible quotes somebody has posted in their profile, they're still anonymous, and there's no way to tell how truthful they're being.
The best antidote is to get to know someone before meeting in person. See what interests you share and spark a conversation about them. Get a feel for their worldview and authenticity. Speak on the phone and see how the conversation flows. You don't need to be cynical, but you should always be cautious. Know the line that separates presenting the best version of oneself, which is something we all do, and being dishonest.
4. Know Your Own Boundaries
Before you meet someone in person, it's a good idea to reflect on your own boundaries, comfort levels, and limits. Knowing your own boundaries will help you articulate them clearly and defend them confidently.
What do you consider appropriate and inappropriate date spots? Where do you stand on physical contact? What type of relationship are you looking for? These are good things to establish before embarking on online dating, both for yourself and for those you plan on meeting.
It's not an easy conversation to have, especially if fireworks are flying through the initial conversations. If you're not comfortable establishing boundaries, there are ways to approach the topic more indirectly. Recommend date ideas that are in line with your standards. If they suggest date locations that you find inappropriate, offer more wholesome alternatives. See how they respond.
Going into online dating with a firm grasp of your boundaries will increase your chances of meeting people on the same wavelength.
5. Show a Sincere Interest in People
So you've picked the right site, fussed with your profile, done some self-reflection, and now you're ready...to begin! That's right, the process of setting up an online dating account can feel like enough work on its own, but now the real journey begins.
The good part is that after spending so much time thinking about yourself, now it's time to focus on other people.
It's a good idea to think outside of the box. Come up with creative icebreakers. People are flattered when you show interest in them. Ask them questions about themselves. Any questions are fine, but the less generic, the better. Show that you've read their profile. Find parts that piqued your curiosity and ask about them. The more sincere interest you show, the more you differentiate yourself from those who message with a simple "hey."
With Christian online dating only growing, you'll find plenty of people with whom to connect. If you're too picky, you'll close yourself off to opportunities, but selectivity is a key to intelligent online dating. Search for matches with common interests and pay attention to their worldview and religiosity. That way, you'll waste less time, and you'll maximize your chances of meeting someone with whom you can spend the rest of your life.