From cosmetic surgeries to the number of hair salons in town, cosmetic dentistry to skincare product stores that sell every type of beauty and cosmetics product you could ask for, being hung up on fashion requires having the right tools of the trade readily available.
It's not surprising that the US tops the charts for the most beauty-obsessed country (we can't help if we're that good-looking!), with close to 4.5 million cosmetic procedures done each year. Americans also spend roughly $663 billion every year on beauty products. But even within the US of A, there are cities and states that take this craze to a whole new level. If you're thinking about making a move, check out the top 10 American states that are seriously into their looks. Some of them are no-brainers. But you might be surprised to learn where some of these hotspots for hair salons, boob jobs, and tanning salons are hiding.
Here's a sneak peak at the top 10 most beauty-conscious states in the US: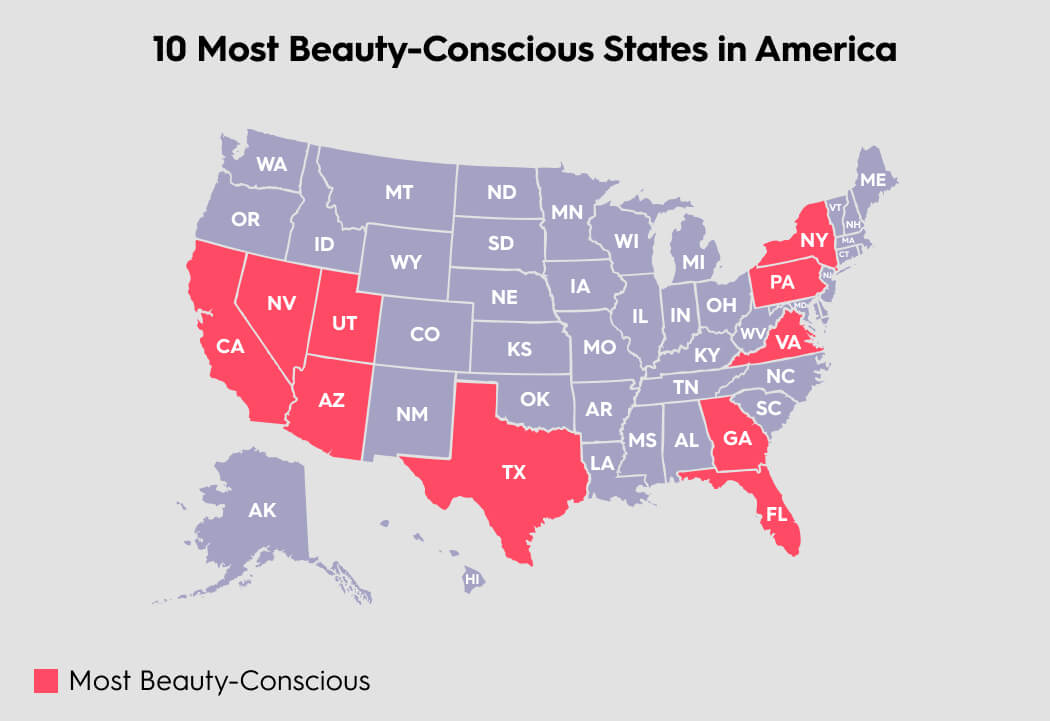 You may also like:
Sex, COVID and JLo: 10 Surprising Findings from Our Weight Loss Survey
Top 10 Beauty Subscription Boxes
Top 10 Most Glam-Obsessed States in America: Methodology
Getting the facts straight was a challenge because different studies used varying parameters to determine how vain an area was. For example, cosmetic procedures are highest in the South Atlantic states (22.7%). But New York beat out all those states by far when it came to makeup application and purchasing. Then again, some cities within a state ranked higher than others in a different state. In the end, we took an overall picture of vanity fairs to rank our states in beauty obsession based on the amount of money spent on beauty products, the number of plastic surgery procedures per person, and how many times people have their hair done.
FYI, some runner-up states include Wyoming, Oklahoma, Arkansas, Louisiana, Delaware, and Mississippi, with major shout-outs to St. Louis, Missouri, Providence, Rhode Island, and Charlotte, NC. So if you're looking for a new place to settle that will support your need for fashion and beauty upkeep, you're safe with any locale on the list.
Here's a breakdown of the top 10 most glam-obsessed states in America:
1. Florida
Sunny Florida is known for being a hotspot for summer getaways, snowbirds, and DisneyWorld. As it turns out, it's also one of the most appearance-conscious states of the 50. Tampa and Miami, in particular, are both ranked in the top 10 most vain cities according to the popular Men's Health research study. If you go a little further down the list (past the elite top 10), you'll find even more entries.
Population: 21.48 million
Hottest towns for hotties: Tampa, Miami, Pensacola, St. Petersburg, Orlando, Jacksonville
Vanity boosting feature: Ranked second highest in plastic surgeons per capita (438 ASPA)
Wild fact: Miami folk spend more than $23 million on skin and hair care products and cosmetics each year.
2. Texas
This state earned 3 of the coveted top 10 spots on the MH's survey. Not bad for a rebel state. Most notably, Lubbock might be more image-conscious because of all the university and college students hanging around. The area has close to thirty colleges and universities in its borders, including Texas Tech University and Virginia College. Texas ranks 4th in the number of Google searches for makeup and number 1 for haircuts.
Population: 29 million
Hottest towns for hotties: Plano, Dallas, Houston, Fort Worth, Lubbock
Vanity boosting feature: 234 cosmetic shops, 1500+ hair and nail salons
Wild fact: Neiman Marcus has top brand name cosmetics and beauty care products, along with curbside pickup and contactless shopping.
3. New York
Aside from the awesome experiences like the modern Metropolitan Museum of Art to the chic hangouts in Central Park, Broadway, and the theater district, New York has another reason trendsetters will want to move in. Deemed the Fashion Capital of the world, New York City (and other areas around the state) is a veritable breeding ground for the beauty and fashion-conscious of the world. NY also ranked highest for the number of makeup and clothing stores and second for hair salons on Google.
Population: 19.45 million
Hottest towns for hottiest Rochester, New York City, Buffalo
Vanity boosting feature: High demand for cosmetic surgeries and hundreds of plastic surgeons to do the job
Wild fact: New Yorkers spend the most amount of time priming themselves each day. Clocking in at 38 minutes, New York residence beat out the national average by 4.5 minutes.
4. Georgia
Georgians are very into their clothing, as was indicated by the massive percentages of citizens searching the clothing stores for what to fill their wardrobes with. The state came in not far behind New York in its rankings. Georgia also ranked fairly high for overall beauty-obsessions across the country.
Population: 10.62 million
Hottest towns for hotties: Atlanta
Vanity boosting feature: Georgia has one of the greatest demands (being met) for hair salons in the country. It's also home to the Georgia Institute of Cosmetology.
Wild fact: Georgians are crazy about more than just their looks. Apparently, it is illegal to walk around with an ice cream cone in your pocket. Only on Sundays, though. Phew!
5. California
Big surprise that Cali is in the top 10. With cities like Beverly Hills and let's not forget motherland for glitz and glam, Hollywood, California was bound to make the cut. The state took second place in Forbes.com's Vainest Cities in America. Cabrillo would be proud. Meanwhile, Fresno has the highest amount of beauty product sales.
Population: 39.51 million
Hottest towns for hotties: San Francisco, Beverly Hills, Los Angeles, Fresno
Vanity boosting feature: Cali has the highest number of ASPS plastic surgeons in the country (755!) per capita in the country. Once again, big shocker there.
Wild fact: Low key California shoppers spend a whopping $11 million per year on skincare, $5.2 million on hair care, and $1.3 million on makeup. Meanwhile, LA-ers spend roughly $50 mill altogether.
6. Nevada
Nevada has a large population of people obsessed with makeup and stores that sell the stuff. And not to be outdone by the other states on the list, Nevada also has a sizable number of plastic surgeons and practices on-hand for all your tummy-tuck, breast implants, and eyelid fixing needs. Besides that, Las Vegas won 4th place in Men's Health rankings for most vain cities. That's pretty vain.
Population: 3.08 million
Hottest towns for hotties: Las Vegas, Reno
Vanity boosting feature: When you're finished getting your hair done, you can head over to the Las Vegas Strip for some of the finest and eclectic dining experiences ever. Sustainable, farm-fresh, and Michelin-starred chefs are just some of the perks of living in the area.
Wild fact: Nevada is home to some of the most diverse landscapes in the country, including the 3,000-cliff Mojave Desert, the Yosemite National Park, the Valley of Fire, Lake Tahoe, and the Red Rock Canyon.
7. Pennsylvania
Pittsburgh has not only bagged the most livable city in America 6 times running, it's ranked 5th at being adaptable, having a strong economy, and being one of the best cities for startups, but Pittsburgh is also a hotspot for art, literature, clubbing, and a foodie haven. Central Pennsylvania ranked fairly high in the number of hair salons per capita and did decently in the overall state indexing as well.
Population: 12.8 million
Hottest towns for hotties: Pittsburgh, Philadelphia
Vanity boosting feature: Pennsylvania has some of the top cosmetology schools in the country, including The Beauty School Schwarzkopf Professional, Chambersburg Beauty School, and The Lancaster School of Cosmetology & Therapeutic Bodywork.
Wild fact: Pittsburgh continuously surprises us, ranking high on all areas of worth including top places to live, travel, and work.
8. Utah
Ranked America's Vainest city by Forbes.com, Salt Lake City might not be your first choice for fashion central. But after spending $2.2 million on hairstyling, $2.5 million on cosmetic products, and $4.5 million on skincare products, Utah citizens certainly earned their bragging rights legitimately. And besides, the state boasts an array of pop services like microbreweries, vegan shopping, and more.
Population: 3.206 million
Hottest towns for hotties: Salt Lake City
Vanity boosting feature: SLC is home to more plastic surgeons than any other city in the entire United States.
Wild fact: While Utah might be the home of some of the vainest Americans, it also contains some of the most charitable folks in the country. As per a WalletHub research project, Utah was at the top of the charts for donations, volunteers, and other charitable contributions.
9. Arizona
Arizona is hot, and we're not just talking about the temperatures. Ranking just under Nevada for a makeup-obsessed population, Arizona also has a large percentage of hair salons (for men nonetheless!) spread across the state. Tucson has a great art community, and the area is littered with trendy cafes and bars.
Population: 7.279 million
Hottest towns for hotties: Phoenix, Tucson, Scottsdale
Vanity boosting feature: A large portion of the Arizona population is actually made up of fashion-seeking hipsters looking for a new scene. Scottsdale hosts over 50 award-winning spas and resorts. There are also more than 330 days of sunny weather each year.
Wild fact: While NYers took the longest to get ready in the morning, Phoenix residents were a close second at 37.6 minutes a pop.
10. Virginia
Virginia has recently become a budding scene of urban culture. Putting aside the hipster trend of thrift store shopping (more thrift shops per capita than any other city), Virginia also has a cornucopia of plastic surgery centers and medical schools to give them the degrees they need to get the job done.
Population: 8.5 million
Hottest towns for hotties: Richmond, Virginia Beach, Norfolk, Chesapeake
Vanity boosting feature: Virginia ranked 10th place for the number of hair salon searches and 8th in makeup searches.
Wild fact: Virginia is one of the most eco-friendly states in the country. Aside from being made up of 62% forest lands, Virginia actually established the legal holiday of Earth Day.
When I Wake Up in my Makeup...
One more fun fact for the road: The top 5 cosmetic surgical procedures last year were:
breast augmentation
liposuction
eyelid surgery
nose reshaping
facelifts
Yes, humans are vain creatures all around. It's no secret that we invest considerable amounts of effort (and time, and money, and...) to look as good as we do (and some people might consider spending even more!). In fact, on average, women use a minimum of 16 cosmetic or facial care products every day. Your gal pal spends approximately $200,000-$300,000 throughout her lifetime on these primping products ($250 per month).